How Much Is Megan Rapinoe Really Worth?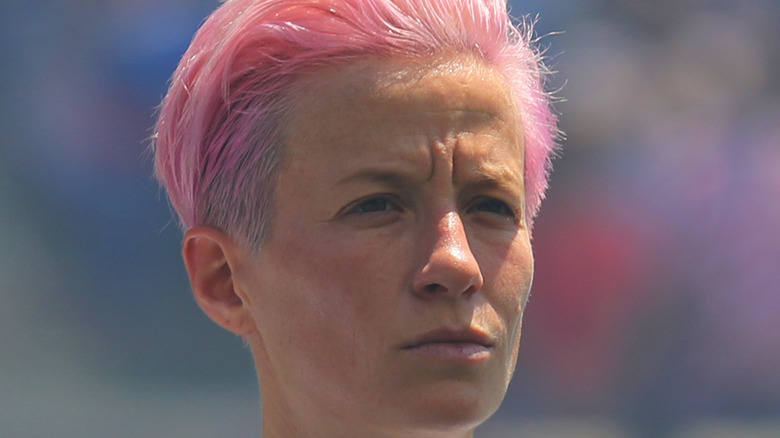 Shutterstock
Megan Rapinoe is a superstar soccer player and outspoken activist. Her advocacy has sometimes prompted unintended setbacks, but Rapinoe has consistently forged forward and built an impressive net worth as a result.
Rapinoe grew up in a working-class family as the youngest of six children in California, per her Team USA bio. People noted her father was a construction worker while her mother was a waitress who worked nights. She had a fraternal twin sister, Rachael, along with older siblings Michael, Brian, CeCe, and Jennifer. The future soccer star was born in Redding and grew up in the conservative area of Palo Cedro, per Yahoo! Life.
The twin sisters started playing soccer as young girls. Throughout high school, the future sports superstar played football, hockey, and basketball in addition to soccer. Rapinoe shared with The Players' Tribune that during junior high she "was just lost" and that "Sports were my whole identity."
"Maybe part of the reason why she was quiet growing up was because she felt a little different. She didn't quite feel comfortable in her skin. But once she realized who she was, and why she felt the way she felt ... that's when she found strength in her voice," Rachael shared with Yahoo! Life about her sister's youth and sexuality.
The New York Times noted that Rapinoe's breakout moments came in 2011 while competing in the World Cup. She came out publicly as gay shortly after that in what she described in Elle as being a "complete nonevent." Her career, and advocacy, grew from there.
Financial success grew from soccer stardom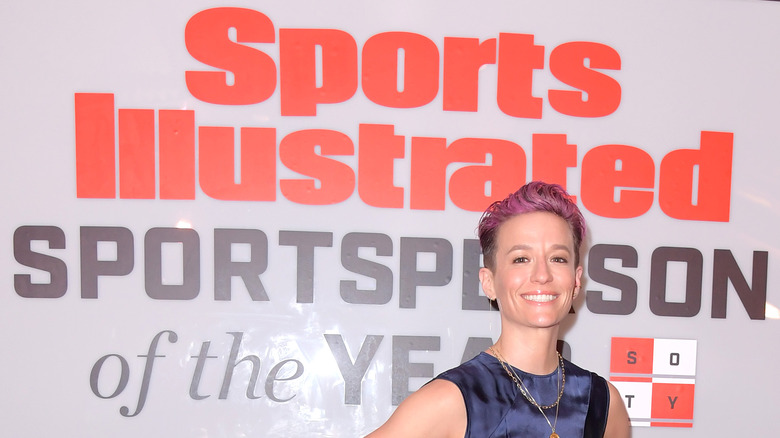 Michael Loccisano/Getty Images
By the time Megan Rapinoe came out in July 2012, she already had a Nike deal and plenty of fame, per Elle. Her soccer success and bold personality continued to win over fans and she snagged an Olympic gold medal as well as a World Cup win, noted Yahoo! Life. She founded Rapinoe SC with her twin sister in 2015, and in 2016, Colin Kaepernick inspired her to take a knee during the national anthem before a game, per The Guardian.
The kneeling caused a significant amount of backlash, stunned her family, and affected her business with her sister. The twins' business relied on apparel sales and training clinics, and the drop in interest for both was significant and long-lasting.
Rapinoe bounced back, though. Sports Illustrated named her the Sportsperson of the year in 2019 and she racked up soccer wins nationally, internationally, and at the Olympics. Players Bio indicated that Rapinoe likely earned about $168,000 in salary at the peak of her career with Reign FC and received more than $245,000 for the 2019 World Cup.
Plenty of endorsement deals developed for Rapinoe, further elevating her net worth. In addition to Nike, she's had deals with Vitamin Water, Samsung, DJO Global, and Wildfang. Rapinoe released her book "One Life" in November 2020, and Sporty Tell referenced additional partnerships with Loewe, VISA, LUNA Bar, Procter & Gamble, Hulu, and BodyArmor. As a result of those numerous opportunities, Rapinoe has an estimated net worth of $3 million, according to Celebrity Net Worth.