Millie Bobby Brown's Boyfriend Jake Bongiovi Has A Very Famous Dad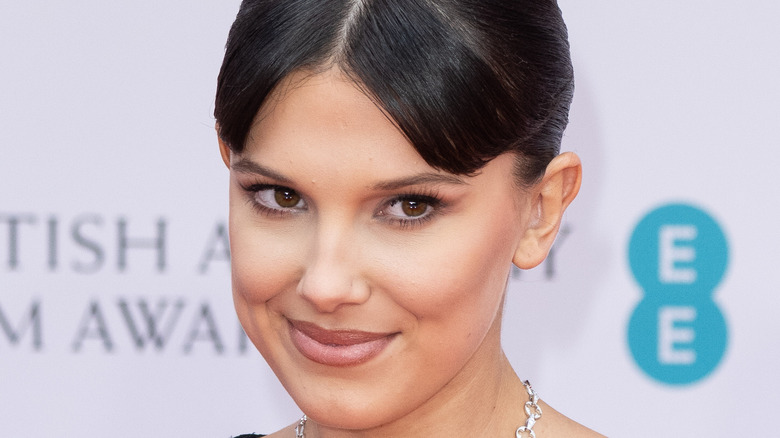 Jeff Spicer/Getty Images
Since emerging as an A-list actor for her role as Eleven in Netflix's hugely-successful "Stranger Things," teen sensation Millie Bobby Brown is now considered a household name and remains a booked and busy figure in pop culture.
In recent news, the star made it official with her boyfriend, Jake Bongiovi. At the BAFTAs in London in March 2021, the pair debuted their relationship on the red carpet and unsurprisingly made headlines. As seen on Brown's Instagram page, she looked elegant in a black Louis Vuitton gown that was paired with long, matching gloves. The British actor completed her look by accessorizing with a necklace and styling her brown locks scraped back. In a separate Instagram upload, Brown posted a snapshot of herself posing on the red carpet with her beau, using three red heart emoji for the caption. This wasn't the first time the pair had made a public appearance together, either. For Brown's 18th birthday bash, Jake served as her Ken while she dressed up like a Barbie in a medieval-style costume.
Brown previously dated singer Jacob Sartorius and rugby player Joseph Robinson, according to J-14. While she has been dealing with growing up in the public eye, her boyfriend Jake can sort of relate due to his high-profile father. If you think his last name looks familiar, you might be onto something.
Jake Bongiovi's dad is the one and only Jon Bon Jovi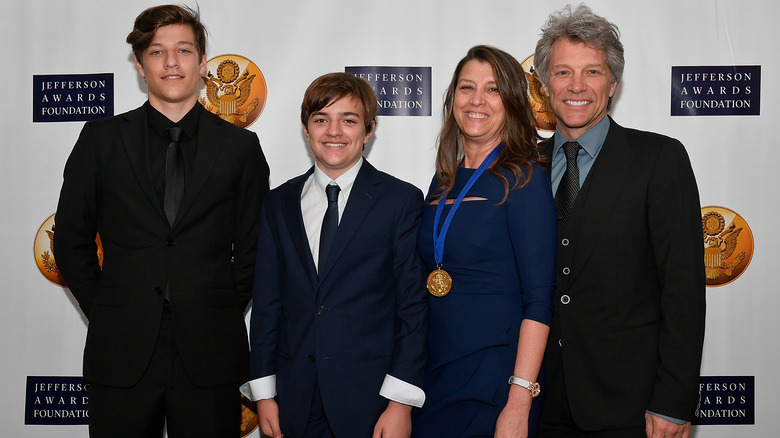 Larry French/Getty Images
Yep, that's right. Jake Bongiovi's famous father is rock singer Jon Bon Jovi, the iconic frontman of Bon Jovi. According to Elle, Jake was born in May 2002 and has three other siblings — brothers Romeo and Jesse Bongiovi, and sister Stephanie Bongiovi. Jake's mother, Dorothy Hurley, a karate instructor and restaurateur, per The Famous People, married Jon in 1989 after first meeting the "Livin' on a Prayer" hitmaker in high school. During a 2020 interview with People, the couple explained why their relationship has continued to last throughout the decades. ″Having grown up together and grown together. And we really like each other. We want to hang out," Jon said, to which Hurley added, ″I always said I was good at spotting potential too. I have a gift."
Despite his busy schedule and in-demand career, Jon told the magazine he has never let it get in the way of his family life. ″We work hard at it, but we enjoy each other and we never fell for the trappings of what celebrity can do,″ he stated. ″We've witnessed that happen over the years to people that were close to us and people that we knew from afar. It's just what I do, it's not who I am. I write songs. I happen to be very good at performing them. That's it."
Jake Bongiovi lives a fairly low-profile lifestyle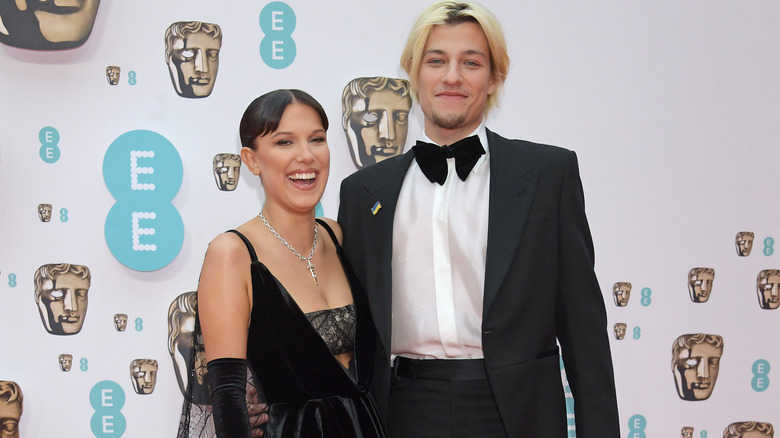 David M. Benett/Getty Images
Don't let Jake Bongiovi's high-profile connections fool you. He still lives a fairly low-profile lifestyle. While he might be dating "Stranger Things" actor Millie Bobby Brown, and his father might be rock icon Jon Bon Jovi, he appears to stay out of the spotlight. As noted by Elle, Jake played on the football team at Poly Prep Country Day School. In a now-deleted Instagram post (via Syracuse.com), he announced in 2020 that he would be attending Syracuse University that fall. As seen on a Jon Bon Jovi fan page on Instagram, Jake was photographed with his parents in front of a large "S" balloon while wearing caps that featured the letter in orange.
Following in the footsteps of his father's desire to help those in need, Jake made headlines in 2018 for helping organize the Pennington School's national student walkout after 17 people were tragically killed during a school shooting in Parkland, Florida, per APP. Jake's dad's philanthropy work, which includes the Jon Bon Jovi Soul Foundation and JBJ Soul Kitchen restaurants, also left an impression on the teenager. "[He's] really been some sort of an inspiration to me, as well, but I think it was really special that it was more the students inspiring each other," Jake said. "Our bravery spouts from each other."