The Truth About Michael Weatherly And Pauley Perrette's Relationship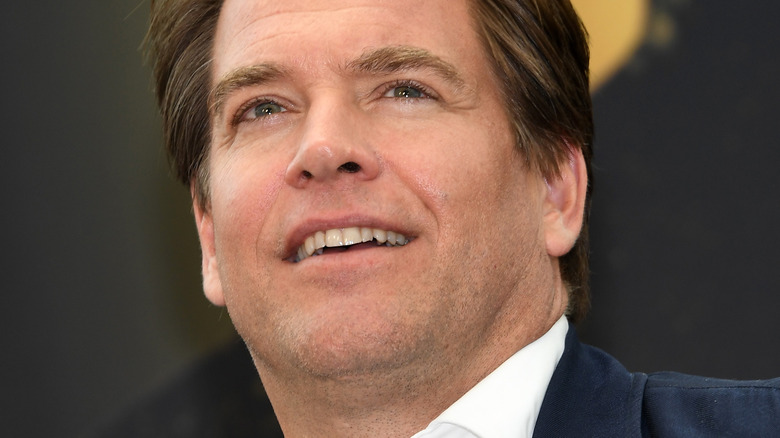 Pascal Le Segretain/Getty Images
Pauley Perrette and Michael Weatherly's "NCIS" characters didn't have a lot in common. Abby Sciuto's work as a forensic scientist kept her mostly confined in a lab examining evidence, while Special Agent Tony DiNozzo pounded the pavement to hunt down the criminals who left that evidence behind. And let's not forget that Abby always made bold fashion statements with her spiked, skull-adorned punk-rock pieces, while DiNozzo was the human embodiment of the color beige, down to his speed-enhancing tube socks.
But both characters were well-liked, so viewers were sad to see them go when the "NCIS" team members reached the same conclusion as the two actors who played them: It was time to move on. "I was in my mid-40s and looking at the world around me realizing I felt a yearning creatively," Weatherly told The Hollywood Reporter of his decision to leave "NCIS" in 2016. What came next was leading his own series, "Bull." After he announced he was also exiting that CBS drama in January 2022, his social media behavior — including a tweet about having a dream about DiNozzo — left some fans wondering whether Weatherly was interested in returning to "NCIS" in some capacity.
As for Perrette, in a 2017 tweet, she confirmed that she was leaving "NCIS." She later cited former co-star Mark Harmon's alleged ill treatment of her as the reason why she never wanted to return to the show. Luckily, she and Weatherly parted on much better terms.
Pauley Perrette has a lot of love for Michael Weatherly
After Michael Weatherly apologized for behaving inappropriately toward his former "Bull" co-star Eliza Dushku in a 2018 statement to The New York Times, Pauley Perrette came to Weatherly's defense on Twitter. "This man... I love, respect, trust, and I KNOW. TWO decades of friendship and respect. The best. I love you @M_Weatherly Always and forever," she wrote.
Perrette's Twitter feed is a testament to her enormous admiration for Weatherly. She has used the word "love" to describe her feelings for him more than two dozen times, even joking about how often she expresses this sweet sentiment, and she's revealed that she can spend hours talking to him. In a video shared by the "NCIS" Twitter account in 2018, Perrette spoke about her special bond with Weatherly. "We pinky shook right when we first met," she recalled, adding, "We have, as actors and as friends, an unspoken sparkle between us." She also revealed that she and her former cast mate share a similar sense of humor.
Unsurprisingly, Perrette found it hard to say goodbye to Weatherly when he left "NCIS." "This is the sound of my heart breaking," she told Entertainment Tonight in 2016. But their friendship endured long after their working relationship ended. In July 2021, Perrette tweeted a heartfelt birthday message for Weatherly that read, "All my love and everything I've got to my beloved brother @M_Weatherly on his birthday today. Forever Family. Forever my beloved brother."
Pauley Perrette and Michael Weatherly share a passion besides acting
Pauley Perrette and Michael Weatherly aren't just talented actors; they can also both belt out a tune. They've even recorded original songs for the "NCIS" soundtrack, and they were similarly inspired by terrible tragedies. Weatherly revealed that he wrote his song, "Under The Sun," after 9/11, per Music Times, while Perrette said her contribution, "Somebody Saved You," is about the 2013 Boston Marathon bombings.
Perrette once fronted a rock group called Lo-Ball. "I've always been involved in music in one way or another. Lo-Ball was a bunch of really talented chicks. I'm proud of what we did," she told Punk Globe. In a 2009 interview with the Pepsi Music Blog, Weatherly revealed that he was also a member of a band that landed some gigs in New York before his acting career took off.
So when Perrette began enlisting celebrities to record a song to show support for LGBTQ+ youth in 2014, of course Weatherly agreed to help. The song, "Beautiful Child," also features NSYNC member Lance Bass and "Criminal Minds" star Kirsten Vangsness harmonizing beautifully with Perrette and Weatherly. It's enough to make us wish that the former co-stars would team up for a musical project, and Perrette has offered a tiny sliver of hope that they'll meet again on a set someday. "They ask me: 'if you could work with any actor?' And I always say @M_Weatherly again,'" she tweeted in 2020.