Inside Ireland Baldwin's Relationship With Her Mom Kim Basinger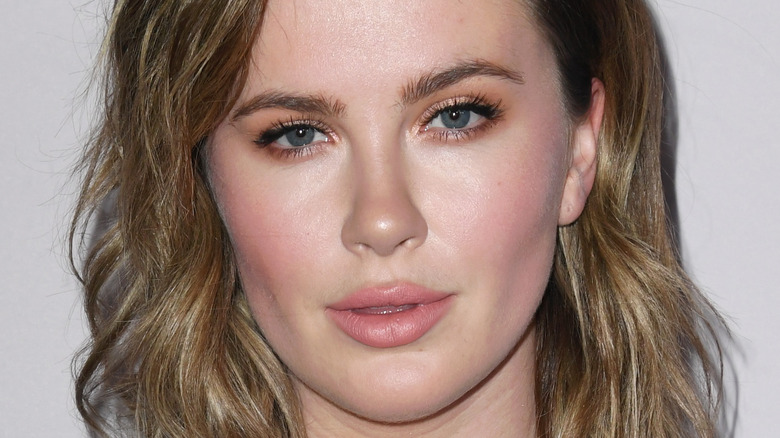 Jon Kopaloff/Getty Images
While there's no doubt that a lot of things have been said and written about Ireland Baldwin and her relationship with her father Alec Baldwin, the same can't be said about Ireland and her mother, Kim Basinger. A lot of people still remember Alec's infamous voicemail to Basinger back in 2007 when he called his then 11-year-old daughter a "thoughtless little pig." The voicemail was reportedly leaked by Basinger, although the Hollywood star did deny those claims, per CBS News.
Reflecting on that moment, Ireland wrote on TikTok back in February (via Us Weekly), "I can't even tell you how much time I've wasted worrying about headlines and comments." For many of Ireland's fans, her statement was a clear indication that she's moved on from the past. But for Alec, he sees it differently. In 2017, he told "Good Morning America" (via Daily Mail), "It's a scab that never heals cause it's being picked at all the time by other people. My daughter, that's hurt her in a permanent way."
And while there's no doubt that Ireland and her father have worked on a lot of healing and hugging over the years, it's her relationship with her mother that everyone seems to be curious about.
Ireland Baldwin's mom tried to give her a taste of normalcy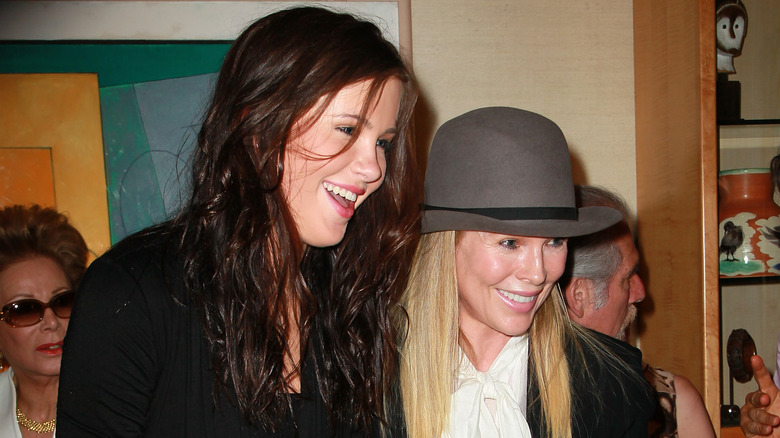 David Livingston/Getty Images
Kim Basinger and her daughter Ireland Baldwin have the kind of mother-and-daughter relationship that you'd expect. Back in December 2021, Ireland shared a tribute to her mother on TikTok, which included snippets of the Hollywood star giggling while spending quality time with her daughter, according to the Daily Mail. She's also shared selfies of the two women grinning from ear-to-ear.
Back in 2013, Basinger gave a rare interview about Ireland and how she wanted to raise her with some normalcy, despite living in the spotlight. She told Vanity Fair, "She grew up in the limelight but I tried to provide stability and a quieter world." However, Basinger also did say that Ireland has helped her get out of her comfort zone and admitted that they went sky-diving together. She proclaimed, "Falling 12,500 feet out of an airplane was exhilarating!"
In 2017, Basinger also told the Georgian Journal that she enjoyed raising Ireland in a very low-key kind of way. She said, "I participate in all water sports, especially surfing. My daughter, Ireland lives near me and she has 8 dogs, I have 5 as we love animals." This love has led Ireland to advocate for pet adoptions and in 2022, she announced her partnership with the Oregon Dachshund Rescue as a foster ambassador. The similar passions and close ties between mother and daughter only become more heartwarming when understanding their constant support of one another.
Ireland Baldwin has always had encouragement from Kim Basinger
Ireland Baldwin has been put through the wringer when it comes to growing up in the spotlight and feeling criticism from news outlets to online comments. She has been very open about her personal insecurities, even through her time as a model. How did she push aside self-doubt to break into such an intimidating industry? Her mom was the one to suggest the path. "She thought it would be good for my confidence," Ireland told Elle in 2013. She continued, "because I never thought of myself as a pretty girl." Unfortunately, the young model has been relentlessly compared to Kim Basinger, but she called out the extreme expectation: "I wasn't built to look like my Mom's identical twin!"
Her tune hasn't changed when it comes to struggling through critique and striving for healthy self-confidence. In 2022, Ireland went off in an Instagram post, expressing how fed up she was about staying quiet against all the hate. She understands the negative noise will never go away, but is doubling down on something simple. "Stand up for yourself," she wrote in the post, crediting her mother for teaching her this as a child.
Ireland also went further in her vulnerable message, explaining, "I have spent way too many years starving myself, binging, purging, measuring ... and all around ruining my body because some troll told me I'll never be as thin and beautiful as my mother." This wild double standard has yet to affect their strong mother-daughter bond.