Hilaria Baldwin Reveals The Sad Reason She's Nervous About Her Pregnancy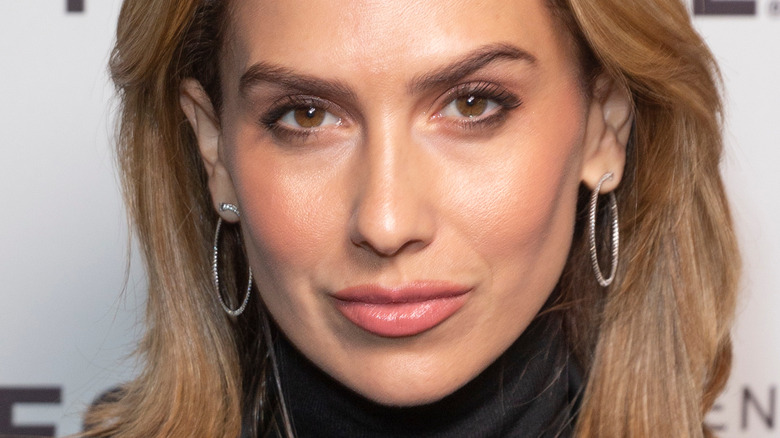 lev radin/Shutterstock
Hilaria Baldwin has been candidly open about her pregnancy journeys, an experience in which she's well-versed. Along with husband Alec Baldwin, Hilaria has welcomed two daughters, María Lucía Victoria and Carmen Gabriela, and four sons, Rafael Thomas, Leonardo Ángel Charles, Romeo Alejandro David, and Eduardo "Edu" Pao Lucas. Frequently posting about her adventures with her children, Hilaria's world clearly revolves around her large brood. 
Announcing in late March that she was pregnant with their seventh child, Hilaria has refrained from revealing the gender of said baby. Explaining in an April Instagram Story, per People, that it was partially due to respect for the LGBTQIA+ community, Hilaria also correlated it to trauma from past miscarriages. "I lost a baby at 4 months in 2019 ... I will wait until I'm past the point when I lost my daughter," Hilaria wrote about her timetable for the gender reveal. 
As the mother of six approaches the four-month mark in this recent pregnancy, she has taken to Instagram once again to share her struggles with anxiety. 
Hilaria Baldwin has a dreadful pregnancy anniversary approaching
Hilaria Baldwin's previous miscarriages are causing her stress during this current pregnancy. In an April 11 Instagram video, Baldwin shows herself using a Doppler ultrasound device (used to monitor blood circulation in the uterus and placenta) on her bare baby bump. Almost four months along on what's to be her seventh child, she reflected on the pregnancy she lost at 16 weeks in 2019. "So much of motherhood is waiting and realizing that there is so much beyond our control," Baldwin captioned the video. "As I approach the time when I lost the second baby... I get more nervous. I get asked all the time how to stay calm and make it through after loss. To be honest, it's hard to stay calm, even if someone hasn't experienced loss."
Baldwin's mother lent her some Zen wisdom to get her through this distressing time. "'[T]his is preparation for an entire lifetime of being a mother and not being able to control so much. You must live and learn to be,'" Baldwin recalled her mother saying. A yoga coach, Baldwin also shared that she does breath-work to "calm muscles of stress in my body," noting, "I can feel my stress level rise, approaching the 4 month mark."
According to the Advanced Fertility Clinic of Chicago, Baldwin, 38, has a 22% chance of pregnancy loss (at age 40, the number jumps significantly to 33%). We are just glad Hilaria is taking it all in stride!