The Tragic Death Of No Country For Old Men Star Kathy Lamkin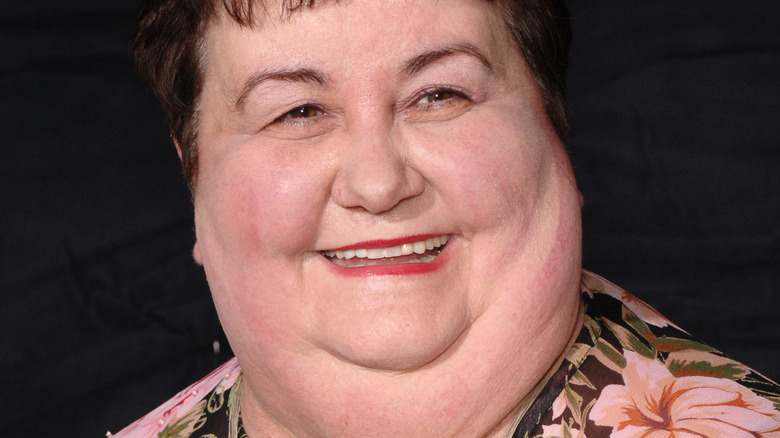 Featureflash Photo Agency/Shutterstock
Hollywood said goodbye to another character actor, as news of Kathy Lamkin's death broke. Her talent agency, Linda McAlister Talent, announced that Lamkin died "on Monday, April 4, 2022, after a short illness." Her family also confirmed the death in a statement to Deadline, saying, "Kathy will be missed by her family and friends, and left an impact on all she that encountered during her life on this Earth." She was 74 years old.
The Texas-born actor is best known for playing the manager of the Desert Aire trailer park in the 2007 Oscar-winning film, "No Country for Old Men." Though on-screen only briefly she held her own opposite the film's big bad, Javier Bardem, as the terrifying hitman, Anton Chigurh. She's also widely known as the Tea Lady in the 2003 remake of "The Texas Chainsaw Massacre." Though both are considered minor roles — the bread and butter of a character actor's career — Lamkin made a huge impression in each, often stealing every scene in which she was featured.
Over her 30-plus year career, Lamkin held roles in films such as "Waiting for Guffman," "Fool's Gold," "Kiss Kiss Bang Bang," and "Sunshine Cleaning," and also appeared in television series "My Name is Earl," "Boston Legal," "Bones," "Medium," and "Malcolm in the Middle" among others. As tributes flow in on social media, we know Hollywood will miss her contributions to the industry.
Condolences for Kathy Lamkin pour in on Twitter
Kathy Lamkin shared her love of acting with the world through her films and through teaching. She commuted between Texas and Los Angeles starting in 2002, per Deadline, simultaneously working in Hollywood, while also teaching at Codwell Elementary School in Houston and at her own businesses, Unicorn School of Acting and USA Theatre. Her daughter Kati also works in entertainment as a film editor, while her son Greg is a police officer, per IMDb. She had been married to husband Steve Lamkin for 52 years.
With news of her death, Twitter flooded with commemorations. "Kathy Lamkin is in 'No Country for Old Men' for less than a minute," one fan wrote, "but she makes such an indelible impression that every single person can recall her exact delivery of 'Did you not hear me, we can't give out no information about our residents.' Anton Chigurh never stood a chance." Another fan agreed, calling Lamkin "A legend," while referring to that same line of dialogue.
Fans of "The Texas Chainsaw Massacre" also spoke out. "The side characters add so much local texture to those movies," wrote one fan. "Incredibly memorable character, even with such a small role." Another agreed, highlighting the remake and saying, "it's always sad to hear when another dear cast member has passed away." A third said, "Sad news... I absolutely loved her character." Her talent agent also added, "She was a bright shining example of kindness and encouragement in everything she did. She will be missed by many."