Inside Jada Pinkett Smith And Gabrielle Union's Secret Feud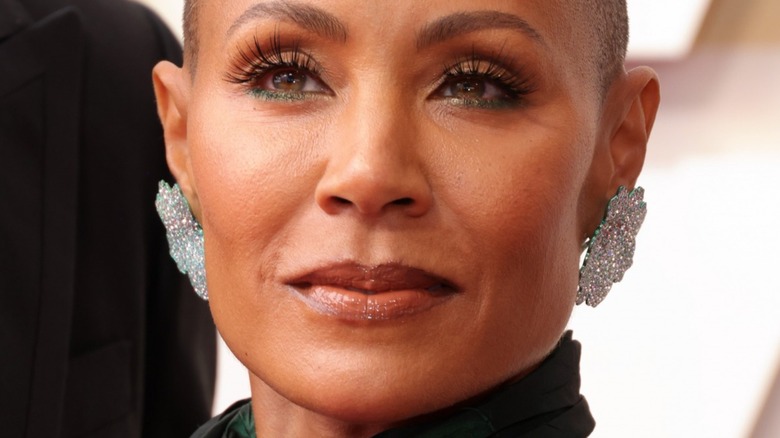 Momodu Mansaray/Getty Images
You might know Jada Pinkett Smith for her popular Facebook talk show "Red Table Talk," which she co-hosts with her mom, Adrienne Banfield-Norris, and daughter Willow. On the show, the three women get into many deep, heavy conversations, which have more often than not caused a stir on the internet. 
Of course, one of the biggest hot topics on "Red Table Talk" went down in July 2020 when she and Will Smith hashed out her romantic involvement with the much-younger singer August Alsina. Pinkett Smith's admission she was in an "entanglement" with Alsina came back to haunt her when the "Shake the World" singer seemingly weighed in on Will's Oscars slap. Drama, drama. 
But "Red Table Talk" isn't just a venue for Pinkett Smith to unravel her juicy personal life — it's also a place where she models healing and forgiveness, even when it's uncomfy. Case in point: In May 2018, the actor invited Gabrielle Union to the red table, as she wanted to explore why they had been in a mysterious cold war for years. Yep, you read that right — the women were not on good terms, and we completely missed it. So what is the truth about this once-secret feud? Let's dig in!
Pinkett Smith and Union don't know how their feud began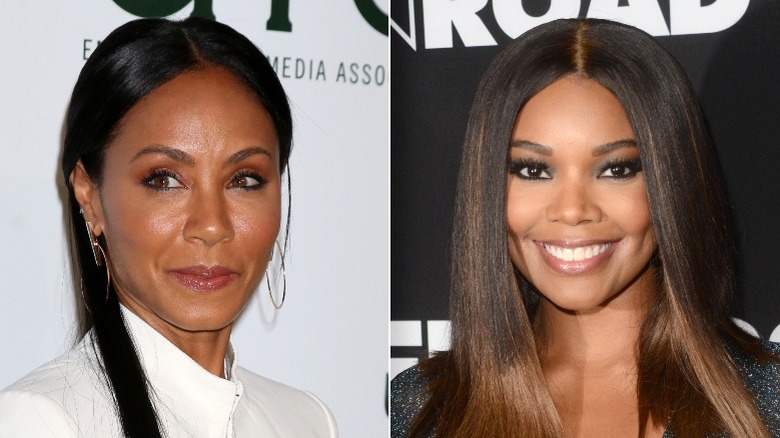 Kathy Hutchins & Kathy Hutchins/Shutterstock
The public first caught wind of the secret beef when Jada Pinkett Smith was promoting "Red Table Talk" in an interview with Essence. At the time, Pinkett Smith told the outlet viewers could expect to see her navigating deeply personal issues — including her longtime feud with Gabrielle Union. "She and I did not talk for 17 years and we could not remember why," she revealed. "There was just tension between us every time we would see each other. It was just us being young, divas." Union felt the same way, as she told the "Today Show" that both parties didn't know what caused the fallout. 
But what prompted the olive branch? How did Pinkett Smith even get the idea to have Union on her controversial show? It all started when the executive producer of "Red Table Talk" proposed to Pinkett Smith an episode focused on her female friendships. But instead of inviting her old pals, the "Matrix Reloaded" star decided it was her chance to call a truce. "I was like, no, I actually think I want to make a new girlfriend," Pinkett Smith told Essence. "Gabrielle's name just wouldn't stop, it just had to be that. So I just called her up." 
As for how that meeting went? Well, it sounds like Pinkett Smith's gesture of goodwill paid off.
Pinkett Smith and Union are in a great place today
Upon recognizing that there was no concrete cause behind the feud, Jada Pinkett Smith and Gabrielle Union set out to hash things out during a May 2018 episode of "Red Table Talk," where the two women had a conversation geared toward helping them both heal. "It felt so good on the phone with you to even just go, 'Hey, I'm sorry that I didn't even take the time to talk to you,' you know?" Pinkett Smith confided to Union. 
The "Being Mary Jane" star also took accountability for her role in the feud. "I could've been like, 'Okay, I know this is super uncomfortable, but i'ma hop in your face and we're gonna ... talk," Union said. "But instead, I was like 'okay, alright,' because you think 'It's not gonna affect my life.' But it does, because your brain keeps going back there."
The reconciliation between the two women turned out really well, with Union admitting on "Watch What Happens Live" in 2019, "We definitely text a lot more. She's awesome. She's amazing ... She's a very good time and I enjoy her." With their newfound friendship, who knows — we just might be seeing a Pinkett Smith and Union collab soon.