Iggy Azalea's Feud With Playboi Carti Has Flared Up Once Again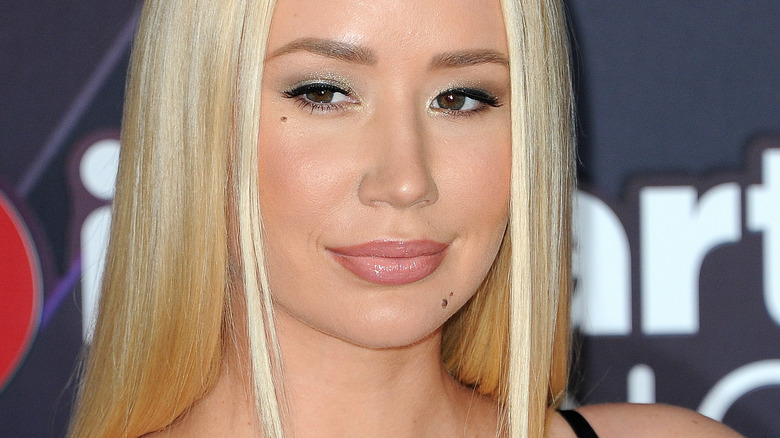 Tinseltown/Shutterstock
This isn't the first time Iggy Azalea's rocky relationship with fellow rapper Playboi Carti has made headlines. As previously reported by Billboard, the pair first met in 2018 while Carti was on tour overseas. They became a couple shortly after, but it hasn't been smooth sailing. 
In June 2020, Azalea took to her Instagram to announce the surprising news that she had given birth to a son, named Onyx but didn't mention that Carti was the father until later, per Billboard. In a now-deleted Instagram post, Azalea shared photos of her newborn in October of that same year and took to her Instagram story once again to reveal she and Carti were no longer an item and that she is raising Onyx on her own. 
Azalea clarified two days later that Carti isn't completely absent from his life. On December 25, 2020, Carti released a new album, "Whole Lotta Red," and wasn't present during the holidays with his son. In a series of deleted tweets, Azalea expressed how unhappy she was, writing, "Imagine how trash you are to do this to your first born son." During a radio interview on "The Zach Sang Show," Azalea informed listeners that she has no plans to get in another relationship any time soon.
In a new interview from Carti, he expressed his love for his old flame and their child but seems to have rubbed Azalea the wrong way again for stating something she doesn't believe is true.
Iggy Azalea alleges that Playboi Carti doesn't take care of her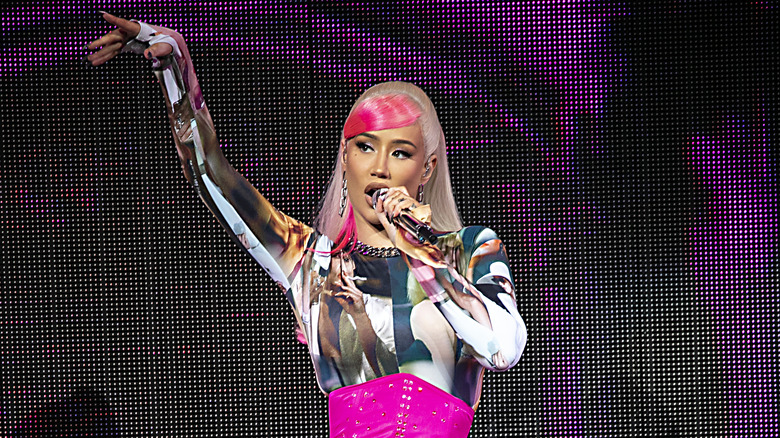 Jeff Hahne/Getty Images
In a new interview with XXL, Playboi Carti was open to discussing his ex-girlfriend, Iggy Azalea, and their son, Onyx. Within the chat, the rapper referred to Azalea as a "great mom" who he loves despite their rocky past. "I'm single. She's single now. But that's one of the best mothers in the world. And that's what you got to put in the book, you hear me? I love her to death. She is the best mother in the world," Carti explained.
When asked whether Carti wanted to add anything to the end of the interview, he said he wanted readers to know "I love my baby mother. It definitely needs to be known that [Iggy] is the best mother in the world. My son is perfect. He's too perfect. I need to rough him up a little bit." Earlier in the chat, he stated he takes care of both Azalea and their son. However, judging by Azalea's reaction on Twitter, that doesn't seem to be the case, resulting in her telling her side of the situation. "Take care of me? Lmaooooo. Let's not get carried away now," she tweeted before replying to a fan with "I laughed. A lot."
After a fan of Carti's didn't appreciate Azalea's reaction to his kind words about her, Azalea clapped back and insisted "saying nice things for an interview sounds great but in real life he talks to me like s*** so badly I had to stop all direct contact."