The Real Reason Lindsay Lohan Wanted To Have A Meeting With Vladimir Putin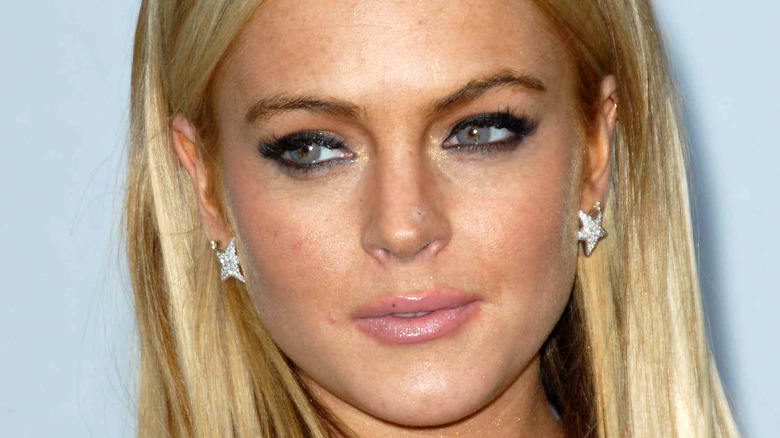 s_bukley/Shutterstock
When it comes to performing acts of international diplomacy, Lindsay Lohan isn't the first candidate that springs to mind. History has proved that Lohan's not scared of a scandal or two, so nobody should really be that shocked to learn that she once wanted to have a meeting with President Vladimir Putin. 
At first glance, it may seem odd to discuss Putin and Lohan in the same conversation, however, the Russian president has quite a few connections to A-listers. He was rumored to have had a fling with "Baywatch" star and Julian Assange fangirl, Pamela Anderson, per Mirror, so he's not averse to dipping his toe into the Hollywood pool. During the early 2000s, he was seen around multiple notable names, including Leonardo DiCaprio, Naomi Campbell, and Jack Nicholson, though the nature of these run-ins are unknown today. Putin also famously granted both Gerard Depardieu and Steven Seagal honorary citizenship. 
However, LiLo wasn't seeking an audience with the Russian president to discuss their Tinseltown connections — she had a different agenda. Here's the real reason the "Just My Luck" star wanted a meeting with Putin.
Lindsay's meeting with the president was a package deal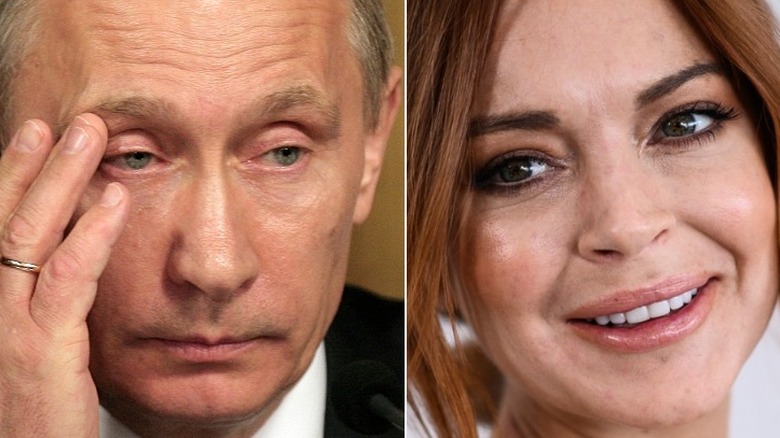 Harold Escalona/Shutterstock & James Gourley/Getty
The real reason Lindsay Lohan wanted a meeting with Vladimir Putin is very much on-brand for the child star. The interview request was reportedly part of a package deal — one that also involved money, her ex-boyfriend, a fancy hotel, and a DELTA force-level security team. The Hollywood Reporter claimed that back in 2016, the Russian show "Pust govoryat" ("Let Them Talk") wanted to book LiLo for an interview. At the time, she'd just broken up with her fiance, entrepreneur Egor Tarabasov.
Tarabasov is a Russian millionaire playboy and like a Paris-Hilton style "star" back in his homeland. The couple reportedly had experienced a tumultuous relationship. According to Daily Mail, things ended between Lohan and Tarabasov on a decidedly contentious note. The tabloid claims Tarabasov violently attacked Lohan during a "scuffle" in Lohan's now-defunct Mykonos beach club — and it was all caught on camera.
The Russian website LIFE.ru obtained a copy of the demands sent by Lohan's attorneys to "Let Them Talk." Per The Hollywood Reporter, the agreement included an $860,000 appearance fee, a 24/7 security detail, and an all-expenses-paid luxury suite at the Moscow Ritz-Carlton. The potential contract also stipulated that Tarabasov could not be interviewed for a full year after Lohan's sit-down had been aired. So, did Lohan get her wish?
The real reason for the Lohan Putin summit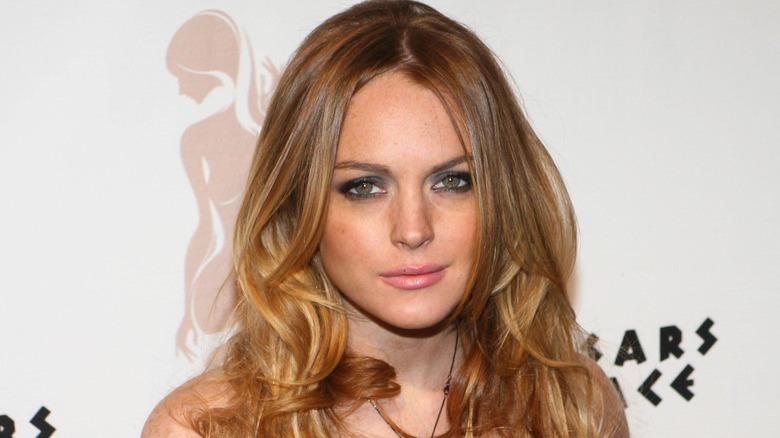 Everett Collection/Shutterstock
The network found Lindsay Lohan's demands to be excessive. "Dreams and reality are not the same," host Andrey Malakhov told LIFE.ru via Hollywood Reporter. He advised LiLo to reconsider her stipulations. Malakhov claimed that although it wasn't listed in the contract the attorneys sent, Lohan had also demanded an interview with Vladimir Putin. "I don't know what she wanted to discuss with him, probably Amur tigers or issues of people suffering from drug abuse," Malakhov mused. The Russian media speculated that maybe she had wanted to snap a selfie with him.
Lohan and producers finally managed to hash out an agreement. So, in September 2016, Lilo sat on the "Pust govoryat" ("Let Them Talk") sofa and, well, talked. Per the Hollywood Reporter, she praised Putin, gushing about how she "respects" and "admires" him — praising his strength and perseverance. Lohan vehemently denied the selfie reports — and explained the real reason she wanted to meet with Putin.
LiLo wished to discuss the charity she was developing to help fight human trafficking. It turns out that Putin would have been a great advisor as the U.S. State Department lists Russia among the top trafficking hotspots in the world. Meanwhile, Deadline reported that Lohan was involved in a trafficking accusation altercation after trying to snatch Syrian children from their mother off the street, which she shared on Instagram shortly after.