EJ Johnson Stuns In A Silver Gown At An Event Honoring His Famous Dad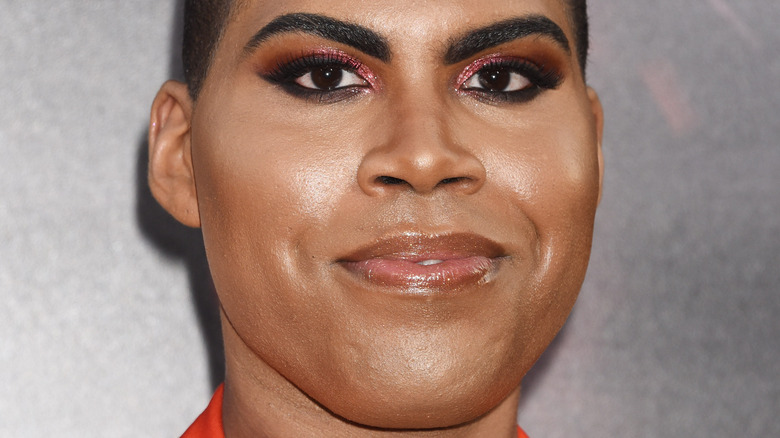 Ga Fullner/Shutterstock
Three syllables. Fab. U. Lous. Another three syllables. E. J. Johnson. Throw them together, and what have you got? Fabulous EJ Johnson – and he showed why he's exactly that while attending an event for his famous dad, none other than basketball legend, Magic Johnson, on April 14. In case you didn't know, EJ has always been fabulous, dah-ling, and has served up some seriously show stopping looks over the years. Case and point? That stunning sheer black number he wore to an Hermès fashion show in 2017 or that time he put us all to shame with his super chic street style by rocking a high slit with knee-high heeled boots while out in Beverly Hills in 2016.
It's no wonder then that "The Rich Kids of Beverly Hills" star is a total fashion icon. Super rich EJ told The New York Times in 2017 that he started learning about fashion from his mom, Cookie Johnson, when he was super young and started playing in her closet — and he has big ideas for the fashion industry. "I don't think the fashion world has made any type of major huge strides, where we need to start commending anybody yet. They should probably start highlighting people who are doing it in the streets, as opposed to whatever celebrity they're putting in a skirt for five seconds just for publicity," he said.
But back to that April 14 outfit, because this is a glam look you need to see.
EJ Johnson is dressed to kill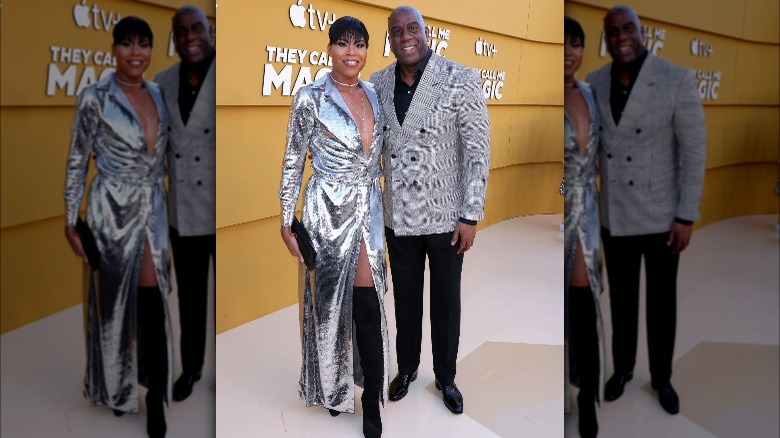 Leon Bennett/Getty Images
EJ Johnson proved once again why he's a style icon as he stepped out with his famous father, Magic Johnson, and his other family members for the premiere of Magic's documentary series, "They Call Me Magic." EJ oozed glamor in a plunging all-sequin silver plunging gown, black clutch, and black thigh-high boots, which he rocked with silver necklaces.
EJ shared two snaps from the event on Instagram on April 15, as he posed with his dad and solo on the red carpet. "So proud and excited for the world to witness even more of your glory @magicjohnson you constantly astound and astonish me with your intelligence wit and greatness you are worthy of this and all the universe has in store for you," he wrote in the caption. Plenty of fans were seriously stunned by the look too, with one writing, "Gorgeous!!!," while another told the reality star, "Sooo fabulous and your dad, bravaaa."
EJ has proven multiple times that he doesn't care about what anyone has to say about his penchant for dresses, even clapping back in an epic way in 2019 after a troll slammed him for wearing a high slit back gown. "If my son ever pulled something like this I would whoop his add 040349 that's too embarrassing," the hater wrote, to which EJ clapped back, via The Jasmine Brand, "Your son can pull any look he chooses even this one regardless of your ignorance." Slay, Queen!