Netflix's Bling Empire Is Adding Two New Faces To The Cast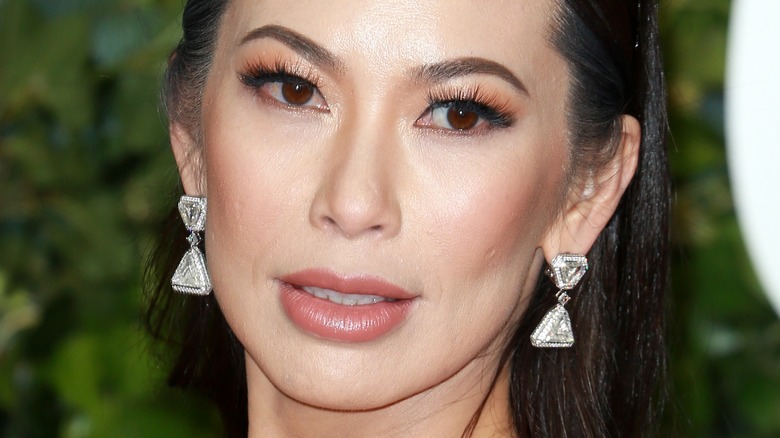 Cubankite/Shutterstock
If you're a fan of Netflix, then there's a high chance you've seen the large selection of original reality shows. From "The Ultimatum" to "Too Hot To Handle," the streamer has become a haven for reality TV enthusiasts. In 2021, Netflix added another hit series to their catalogue with the mega-popular "Bling Empire." In the glamorous first season, viewers were introduced to a wealthy group of Asian-American socialites living in the posh neighborhoods of Beverly Hills.
While fans enjoyed the show's non-stop drama and luxurious soirees, it was the attractive and lovable cast that secured its dedicated fan base. Some of the fan favorite's of the series included Anna Shay, a socialite and the former heiress of Pacific Architects and Engineers, Kevin Kreider, a model and universal friend of the group, and philanthropist Christine Chiu and her husband, Gabriel.
With Season 2 of the hit series set to premiere on May 13, Netflix has revealed that two more wealthy cast members are set to join the larger-than-life series.
Here are the two new cast members of Bling Empire
Before the second season of Bling Empire drops on the Netflix, fans were given some exciting news surrounding the show's cast. According to E! News, Netflix announced that Dorothy Wang and Mimi Morris are set to join the stacked cast for the forthcoming season. For some reality TV fans, Wang may look familiar due to her stint on the popular 2015 E! series, "Rich Kids of Beverly Hills." As the daughter of a successful real estate family, the newcomer grew up in Los Angeles' luxurious inner circle. But aside from her family's wealth, Wang has made a name for herself as a lifestyle blogger and entrepreneur. 
Unlike most of the show's cast, Morris had a much rougher start in life. Before she became a successful businesswoman in the US, Morris grew up in Vietnam with her seven siblings amidst the war. During that time, she lived in a large hole for two years with very little food and water. But, through her resilient nature, Morris started her own business and found love with the CEO of Morris Group International, Donald Morris.
Mimi and Wang's casting announcement comes nearly a year after the latter showed interest in joining the hit Netflix series. In an interview with TMZ, Wang was asked if she would join the cast, to which she coyly replied, "I don't know, we'll see." She then said it would be "fun" to participate in the show, while also praising the show's Asian representation.