Jennifer Aniston Opens Up About The Medical Disorder That Haunts Her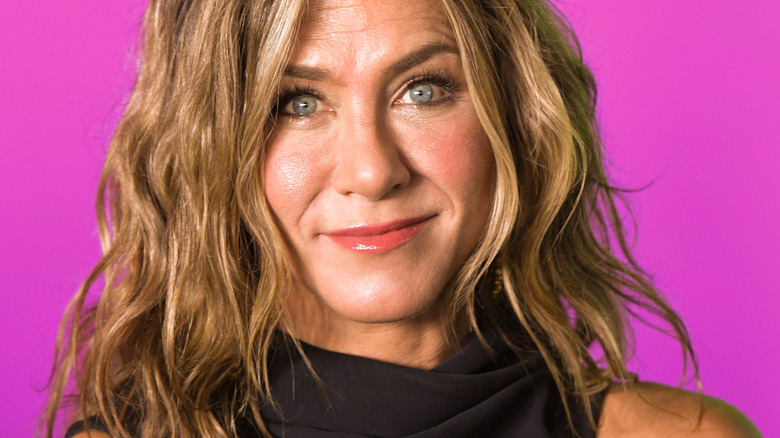 Ron Adar/Shutterstock
Jennifer Aniston has always spoken candidly about her health issues. We all know that the "Friends" star loves her salads and prioritizes eating healthy and staying active, but she's also aware that no amount of diet or exercise can fix everything. In fact, she even revealed to People that she had to dial down the intensity of her workout routine after injuring her back in 2020.
Aniston spoke to InStyle about a different issue that was more cosmetic in nature in a 2011 interview: hair loss. It got so bad that she felt like it was necessary to chop off her famous tresses. "My real hair was getting thinned out again from all the extensions," she said. "It was starting to look fake."
Aniston has also opened up about suffering from severe dry eye. In 2016, she told Health that she was overusing eye drops to keep her parched peepers from causing her near-constant misery. "It got to the point when I was using eye drops two to three times every hour to feel relief because it was so painful and so irritating and itchy," she said. The condition also began affecting her job, with the actor saying that it was making it difficult to read her lines, wear makeup, and pose in front of wind machines for photoshoots. Chronic dry eye isn't the only health issue that has majorly impacted her quality of life.
Jennifer Aniston used to sleepwalk
Jennifer Aniston has been diagnosed with insomnia, a condition many other celebrities struggle with. She became a chronic nighttime clock-watcher, which is not helpful behavior when you're desperate to visit dreamland. "The more I worry about it, the harder it is to fall asleep," Aniston told People in an April 15 interview. She previously spoke about her sleep struggles on "The Dr. Oz Show" in 2014, revealing that she initially turned to technology for help. "I got an app on my phone that allows you to sort of track your sleep rhythms, like how deep you go. I don't really quite ever get into the deep, deep, deep sleep. And am I going to die young?!" she said, per E! News.
When an exhausted Aniston did fall asleep, she had to worry about another slumber-related issue. "The Morning Show" star said she realized she was sleepwalking when she set off alarms inside her own home. Her insomnia was negatively affecting her work, diet, and ability to exercise properly, so she eventually sought help from a medical professional — something she strongly recommends to other insomniacs.
Aniston has discovered that staying away from her phone at night and performing the same pre-bedtime routine, which includes some light stretching, is helpful. She's also teamed up with the Seize the Night and Day campaign to arm the sleep-deprived with the knowledge that will hopefully help them turn off those "Friends" reruns at night and get a good night's rest.