The Messiest Part Of Bruce Willis And Demi Moore's Divorce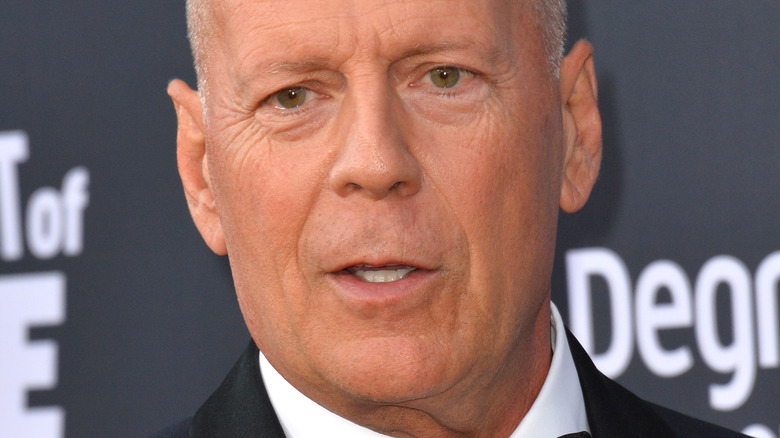 Featureflash Photo Agency/Shutterstock
When it comes to classic Hollywood power couples, Bruce Willis and Demi Moore are among the elite. As two of the most sought-after entertainers of the 90s, the pair was a staple on the red carpet and even continued to appear together at various events following their divorce in 2000.
Like most famous pairings, Willis and Moore's courtship was heavily covered by media outlets when it began in 1987. By that point, Moore was an A-list actor, having starred in the widely successful film "St. Elmo's Fire," after appearing on television shows like "General Hospital" and "Bedrooms." Willis, on the other hand, was in the midst of his 5-season run on ABC's "Moonlighting" opposite Cybill Shepherd at the time. "My impression was, he's kind of a jerk... but Bruce was so gallant — in his own boisterous way, a real gentleman," Moore said in her 2019 memoir "Inside Out" (via Entertainment Weekly).
Moore and Willis married after only four months of dating, and now share three daughters: Rumer, Scout, and Tallulah. And, although the formerly married actors have an amicable relationship today, their marriage — and subsequent divorce — was so messy that Moore had to directly address the fury of tabloid reports, telling Vanity Fair in 1993, "They won't stop until one day they may be right."
The rumors that rocked Demi Moore and Bruce Willis' marriage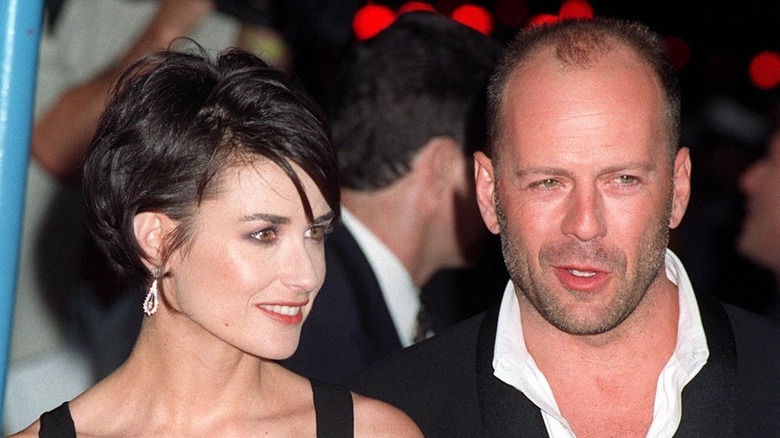 Featureflash Photo Agency/Shutterstock
There was nothing slow and steady about Bruce Willis and Demi Moore's relationship. The pair met in 1987 at a premiere for the movie "Stakeout," and within months, the couple was married, per Us Weekly. Less than a year later, their oldest daughter Rumer was born. And, while their union appeared to have a peaceful beginning, their relationship would soon be rocked by rumors of a messy extramarital affair that might have led to their messy demise.
Moore explained in her memoir, "Inside Out," that Willis "wanted to do whatever the f**k he wanted," but insisted she stay home with the kids. The relationship became more tumultuous when rumors of infidelity abounded on the couple who had been "leading independent lives for some time," according to People.
The cheating rumors were further aggravated after New York magazine reported that Moore was having a fling with Leonardo DiCaprio after the two were spotted having dinner together in 1997, according to Vulture. Willis, on the other hand, was allegedly engulfed in an affair with his "Armageddon" co-star, Liv Tyler. People reported that Moore was furious to learn Tyler had visited their Idaho home. While Willis and Moore have never addressed the cheating rumors head-on, the pair would go on to finalize their divorce in 2000.
Bruce Willis and Demi Moore decide they are better off as friends
There was nothing slow nor steady about Bruce Willis and Demi Moore's relationship. And while the couple's marriage ended after 11 years together, they pair seem to be closer than ever.
Following their divorce, Bruce Willis was asked what went wrong in his marriage to Demi Moore. "Well, I can give you the philosophical answer, which is also the most universal: Things change," Willis told Rolling Stone in December 2000. "People grow at different rates. People change at different rates."
Moore would go on to marry actor Ashton Kutcher; the pair were married for eight years before announcing their split in 2013. Meanwhile, Willis married model Emma Heming in 2009, and Moore even attended the ceremony, according to Entertainment Tonight. Today, the couple's relationship seems to be just as solid as it ever was, as Willis and Moore have seemingly blended their families. In Moore's memoir, she explains that, despite their tumultuous journey, she and Willis feel "more connected" than they did before their divorce.