What Margot Robbie Had To Say About Kissing Leonardo DiCaprio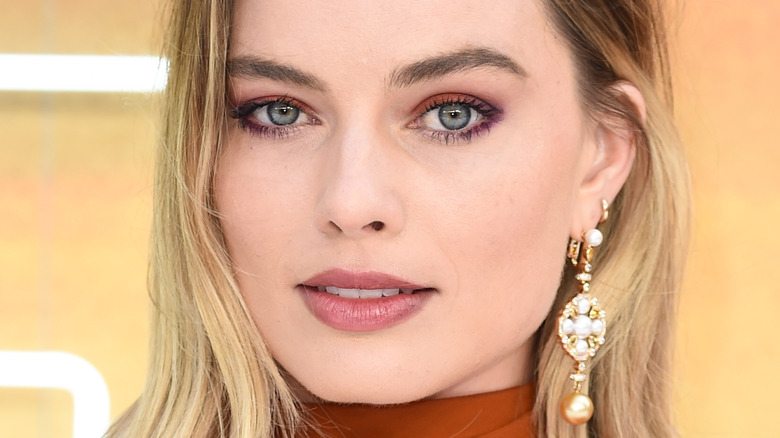 Featureflash Photo Agency/Shutterstock
For many in Hollywood, working with A-listers like Leonardo DiCaprio is a dream come true. For Margot Robbie, who starred alongside the acting icon in "The Wolf of Wall Street," doing so was her first big break in the industry. Luckily, the Aussie star made such an impression in her audition that both DiCaprio and director Martin Scorsese felt she was the only woman for the job. "She clinched her part in [the movie] during our first meeting by hauling off and giving Leonardo DiCaprio a thunderclap of a slap on the face, an improvisation that stunned us all," Scorsese told Time in 2017.
For her part, Robbie explained the unscripted slap as something she felt was necessary to do to stand out. "In my head I was like, 'You have literally 30 seconds left in this room and if you don't do something impressive nothing will ever come of it. It's a once-in-a-lifetime chance, just take it,'" she told Harper's Bazaar. Right as DiCaprio was yelling (in character), "I just go, 'Whack! I hit him in the face," Robbie recalled. "And then I scream, 'F*** you!' And that's not in the script at all. The room just went dead silent and I froze." 
Thankfully for Robbie, the surprise move paid off in spades, and "TWOWS" catapulted her to stardom. Today, the Aussie actor has fond memories of her breakout role — even though kissing DiCaprio may not have been a highlight of her time on-set.
Margot Robbie didn't feel sparks with Leonardo DiCaprio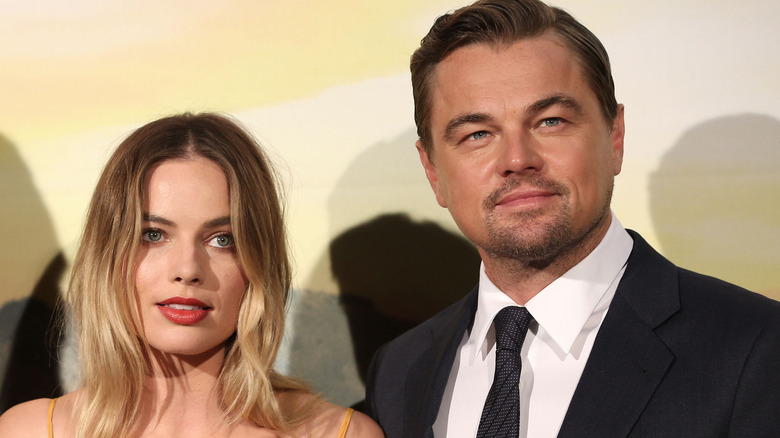 Franco Origlia/Getty Images
As one of the world's biggest heartthrobs, women are lining up to kiss Leonardo DiCaprio, but Margot Robbie, who played DiCaprio's onscreen mistress-turned-wife, just didn't feel the fireworks. "All of my girlfriends interrogated me and asked, 'Is he an amazing kisser?' I'd sit them down and say, 'All I know is his screen kissing is great,'" she told People in 2014. "Then they'd get upset and say, 'Tell me it was romantic and there were fireworks.' There weren't any." In part, the lack of sparks was because both actors were tired and working long hours on-set. "You do the take in 17 hours, and it's just hot and sweaty," Robbie added.
While the Aussie star was open about how grateful she was for the chance to work with an acting legend, her time with DiCaprio was full of adjustments. Along with the kissing scenes, Robbie also stripped down for a movie for the first time. But, in director Martin Scorsese's capable hands, her nudity was far from gratuitous; instead, it went a long way in making the character of Naomi Lapaglia feel authentic. "The whole point of Naomi is that her body is the only form of currency in this world," Robbie told The Telegraph. "When Marty [Scorsese] was trying to help me out, and said in the scene where she seduces Jordan, perhaps I could have a robe on, I said she wouldn't. She has to be naked. She's laying her cards on the table."
Margot Robbie compared Will Smith and Leonardo DiCaprio's onscreen kisses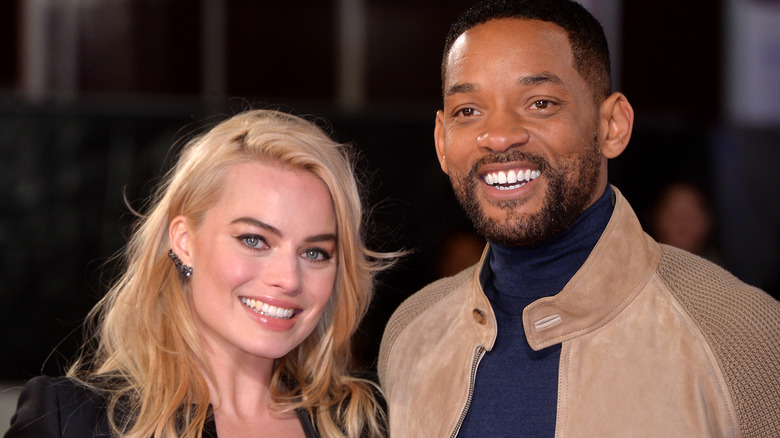 Anthony Harvey/Getty Images
Thanks to Margot Robbie's breakout role in "The Wolf of Wall Street," she went on to lock lips with other A-listers, including Will Smith. The pair co-starred in the 2015 heist film "Focus" and their instant chemistry even sparked rumors of an affair behind the scenes, according to Star. Though Robbie was quick to debunk the rumors to Us Weekly, the sparks between the two were undeniable in the film. "You cannot create chemistry," Smith told Access Hollywood. "Whatever those things are inside of human beings that [draw people together] and create something, they're either there or not."
Both Smith and Leonardo DiCaprio are two of Hollywood's most swoon-worthy leading men, so naturally, Robbie was asked which man was the better kisser. "I have to keep explaining to people that screen kissing isn't quite the same, it's close but it isn't quite the same as a normal real life kiss," the Aussie actor told the Daily Mail. "So I can't really judge them but I would say they're definitely on par." While DiCaprio didn't comment explicitly on Robbie's kissing expertise, he was highly complimentary of her acting skills. In fact, he advocated for her to get the role of Naomi Lapaglia in "TWOWS." "Seeing Margot come in and read that scene with me I just knew I was witnessing a dynamic presence in cinema that was about to be," the Oscar-winner explained, per Marie Claire UK.