Body Language Expert Reveals The Telltale Sign In Johnny Depp's Pained Testimony - Exclusive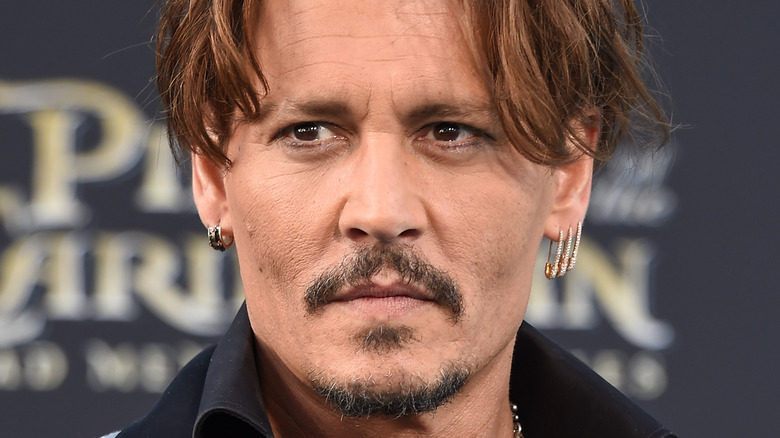 DFree/Shutterstock
The following article includes allegations of domestic abuse.
Johnny Depp and his ex-wife Amber Heard have been embroiled in one of Hollywood's ugliest he said, she said battles since their marriage ended in 2016. Heard obtained a restraining order, and her claims about Depp were made public in court documents, with her alleging, per ET, "I endured excessive emotional, verbal and physical abuse from Johnny, which has included angry, hostile, humiliating and threatening assaults to me whenever I questioned his authority or disagreed with him." She also claimed these alleged outbursts were fueled by excessive drinking and drug use. 
The former couple's divorce was finalized in 2017, but Depp didn't stop battling to save his battered reputation and injured career. In 2018, Heard penned an opinion piece for The Washington Post titled, "I spoke up against sexual violence — and faced our culture's wrath. That has to change." Heard never mentioned Depp's name, but he decided to take his ex to court, accusing her of defamation and suing her for $50 million, according to CNN.
The trial began on April 11 in Fairfax, Virginia, and Depp took the stand to give his testimony on April 19. A body language expert exclusively told Nicki Swift that "The Pirates of the Caribbean" star appeared sincere, but with actors, things might not always be they seem.
Johnny Depp 'conveys a level of truth' with his courtroom body language
When Johnny Depp took the stand on April 19 to share his opening testimony, he made his position clear. "Never did I myself reach the point of striking Ms. Heard in any way nor have I ever struck any woman in my life," he said, as reported by CNN. Depp, who appeared pained at times, also explained why he decided to take legal action. "I felt it my responsibility to stand up not only for myself in that instance, but stand up for my children," he stated. 
According to Austin Iuliano, a body language expert and public speaker who teaches C-Suite Executives how to be more charismatic on camera, Depp came off as composed, thoughtful, and, perhaps most importantly, honest when he addressed Heard's allegations. "It's clear that there is a lot of truth in what Johnny is saying," Iuliano exclusively told Nicki Swift. "You can see in his eyes that when he recounts certain aspects he is reliving the moment. This along with subtle body language conveys a level of truth." luliano touched on those mannerisms, explaining, "A lot of people will think stuttering and his [Depp's] slow methodical way of speaking is a sign of nerves, it is not."
But Iuliano noted that actors can be difficult to get a read on due to their profession, pointing out that "their job is to make us believe the fiction put in front of us," cautioning, "a well rehearsed fabrication can appear truthful."
If you or someone you know is dealing with domestic abuse, you can call the National Domestic Violence Hotline at 1−800−799−7233. You can also find more information, resources, and support at their website.
Johnny Depp has admitted to having 'many faces'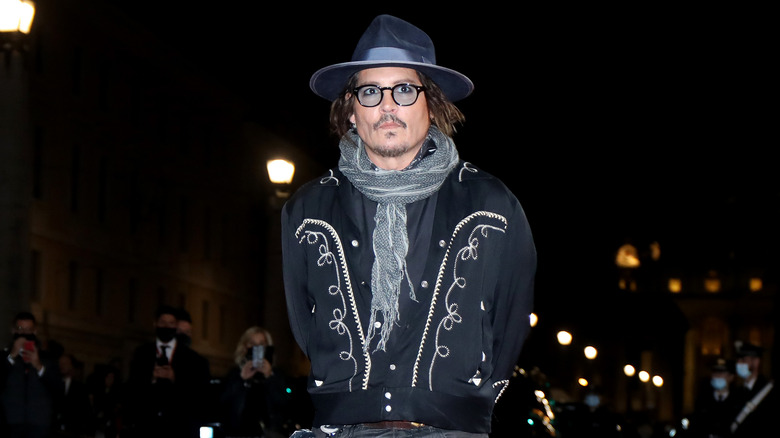 Elisabetta Villa/Getty Images
Perhaps one could argue that if anyone can make a jury believe "the fiction put in front" of them, it's heavy-hitting actor Johnny Depp. 
In 2016, Depp participated in an Origins Project dialogue with Arizona State University professor Lawrence Krauss. During the discussion, Depp famously recounted a conversation he had with actor Marlon Brando. When Brando asked Depp how many films he was doing a year, Depp answered "two or three." According to Depp, Brando remarked, "That's too many. We only have so many faces in our pocket." Then Depp turned to the audience and said, "Unfortunately, because of my madness I feel like there's a lot of faces left in my pocket. If you think of yourself as a chest of drawers, they're all in there. And that's not healthy." Depp explained that when it comes to madness, you either have it or you don't. "If you don't have it, great. But don't romanticize it," he warned. 
Even with all of his "madness" and "many faces", however, the talented thespian has yet to score a highly-coveted Oscar. Fortunately, for Depp, it appears he's not interested. "I don't want to win one of those things ever," he famously told the BBC. "I don't want to have to talk," he explained. " The idea of winning means that you're in competition with someone and I'm not in competition with anybody," he continued. "They gave me one of those things, like a nomination, two or three times," Depp continued. "A nomination is plenty."