The Real Reason Ellen DeGeneres Quit Being Vegan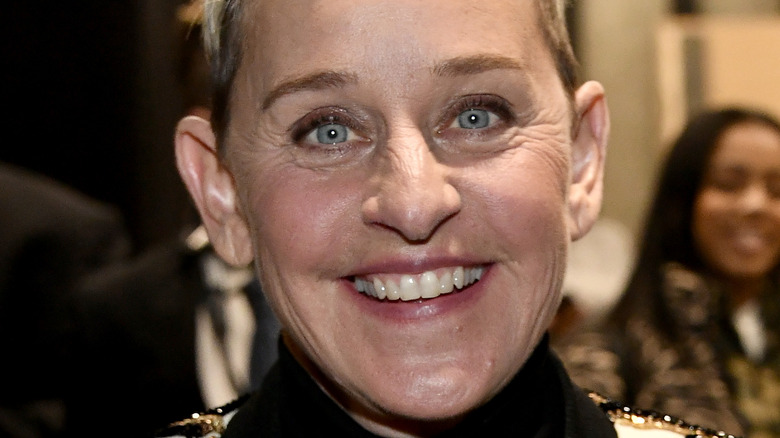 Frazer Harrison/Getty Images
Celebrities: They're just like us. They too go on all sorts of diets and health regimens to keep themselves in impeccable shape. The stars are notorious for going the extra mile to stay fit, and sometimes they even get backlash for it.
A prime example is the infamous Master Cleanse diet, which involves cleansing your digestive system by only consuming a lemonade-like drink for ten days, per Healthline. Beyoncé famously tried this extreme diet out before filming "Dream Girls," and she reportedly lost 20 pounds in just two weeks. There's also the so-called Baby Food Diet which the likes of Jennifer Aniston, Lady Gaga, and Gwyneth Paltrow had allegedly tried out in the past, per The Daily Beast. As you can tell by the name, it requires consuming purée versions of food similar to what an infant eats before taking on solids.
Of course, there are also celebrities who advocate for healthier and safer methods for getting fit — one of them being Ellen DeGeneres. The talk show host and comedian once said that she has sworn off eating animal products and transitioned to veganism for a complete lifestyle change. "Well I felt better about myself, and I felt healthier living in a cruelty-free way. I haven't been sick since, I am not as tired, and I've lost weight," she said in a December 2009 interview with O Magazine. "And I am lucky: I have a chef, so it's easy for me. For a lot of people, it's harder." However, DeGeneres didn't stick to the plant-based lifestyle and has since gone back to consuming meat. Was there a particular reason she went back to her old ways? 
Ellen DeGeneres didn't have a particular reason for quitting veganism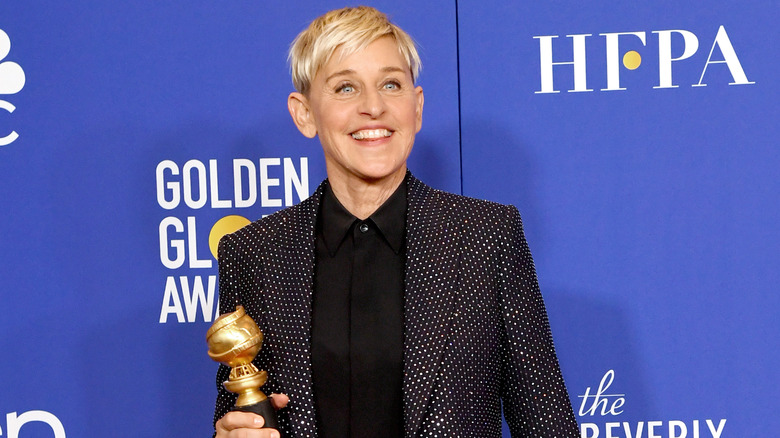 Kevin Winter/Getty Images
When Ellen DeGeneres switched to the plant-based life, she said that it was because consuming meat was plain "irresponsible." In an interview with Shape, she said, "Food used to be really important to me. I loved steak, I loved hamburgers, I loved all that stuff. I can't believe how irresponsible I was, eating what I ate," she confessed at the time, per PopSugar. "I want to be on my toes; I want to have energy. And as much as the [vegan] diet seems like a sacrifice, it's helping me."
However, she eventually changed her tune and admitted that she wasn't able to sustain veganism, but not because she had a particular reason. "I'm not really vegan, I say it for the joke," she quipped in her 2019 standup special "Relatable," according to Us Magazine. She added, "I was vegan for eight years and I really believe that it's great for you." 
And while she did enjoy eating plant-based food, the move back to eating meat and animal by-products seemed like a natural progression for her. "I was healthier than I'd ever been, I loved being vegan. But in the last year or two for no real reason, I started eating a piece of fish once in a while. Or I'll eat eggs from chickens I know — if they are in someone's backyard or are happy."
Ellen DeGeneres continues to support veganism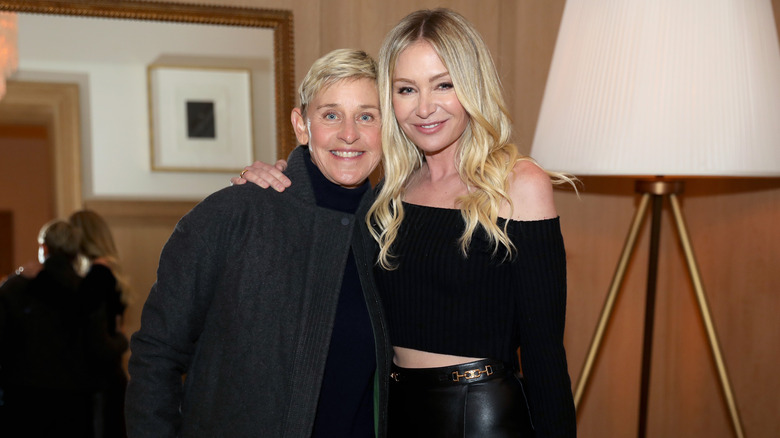 Kelly Sullivan/Getty Images
While Ellen DeGeneres herself is no longer vegan, it doesn't mean that she's no longer supportive of those who continue to live the plant-based life. In fact, in 2019, she invested in her favorite vegan brand, Miyoko's Creamery, alongside her wife of 14 years, Portia de Rossi. "@theellenshow and @portiaderossi couldn't get enough of Miyoko's artisan vegan cheese and butter, so they invested!" the company shared on Instagram. "The longtime fans share our love for animals and believe in our mission to revolutionize dairy with plants through the creation of a more compassionate system."
DeGeneres shared that she and de Rossi are firm believers of what the company stands for. "Being kind to one another is not just about people, it extends to animals as well," said the host via press release. "We learned more about the mission behind the products and about Miyoko herself, we knew this was a special and exciting company that we wanted to support."
And it doesn't stop there! DeGeneres, who has long been an advocate of animal rights, also partnered with Discovery to develop content focused on endangered species under her production company, A Very Good Production. "I'm so excited to partner with Discovery," she shared, per Deadline. "I'll get to discover all kinds of things about incredible animals." One of the first projects will be a documentary titled "Endangered" in which DeGeneres will narrate. "Endangered" is scheduled to begin streaming on discovery+ on Earth Day, April 22.