Aaron Paul Reveals His New Baby's Famous Godfather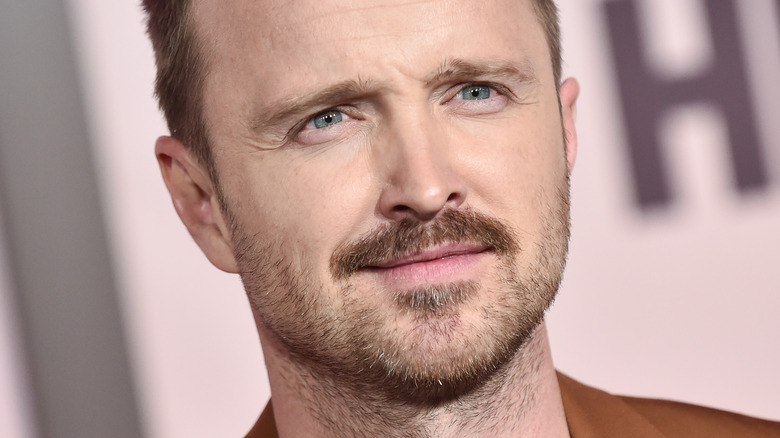 DFree/Shutterstock
Aaron Paul is no stranger to dad life, as he and his wife Lauren are parents to daughter Story Annabelle, according to People.
At the time, fans were curious about how Paul and his wife came up with their daughter's unique name. He described the elaborate meaning behind the moniker on a March 2018 appearance on "The Tonight Show Starring Jimmy Fallon." It all began when the actor and his lady had their first date in Las Vegas after meeting at Coachella. "That night we actually bought our unborn baby a leather jacket, and we went to a chapel to get married. But the chapel happened to be closed. And so we took that as a sign and just waited," he explained, via HelloGiggles. Hilariously, Paul described the pair then winning $16,000 on blackjack that evening. "This is a true story," he teased. Since the events of their first date were truly unbelievable, Paul and his wife knew their baby would be a "little Story."
Paul introduced his baby girl to the world following her birth in February 2018 on Instagram, describing her simply as, "My heart." Aw! Life for the Paul family just got sweeter as they have officially welcomed their second child, a baby boy named Ryden Caspian Paul. He might be too young to understand, but Paul's son has a godfather that would make any "Breaking Bad" fan jealous.
Bryan Cranston is a part of Aaron Paul's family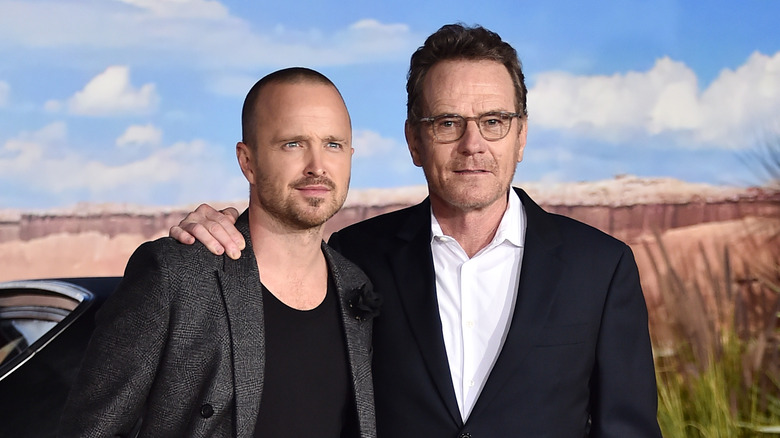 DFree/Shutterstock
Aaron Paul is now a dad of two! Paul chatted about all things fatherhood on the April 21 episode of "The Tonight Show Starring Jimmy Fallon," and revealed that his "Breaking Bad" co-star Bryan Cranston is his boy's godfather. "He's very excited, very honored," Paul said of Cranston accepting the special role. "I love the man to death. He's one of my best friends in the world, and, so yeah, it was just a no-brainer."
Paul and Cranston will reprise their famous roles as Jesse Pinkman and Walter White in the finale season of "Better Call Saul" this year, according to Variety. In addition to being onscreen crime partners, Paul and Cranston are real-life business partners for their tequila company, Dos Hombres. "We missed seeing each other every day on the recordings," Cranston explained to Esquire Mexico (via The Fashionisto) in 2020 about how the company with his co-star came to be. To add to their connections, the two Emmy winners are now closer than ever as Cranston assumes godfather status for Paul's boy.
It's obvious that Paul couldn't wait to expand his family, as evidenced by a December 2021 Instagram post, where he wrote before Ryden's birth, "Can't wait to meet you number 2." It seems like being a dad is the most important thing to Paul, as he gushed to Haute Living in March 2020, "Having a child is the closest thing to magic that anyone can have."