Does Akon Really Have Multiple Wives?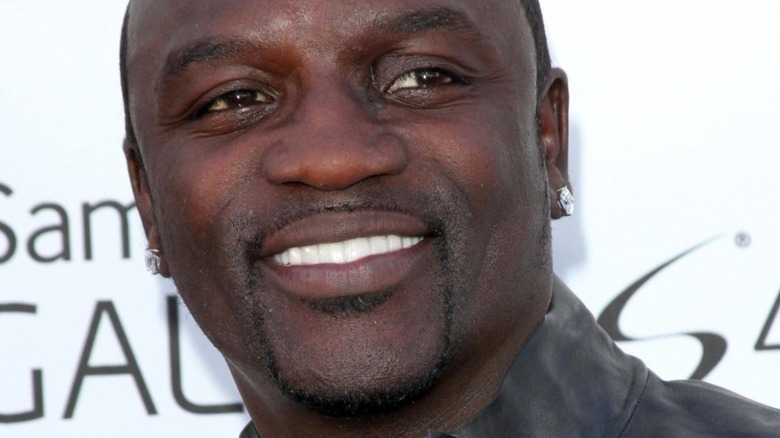 s_bukley/Shutterstock
With multiple hit songs in his discography, Senegalese-American singer Aliaune Damala Badara Akon Thiam — aka "Akon" — is a favorite for many R&B lovers. But while this singer does not shy away from sharing his incredible talent with fans — we can't say always say the same about his personal life, as Akon once shied away from discussing his relationships after a controversial interview in 2006. "I'm a polygamist," he reportedly said on Angie Martinez's HOT97 radio show, per Distractify. "I can afford to have as many wives as I can afford to have." 
The revelation was not entirely well received, as the star conveyed when speaking to All Hip Hop. "It started affecting other people that had nothing to do with us," he said of his admission. "Because of that, [the label] said they don't want me to promote that aspect, and I can't talk about that too much because it's destroying other people's families and other things. It reached another level to where it could have potentially been damaging for other [people]." He also hinted at legal concerns driving the backlash. Akon concluded, "Unfortunately this is the world we live in, people do judge you by your beliefs and how you think."
Although Akon has admitted he does not practice monogamy, he has danced around the exact number of wives he has, potentially due to the controversy. But whatever the case might be, it has not stopped fans from wondering: How many wives does he really have?
Akon opens up about his views on polygamy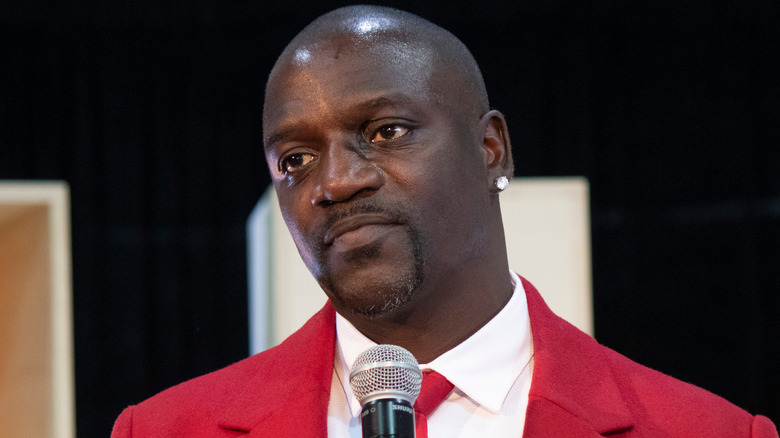 G Holland/Shutterstock
Learning that Akon was in support of polygamy might not have sat well with a lot of people, but it was only a matter of time before the singer opened up about it again. The "Locked Up" star previously told TMZ in 2013 that he believes polygamy comes naturally to men, meaning they can't help it — literally. "At the end of the day as a male we are natural breeders by nature. We can't even escape it if we wanted to." Alright!
Then in 2018, while appearing on the Drink Champs podcast, Akon admitted to having multiple wives, while giving an insight into how he has been able to keep all of his women on board. "My approach is just totally different. I keep it all the way 100 from the beginning," he said. According to the singer, honesty earns him respect, and even better, helps women prepare for what they are getting into.
One year later, Akon appeared on "Love & Hip Hop Hollywood" with Tricia Ana, a then-employee of Akon's label, Konvict Muzik. Tricia affectionately referred to him as "Kon" in an interview about the show, and acknowledged they were in a relationship. She said of their connection post-breakup, "We remained friends and business partners." However, when a host referred to Kon as her "ex-husband," she quipped, "So I thought it was my ex-husband."
We're not sure what cryptic answer means, but we do know one woman has come forward as the "legal wife" of Akon.
Tomeka Thiam says she's legally married to Akon
Akon is believed to have a lot of women in his life, but one person who has stood out from the mix is Tomeka Thiam, with whom  he shares children. While neither has yet confirmed how many children they share, based on some of the pictures from Thiam's Instagram page, some believe they have five.
Unlike her husband, Thiam leads a very private life and is hardly ever in the news, save for 2021 when she was rumored to be joining the "Real Housewives of Atlanta" cast. In a since deleted Instagram post, Thiam refuted the claims, while making her position in Akon's life clear. "I promise I am legally married to Kon," she wrote, per Radar Online."I'm a very private person and if there is a fake wife joining the show It's definitely not his real wife."
Thiam might like her privacy, but as she has proven, she will come out to defend her marriage if need be. And she's not afraid to share her love for Akon, taking to Instagram in April to wish him a happy birthday, making sure to call him her husband — capital H — in the caption. Copy that!