Lindsay Lohan Proves Her Career Comeback Is Going Strong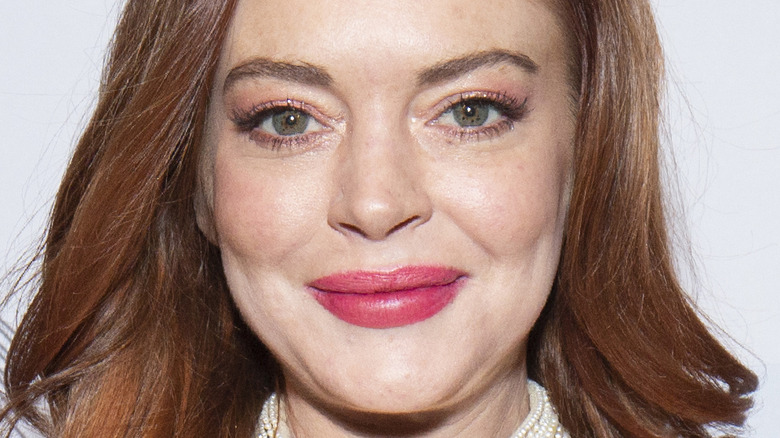 Santiago Felipe/Getty Images
Lindsay Lohan is back in the game, and how could anyone not be happy for her after all this time? The "Mean Girls" and "Parent Trap" actor has been through, well, we'll say she's been through some stuff. After a very public mental health crisis and short stint in jail in the late 2000s, Lohan all but disappeared from public life for a while, now reportedly living in Dubai after leaving Mykonos, the site of her extremely short-lived reality series, "Lindsay Lohan's Beach Club," according to Paper. 
Now, it looks as though every millennial's favorite redhead is putting all of that behind her and making her slow and steady return to acting — as well as other forms of media. She acted alongside "Harry Potter" alum Rupert Grint in the 2018 TV series "Sick Note," per her IMDb page, and she has a Netflix Christmas movie coming up, called "Falling for Christmas."
But it's not just in acting that Lohan is making her return. She's also just announced another exciting new project. 
Lindsay Lohan is starting a podcast
On her Instagram, Lindsay Lohan uploaded a promotional poster for her new podcast, called, "The Lohdown." In the Instagram post, Lohan explained what her new project is all about. "I want 'The Lohdown' to be a place where you can get to know me," she said. "Having starred in dozens of movies and TV shows, I'm usually the one being interviewed. but now, it's my turn to ask the questions, to dig deep and hear all about the fascinating and wonderful things that my guests are doing in their lives." Ranging from high points to low points, and everything in-between, she wants "to get the lohdown on it all." The burgeoning podcaster says she'll be interviewing actors, artists, producers, YouTube personalities, and more on her show. 
On "The Lohdown" official page, the show is described a little differently, saying, "Lindsay Lohan is here to bring you the ultimate guide to living fully on The Lohdown. She's here to share with you the things, people, places, and ideas that she loves." Those things include "the greatest undiscovered music" to "global causes" that you can support. The description compares the actor to "the big sister that you never had, or if you just need an extra sister who's ready to lend and ear to hear about your joys and your dilemmas."
So, we're getting part-interview podcast, part Brené Brown? Sign us up.