Bill Murray's Past Comes Back To Haunt Him Amid Investigation Into His Alleged On-Set Behavior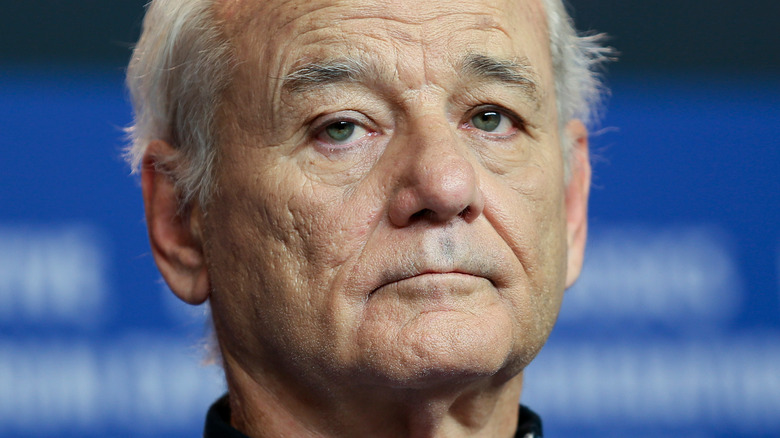 Denis Makarenko/Shutterstock
The following article includes allegations of domestic abuse.
Production was halted on a Bill Murray film following a complaint about his alleged inappropriate behavior. "Being Mortal," the directorial debut of Aziz Ansari that also stars Murray and Seth Rogen, suspended production on April 18 after a complaint was filed the previous week, per Deadline. Not much is known about the comedy icon's future with the film, as the investigation is ongoing. As of this writing, insiders have only reported that neither Ansari or Rogen were party to the allegations against Murray. 
In light of this development, some were quick to cite Murray's feud with "Charlie's Angels" co-star Lucy Liu. Speaking with the Asian Enough podcast in July 2021, Liu admitted that she and Murray got into an altercation on set of the 2000 film after Murray allegedly berated her. "It was unjust and it was uncalled for, and it was ... inexcusable and unacceptable," Liu said of Murray's alleged remarks. However, she wasn't Murray's only alleged target during the action-comedy's production. "Charlie's Angels" director McG claimed to The Guardian in 2009 that he was "headbutted by [Murray] ... square in the head" during a creative dispute. 
The unearthing of Murray's alleged misconduct has only just begun. As Twitter does best, users have already noted some long-forgotten incidents of his questionable behavior in the past. 
Bill Murray has a long history of alleged nasty behavior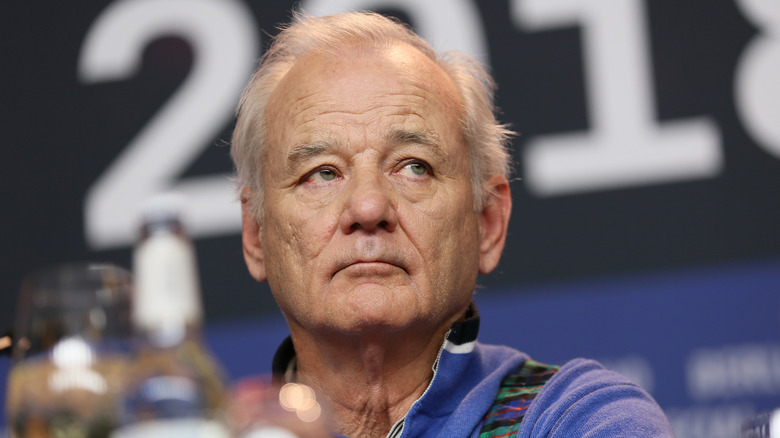 Denis Makarenko/Shutterstock
And out come the skeletons... Amid the investigation into Bill Murray's alleged inappropriate behavior on the set of "Being Mortal," Twitter users have dug up past allegations of misconduct against the actor. One user noted Bill's ex-wife Jennifer Butler Murray's accusations of domestic abuse. According to The Baltimore Sun, Butler Murray filed for divorce in May 2008, stating in her filing that Murray "hit her in the face" in November of 2007, telling her "she was 'lucky he didn't kill her.'" 
Another Twitter user tweeted that Murray's ex's claims didn't surprise him, "considering how he treated a powerful female producer on a full set." Laura Ziskin, the producer in question behind notable films like "Spider-Man" and Bill's iconic comedy, "What About Bob?," recalled an incident on the latter film's set to The Baltimore Sun in 2003. In addition to the actor reportedly throwing Ziskin (albeit playfully) into a lake mid-argument, "Bill also threatened to throw me across the parking lot and then broke my sunglasses and threw them across the parking lot," Ziskin said, elaborating, "I was furious and outraged at the time, but having produced a dozen movies, I can safely say it is not common behavior."
The notoriously press-shy Murray doesn't seem to have directly addressed the above accusations, but that hasn't stopped some on social media from passing judgement, or as the above Twitter user who shared Butler Murray's accusations put it: "We've needed to talk about Bill Murray probably being a bad dude for years."
If you or someone you know is dealing with domestic abuse, you can call the National Domestic Violence Hotline at 1−800−799−7233. You can also find more information, resources, and support at their website.