The Truth About Michelle Obama's Guest Appearance On NCIS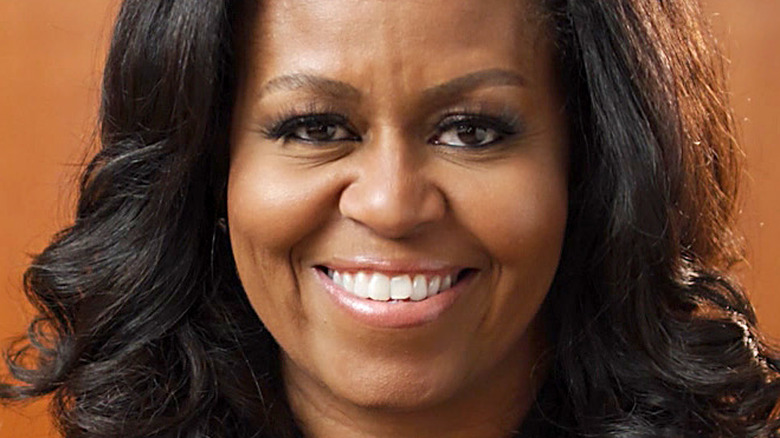 Billboard Music Awards 2021/Getty Images
Michelle Obama is a woman of many passions. The former first lady used her position to promote a host of causes during her tenure between 2009 and 2017, ranging from child nutrition and girls education to poverty awareness. Obama was an advocate long before she moved to Washington, D.C., having opened the Public Allies chapter in her hometown of Chicago to promote leadership skills among young people, per the White House.
But Obama's interests go beyond her work with children and young adults. She has also promoted initiatives to support veterans and their families, launching Joining Forces along with then-second lady Dr. Jill Biden in 2011, according to CNN. "This campaign is about all of us, all of us joining together, as Americans, to give back to the extraordinary military families who serve and sacrifice so much," Obama said during an official event. It was thanks to her role as an advocate for the U.S. military that Obama ended up on America's most-watched TV show of 2016.
Obama starred on an "NCIS" episode titled "Homefront," the plot of which referenced her and Biden's initiative. Obama's guest appearance was brief, but saw her host a roundtable that had Mark Harmon's Leroy Jethro Gibbs among those in attendance. "We know the sacrifices our military families are making, and it doesn't go unnoticed. Nor do the sacrifices of our veterans," she told Gibbs (via Entertainment Weekly). Obama's cameo may have been short, but it meant a lot to the "NCIS" team.
NCIS' showrunner invited Michelle Obama to be in the episode
Michelle Obama played herself on the May 3, 2016, episode after "NCIS" showrunner, the late Gary Glasberg, asked her to. He had the idea as soon as the team proposed writing an episode that involved Joining Forces, an initiative Glasberg was familiar with. He saw an opportunity to promote a cause close to his heart while also putting together great entertainment for loyal "NCIS" fans. "Whenever we can do a story that supports and explains the difficulties that our military families [face], we embrace it and we want people to understand. This was natural for us," he told E! News in 2016.
Glasberg was unsure whether the then-first lady would agree to it, but she didn't hesitate. The only problem they ran into had to do with logistics. "Initially, we wanted her to come to us and, understandably, for scheduling reasons that couldn't happen," he said. But Obama showed she was determined to keep her word, so she had a counteroffer: shoot her scene on her own turf. "We are the first film production outside of a news organization to film in the White House," Glasberg gushed, citing other shows that had filmed on the lawn and other places outside.
Obama was a pleasure to work with, Glasberg said. "She was just wonderful and welcoming." Mark Harmon agreed. "She was great, I mean, it was very real," he told Extra. "It's a subject matter that's very close to her." 
NCIS wasn't Michelle Obama's only TV appearance
"NCIS" wasn't the first or the only time the former first lady guest starred on a TV show. After leaving the White House, Michelle Obama appeared on "Black-ish" — and she didn't hide her excitement following the announcement in October 2021. "I've long been a fan of @BlackishABC's wit and all-around brilliance, and it was such a thrill to join in for an episode. I can't wait for you all to see it!" Obama wrote on Twitter. She starred on the premiere episode of the ABC show's final season on January 4, one that saw her joining the Johnsons for dinner as a surprise guest, according to Entertainment Weekly.
Before both "Black-ish" and "NCIS," Obama appeared on "Parks and Recreation" back in 2014, expanding the list of political figures to have appeared on the show, which includes then-Vice President Joe Biden, the late Senator John McCain, and former Speaker of the House Newt Gingrich, The Guardian noted. The episode featured Obama as a keynote speaker who convinces Amy Poehler's Leslie Knope to join her famous Let's Move initiative.
Also in 2014, and after weeks of much anticipation, Obama appeared on "Nashville" very briefly to deliver a televised message, according to The Washington Post. While The Post called Obama's guest appearance "disappointing," her other deliveries impressed critics. The Guardian's Danielle Henderson called her "the most promising actor in all of community theatre."