Where Is Anna Delvey Actually From?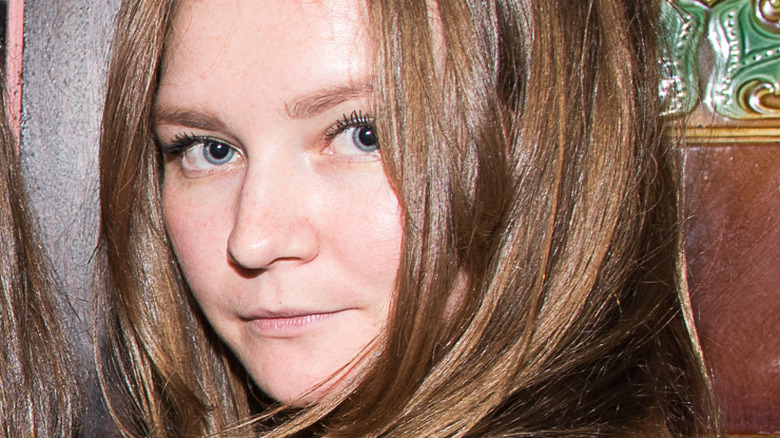 Dave Kotinsky/Getty Images
Anna Delvey made headlines after it was revealed that she pretended to be a rich German heiress for years before she was eventually caught. Delvey lived in New York City while scamming countless people, failing to pay enormous hotel bills, and even swindled large banks, according to NBC News. The inspiration for "Inventing Anna" — whose real name is Anna Sorokin — claimed she used the last name "Delvey" because it was her mother's maiden name. However, Delvey's parents told New York Magazine's The Cut that the name doesn't ring a bell.
The imposter was arrested in 2018 and then found guilty in May 2019. A Manhattan jury found her guilty and convicted Delvey of "four counts of theft services, three counts of grand larceny and one count of attempted grand larceny," per NBC News. She was originally sentenced to four to 12 years in prison, but was later released on parole in February 2021. A day after her sentencing, Delvey told The New York Times, "The thing is, I'm not sorry. I'd be lying to you and to everyone else and to myself if I said I was sorry for anything. I regret the way I went about certain things."
Of all her eccentricities, perhaps most perplexing is Delvey's unplaceable accent. She claimed to be German, but her accent has a hint of Russian. Where exactly is Delvey actually from?
Anna Delvey lived in Germany and Russia
Anna Sorokin was born in 1991 in a small town called Domodedovo, outside of Moscow, Russia, according to the New York Post. She moved to Germany with her family when she was 16 in 2007, where she spent most of her life before becoming Anna Delvey. Her father was a truck driver and her mother owned a store. 
Originally, Delvey moved to Paris and began her new life there after dropping out of London's Central Saint Martins College, per New York Magazine's The Cut. However, a trip to the east coast of the United States quickly made her change course. Delvey suddenly became a fixture on the Manhattan social scene. "She managed to be in all the sort of right places," a former acquaintance told the magazine. Despite her ubiquity stateside, she managed to keep her new life a secret from her family. "Before her detention, we knew nothing about her life in U.S.," Delvey's father, Vadim Sorokin, told Russian newspaper Komsomolskaya Prava (via the Daily Mail). "She has a selfish personality, we can't do anything about it. We raised her well." Delvey agreed with her parents' sentiment. "My parents had high expectations. They always trusted me with my decision-making," she told The Cut. "I guess they regret it now."
What is Anna Delvey doing now?
Anna Delvey was released on parole in February 2021. But on March 25, 2021, she was put in custody by Immigration and Customs Enforcement (ICE) because she "overstayed her visa," according to Insider. As of March 2022, she is still being held in ICE custody awaiting deportation back to Germany, per Fox 5 New York.
"Where will she go if she is kicked out of America? We have room for her here in the family home and while we'll support her, we won't enable her to repeat her previous mistakes," her father, Vadim Sorokin, told the Daily Mail. However, it seems that Delvey is not open to her father's kind-hearted offer. "I'd rather be in jail than live with my parents," she said in a text to the Daily Mail.
Despite everything that has happened, Delvey is still working on projects. She told The New York Times that she connected with actor Julia Fox via social media and that the two are "working on a little something together." She also has an art show opening in April in New York City. The show's curator, Chris Martine, told Forbes that the exhibit will feature 15-20 pieces Anna made while in custody. Each piece will be priced at approximately $10,000. It is unclear where the funds will go, however The Art Newspaper reports that a previous "Free Anna Delvey" art show set aside 25% of its proceeds to go toward her legal defense. Whether Delvey leaves the U.S. or somehow gets to stay, she clearly left an expensive mark.