Zendaya Went To The Same High School As Another Euphoria Star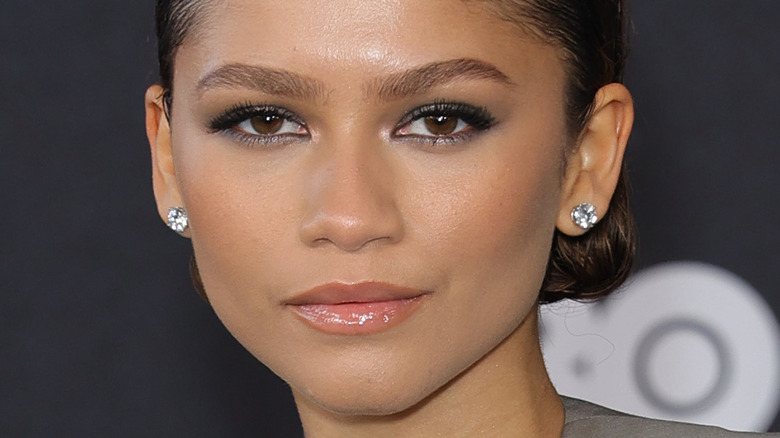 Momodu Mansaray/Getty Images
The second season of "Euphoria" premiered in 2022, and the series has only continued to grow in popularity as time goes on. Popular actors such as Zendaya, Sydney Sweeney, and Jacob Elordi have captured the attention of millions through both dramatic seasons of the series. "Euphoria" follows the often turbulent lives of teenage characters, and like most high-school friend groups, their tight-knit circle has its share of ups and downs when it comes to both friendships and romantic relationships. But when the cameras are down, these co-stars are incredibly supportive of each other professionally and personally. 
In an interview with The New York Times, actor Hunter Schafer, who portrays Jules on "Euphoria," opened up about her friendship with Zendaya, her onscreen love interest. "Z was my main scene partner for most of this season and I just feel so lucky to come out of this experience with a new best friend," she shared.
It's clear that the "Euphoria" cast has developed a bond, as their friendships have translated effortlessly off-screen. They're so close, it's almost as if they knew each other before filming even began. In fact, one "Euphoria" actor attended the same high school as Zendaya.
Zendaya and Angus Cloud go way back
It turns out that two "Euphoria" cast members went to the same high school in real life. Both Angus Cloud, who plays lovable drug dealer Fezco, and Zendaya attended Oakland School for the Arts, a performing arts high school in California. According to the school's official website, its mission is to "offer immersive arts experiences in a college preparatory setting." Zendaya, according to The Washington Post, graduated in November 2015. The actors must have crossed paths one way or another during their time there. However, Cloud doesn't recall spending any quality time with his co-star while in high school. 
"We had some of the same friends I guess, but I didn't really know her," Cloud told the Wall Street Journal in 2019.
The co-stars were apparently on two separate pages while they were in high school. While Zendaya was working on her acting career, Cloud was busy building sets and working on the lighting and sound for the school's theater department. Cloud's acting career began when he was stopped by a casting representative on a New York City street, according to GQ. The actor was abruptly asked to come read a script for a new television series and, after some suspicion that it was a scam, he begrudgingly agreed to audition for "Euphoria." Now, with millions of followers and a pivotal role on the show, the rest is history for Cloud.
Zendaya and more will return for Euphoria Season 3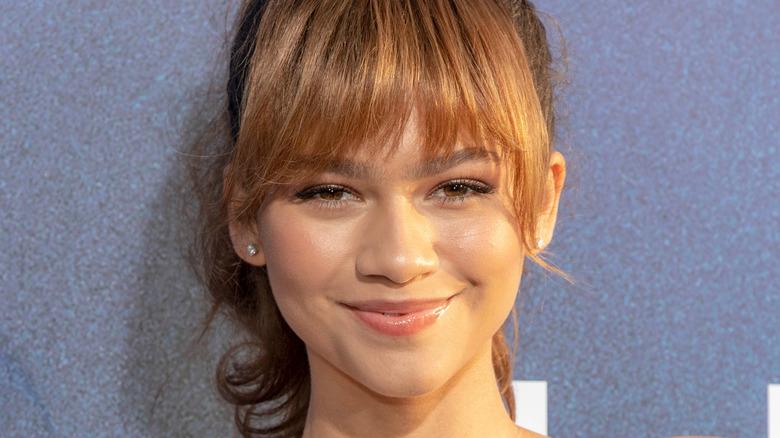 Eugene Powers/Shutterstock
While "Euphoria" stars Zendaya and Angus Cloud weren't super close as teens, their time on the famed HBO series has brought the two actors together as dear friends. "Happy birthday to a real one much love fammy," Cloud wrote to Zendaya on Instagram in celebration of her birthday in 2021.
Zendaya, Cloud, and the rest of the "Euphoria" gang have plenty to celebrate these days, as the show's official Instagram page confirmed in February that the series has been officially renewed for Season 3. According to Variety, "Euphoria" Season 2 episodes were garnering over 16 million viewers on average, making it the second-best performing HBO series over the past 18 years.
"The entire cast and crew of 'Euphoria' have taken Season 2 to extraordinary heights, challenging narrative convention and form, while maintaining its heart," Francesca Orsi, EVP of HBO Programming, said of the new season (via Deadline). "We couldn't be more honored to work with this gifted, wildly talented team or more excited to continue our journey with them into Season 3." While it's still unclear what exact storyline the new season will follow, fans know they can count on the stars of "Euphoria" to remain friends behind the scenes.