The Taylor Swift Songs That Might Be About John Mayer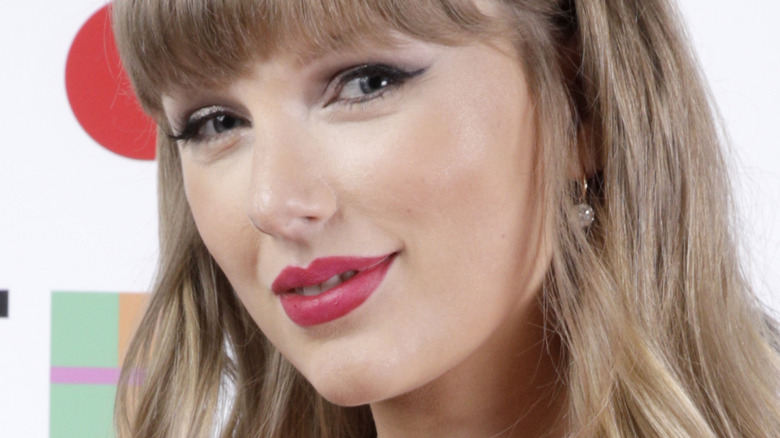 Jmenternational/Getty Images
Country darling-turned-pop-superstar Taylor Swift has made a name for herself by penning songs about her real-life relationships. While Swift rarely confirms who her songs are about, Swifties have become adept at snooping through the Easter eggs that the singer leaves behind in her lyrics, melodies, and music videos. For example, PopSugar points out that the lyrics of Swift's "I Bet You Think About Me" refer to Jake Gyllenhaal, whom she dated in 2010. The short-lived relationship had run its course by 2011 when a source told Us Weekly that Swift was "really upset and hurt" by how things ended with Gyllenhaal.
Another one of her exes was Joe Jonas, who infamously broke up with Swift over a phone call, per Teen Vogue. PopSugar reports that Swift has since immortalized him in her song "Forever & Always," though the two have happily mended fences since. In fact, Jonas' wife Sophie Turner is a Swiftie herself — and even posted a hilarious response to Swift's song, "Mr. Fearless," which is another tune about Jonas. According to Glamour, Turner wrote "It's not NOT a bop" on her Instagram Stories at the time, which led Swift to respond, "Forever bending the knee to the queen of the north" (in a nod to Turner's iconic role on "Game of Thrones"). Clearly, there's no "Bad Blood" between these two! But the same can't be said of John Mayer, whom Swift dated between 2009 and 2010, when she was just 19 and he was 32.
Taylor Swift wrote Dear John in response to her breakup with John Mayer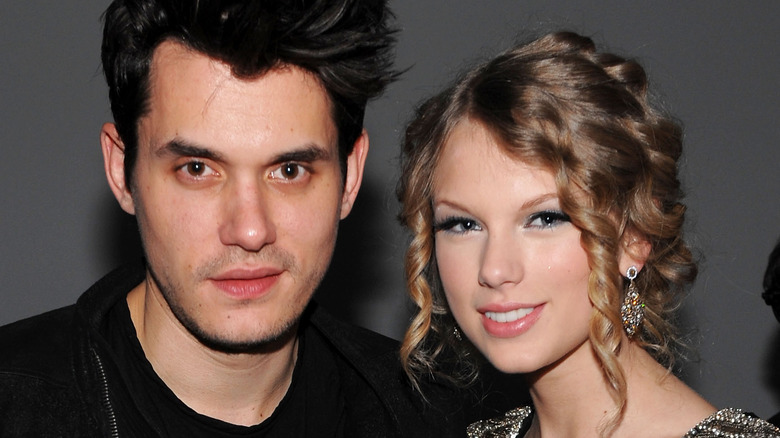 Dimitrios Kambouris/Getty Images
Taylor Swift and John Mayer's relationship was controversial given their age difference alone. But by putting her fellow musician on blast with the song "Dear John," Swift shed light on things that the public might not have known about at the time. Per SongFacts, lyrics like, "It was wrong / Don't you think nineteen's too young / To be played / By your dark twisted games / When I loved you so," hinted at power imbalances within the couple's relationship. True to form, Swift has never explicitly confirmed that "Dear John" is about Mayer, but the timeline, as well as the lyrics themselves, all add up. During a 2010 interview on "The Ellen DeGeneres Show," Swift played it coy when the host asked her directly about the subject of "Dear John." "I'm still going to continue to write about my life and I guess people are going to continue to speculate about it, and I'm going to continue to never tell them what the song's about," the hitmaker responded.
While Swift kept Mayer's name out of her mouth, Mayer was hurt by the song. "It made me feel terrible because I didn't deserve it," the singer told Rolling Stone in 2012. "I'm pretty good at taking accountability now, and I never did anything to deserve that. It was a really lousy thing for [Swift] to do." Mayer further branded the bop "cheap songwriting," according to the outlet.
Dear John isn't the only song Taylor Swift wrote about John Mayer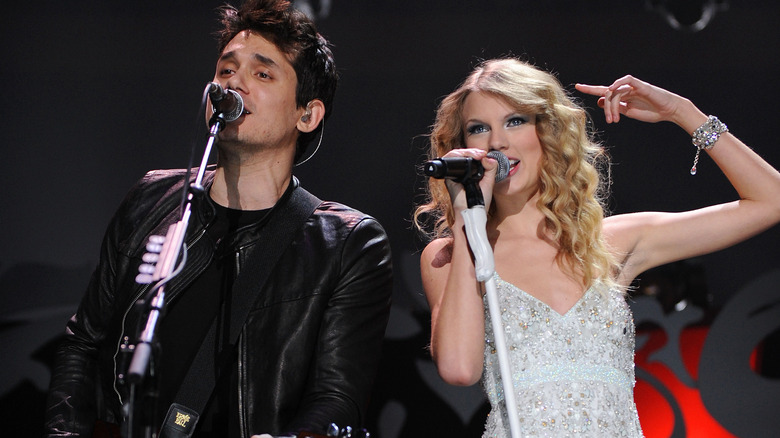 Bryan Bedder/Getty Images
The explosive lyrics of "Dear John" possibly make the tune Taylor Swift's most famous song about John Mayer, but it wasn't the only one she wrote about her time with the famous musician. According to USA Today, "The Story of Us," which supposedly chronicles the aftermath of Swift's heartbreak with Mayer, is about the same person as "Dear John." Furthermore, "her lyrical code [for the song] spells out 'CMT AWARDS,'" where Swift and Mayer had an awkward run-in following the demise of their relationship. "'The Story of Us' is about running into someone I had been in a relationship with at an awards show, and we were seated a few seats away from each other," Swift told USA Today, adding that they'd "both had these silent shields up." The Grammy-winner also allegedly penned "Superman" about Mayer, per Distractify. Lyrics like, "Something in his deep brown eyes has me saying / He's not all bad like his reputation" (via Genius) appear to reference her one-time musical collaborator, though this has never been confirmed. 
The "New Light" singer took a page from his ex's handbook when he released the tune "Paper Dolls," which is rumored to be about Swift. "Yeah, songwriters write songs because of people, about people," Mayer said in response to speculation, per Us Weekly. The lines that had fans convinced? In the chorus, Mayer sang that this mysterious someone was "like 22 girls in one," in a potential nod to Swift's hit single "22."