The Age Difference Between John Stamos And His Wife Might Surprise You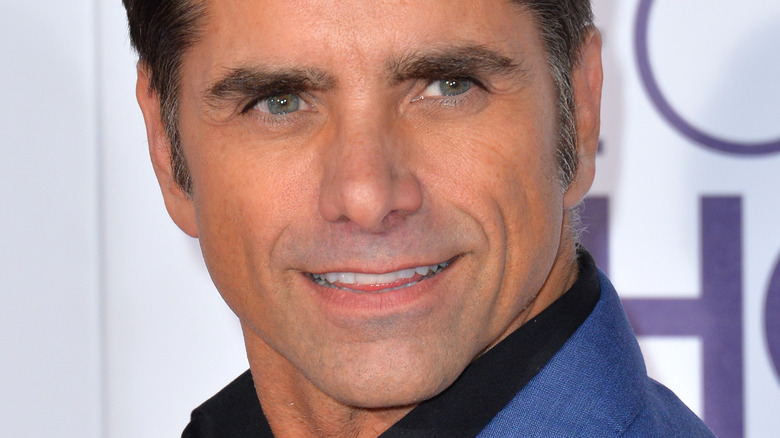 Jaguar PS/Shutterstock
John Stamos is an actor who fans have long adored thanks mostly to his role as Uncle Jesse on "Full Hose" and the Netflix reboot, "Fuller House." Stamos got his start in the entertainment industry on the long-running ABC daytime television show "General Hospital." But after two years on the soap, Stamos realized that he wanted to do something bigger. "I always wanted to be on sitcoms. I wanted to be funny," he told W back in 2021. Along with his popularity, Stamos also became a heartthrob to his millions of adoring fans. He caught the eye of Hollywood star and model Rebecca Romijn and before he knew it, the two got married in 1998. Recalling the moment she first met Stamos, Romijn told Jane (via The Intelligencer): "I totally remember seeing John Stamos walk in with his guitar in hand and that dorky haircut, the double-decker mullet. Today, I keep thinking, God, what if somebody had been sitting next to me and said, 'You're going to marry that man someday.'"
However, Stamos and Romijn's marriage didn't last as long as they'd hope as they got divorced in 2005. Luckily for Stamos, though, he went on to meet another love of his life: Caitlin McHugh. And while there's no doubt that their love and marriage is rock solid, a lot of people can't help but raise their eyebrow over the couple's significant age gap.
There's a huge age gap between John Stamos and Caitlin McHugh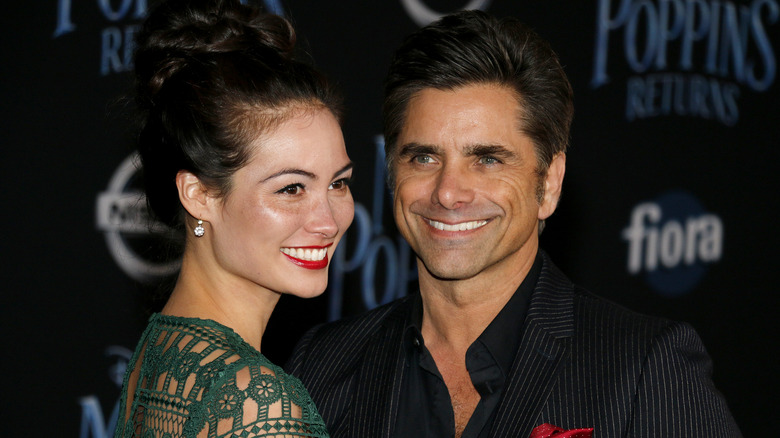 Tinseltown/Shutterstock
John Stamos was born in 1963, while his wife, Caitlin McHugh, was born in 1986. That means there's an age gap of 26 years between them. But that doesn't seem to matter much to the couple, as they have been going strong ever since they first met on the set of "Law and Order: SVU" back in 2015. Stamos recalled the first time he laid eyes on his future second bride by telling People, "I played a guy who was so egotistical that he thought he should spread his progeny, so he had like 60 kids or something. He was poking holes in condoms and stuff. And Caitlin, ironically, was one of the girls that I was trying to fool and have a baby with." He even immortalized the memory in an anniversary tribute on Instagram. "I was playing a serial reproductive abuser, trying to secretly impregnate her ... It took me 7 years, but eventually I had a child with my Disney Girl."
Funnily enough, Stamos met McHugh again when she was in the audience for "Fuller House." She was supporting her roommate, who had a guest-starring role on the series at the time. "I walked in, I went, 'Hey, are you stalking me?' She was like, 'No ...' That's why I love her," Stamos said cheekily. And while their age difference might have some people wondering if the couple have many things in common, Stamos says that he and McHugh actually have a huge bond over this one thing they share in common.
John Stamos and Caitlin McHugh have a magical, Disney kind of love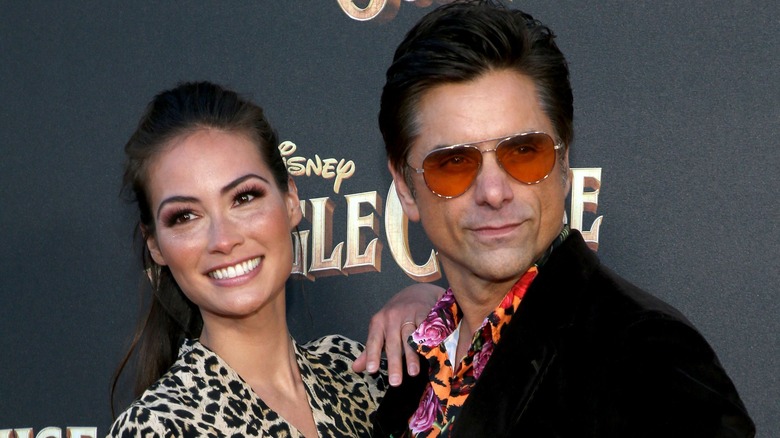 Phillip Faraone/Getty Images
John Stamos might be known for the hair-obsessed and guitar-playing Uncle Jesse on "Full House," and maybe even as that guy in the Greek yogurt commercials, but apparently, he's also a huge fan of all things Disney, too. Before he asked Caitlin McHugh to be his wife, he put together a compilation of some of the most memorable, romantic moments from Disney and Pixar films before popping the all-important question during a visit to Disneyland in 2017, per Us Weekly. They got married in 2018 and welcomed their son Billy in April that same year, as detailed by E! News. And while the two probably love spending their Friday nights watching classics on Disney+, or spending their weekends with Mickey, Stamos told People that they share another connection between them. "We have the same morals and the same values, that all clicked nicely."
In other words, age really doesn't matter, especially when it comes to how old you are, the person you love, and how many times you visit Disneyland in a year.