The Tragic Death Of Former Today Co-Host Jim Hartz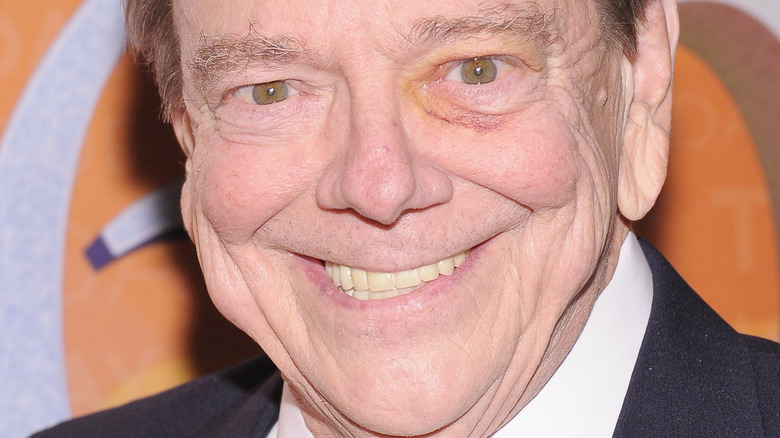 Michael Loccisano/Getty Images
New anchor Jim Hartz has died. The journalist's wife, Alexandra Hertz, confirmed the sad news to The Washington Post on April 24, sharing that her beloved husband died in hospital of chronic obstructive pulmonary disease, also known as COPD, on April 17. Alexandra explained to The New York Times that her husband had been on a ventilator but had shared his request to be taken off it.
Jim was probably best known for his work on NBC's "Today" in the 1970s, where he worked alongside Barbara Walters for two years. Jim replaced Frank McGee and appeared on the big time morning show until Walters moved on, which was when he was then replaced by Tom Brokaw. After that, Jim went on to become a news anchor in Washington, D.C., and also served as an anchor for local news in New York during his impressive career.
Walters is yet to speak out publicly about the passing of her former co-anchor, but did gush over him during a 1974 interview with The New York Times, sharing, "Jim, doesn't mind sharing the stage with me. He isn't offended when I try to help him." Jim, an Oklahoma native, also shared how excited he was to join the "Today" team at the time, admitting, "I realized 'Today' would mean a lot. I remember talking with Frank [McGee] after he first did the show; he said he knew it would broaden his perspective and give him a chance to do new things."
Jim Hartz tributes
Plenty of tributes flooded in for Jim Hartz after the news of his death went public, with many opting to share their memories and pay their respects to Barbara Walters' former co-star on Twitter. "Saddened to hear former @TODAYshow co-host Jim Hartz has died. I was fortunate to work with him in #Japan where he co-anchored 'Asia Now,'" tweeted news correspondent Steve Herman on April 24. Los Angeles Times journalist Stephen Battaglio shared a snap of Jim from his time on "Today," writing, "RIP @TODAYshow co-host Jim Hartz," before then posting a behind the scenes tidbit about his time with Walters on "Today." "Whenever Jim Hartz and Barbara Walters checked their audio during remotes on the @TODAYshow, they would each say: 'I crave your body,'" alongside a black and white photo.
Hartz is survived by his wife, Alexandra Hartz, and his two daughters, Jana Hartz Maher and Nancy Hartz Cole, per Deadline. Sadly, the star lost his son, John Mitchell Hartz, in 2015. Jim was also reportedly a grandfather to six grandchildren and six great-grandchildren.
Our thoughts are with the Hartz family at such a sad time.