Who Is Chris Rock's Ex-Wife, Malaak Compton-Rock?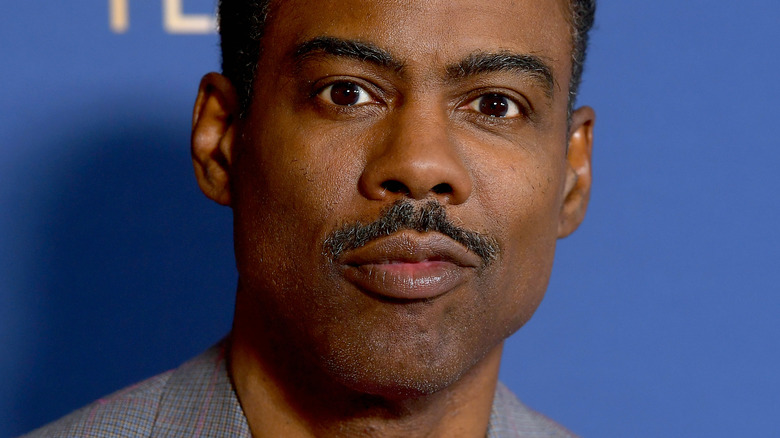 Matt Winkelmeyer/Getty Images
Chris Rock has been making a lot of headlines, thanks mostly to Will Smith's decision to slap Rock across the face at the 2022 Oscars. It was a moment that made everyone's jaws drop to the floor and also one that people can't stop talking about or analyzing for that matter. It all began because of a joke Rock made at the expense of Will's wife, Jada Pinkett Smith, and her hair loss. After the dust had settled, Will issued an apology for the slap that said, "Violence in all of its forms is poisonous and destructive. My behavior at last night's Academy Awards was unacceptable and inexcusable."
But that wasn't the only time that Rock has irked a celebrity for making fun of someone's wife. In 2019, Rock shared a joke about Whitney Houston on social media back that got Bobby Brown fired up as well. Brown blasted Rock by writing on social media (via Bossip), "When I see you on site I am going to smack every tooth out of your mouth." With Rock targeting other people's wives so often, this has prompted a lot of people to wonder just who his ex-wife is and what kind of relationship they have behind closed doors, too.
Malaak was the rock in Chris' life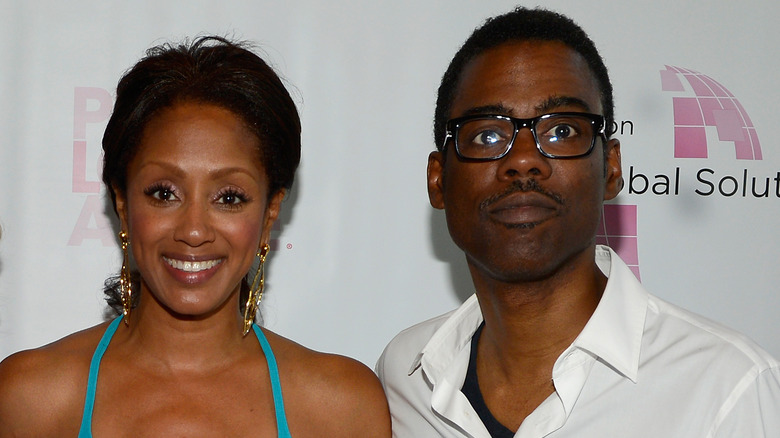 Larry Busacca/Getty Images
While there's no doubt that Chris Rock makes a living poking fun at other people, his own failed marriage is something that he doesn't talk about very often. Chris first met his future wife Malaak Compton-Rock at a 1994 Essence Awards Show that he happened to crash at the time. Malaak was a Hollywood publicist who worked with UNICEF while Chris was working on his comedy routine back on the East Coast. Malaak is also an accomplished writer and humanitarian, and has even rubbed elbows with the likes of Oprah Winfrey. Chris and Malaak tied the knot in 1996, with Chris telling Ebony one year later (via People), "She's changed me. She's really calmed me down and centered my life."
Chris and Malaak went on to have two daughters together and a third child that she adopted from South Africa, per the Daily Mail. However, there was some controversy when the child's biological father told TMZ that the child was never fully adopted even though she was already living with the Rock family for seven years back in 2015. But that wasn't the only headline-grabbing drama that the Rocks had to deal with during their marriage. Chris even admitted to being a "f*****g a****e" when he did this to his wife.
Chris Rock admitted to being unfaithful to his wife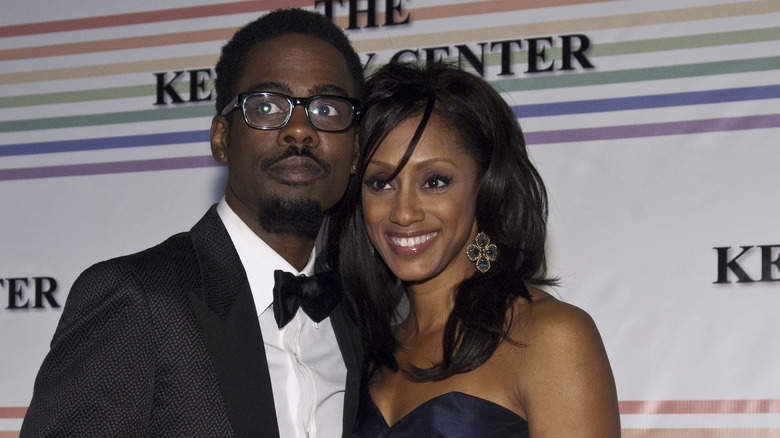 Kris Connor/Getty Images
Back in 2018, Chris Rock admitted to cheating on his wife Malaak Compton-Rock with several different women. The couple pulled the plug on their marriage in 2016 after 18 years together. During his Netflix special "Chris Rock: Tamborine," the comedian said about his failed marriage (via Us Weekly), "It's my fault because I'm a f***ing a******e. I didn't listen. I wasn't kind. I had an attitude." He further added, "I brought this s**t on myself. Nobody told me to go ho up. I brought this s**t on myself, and you've got to learn some lessons, some man lessons."
Soon after their split, Chris made the decision to remain in the same New Jersey neighborhood — remaining in close vicinity to Malaak and their daughters, according to the New York Post. He also still gets plenty of laughs when he talks about the single life during his comedic tour. And while Malaak continues to focus on her humanitarian work and her family, per her Instagram, when asked if he would ever get married again, Chris told Rolling Stone in 2017, "Not if it would cure AIDS."