Why Chris Rock's Joke About Whitney Houston Made Bobby Brown Furious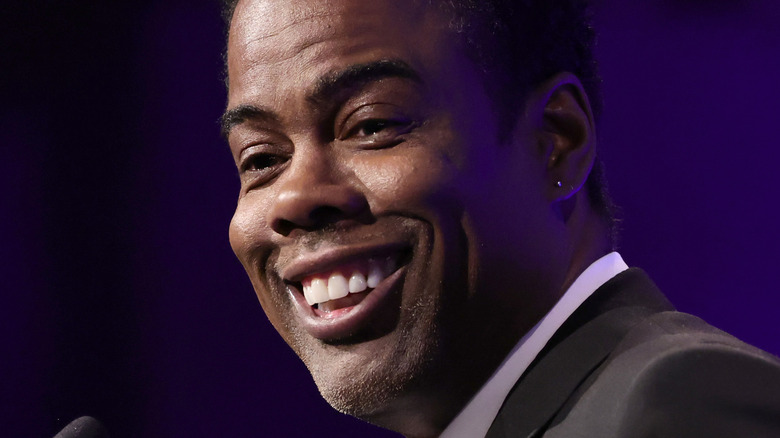 Jamie Mccarthy/Getty Images
Much has been said about Will Smith slapping Chris Rock across the face at the 2022 Oscars, but Rock says the only way he'll talk about it is if it's for the right price. 
For those who haven't been on the internet, Rock got more than he bargained for when he made a joke about Smith's wife, Jada Pinkett-Smith. He poked fun at her shaved head, jokingly stating that he's looking forward to seeing her in the next "G. I. Jane" film, which famously stars Demi Moore being bald. The joke prompted Smith to walk on stage and slap Rock and return back to his seat where he repeatedly shouted, "Keep my wife's name out your "f**king mouth!" 
And while it seems like no one can stop talking about Smith's behavior along with what might be going on behind closed doors in his marriage, this isn't the first time that Rock has made an off-the-cuff remark that has landed him in hot water. In the past, the comedian also made a joke about late singer Whitney Houston that made her ex-husband Bobby Brown absolutely furious. 
Bobby Brown had words for Chris Rock on social media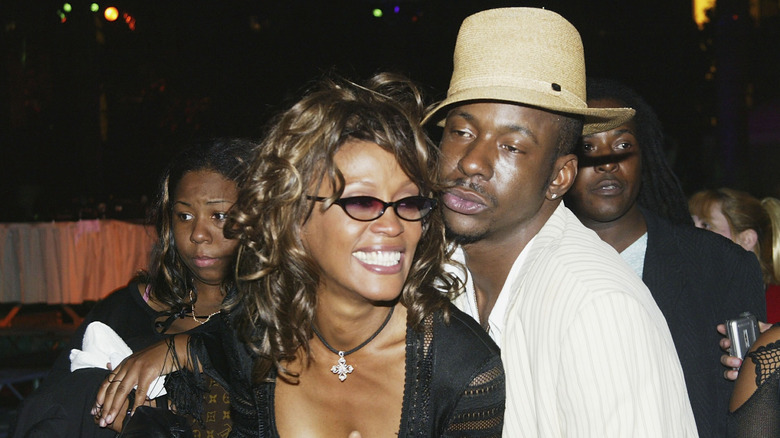 Frazer Harrison/Getty Images
Whitney Houston passed away in her Beverly Hills hotel room back in February 2012, and while it's been well over a decade since her death, the legendary singer is still a topic of discussion among many celebrities and her fans. 
In 2019, Chris Rock decided to share a meme on Instagram that poked fun at Houston's past struggles with substance abuse. He shared a post that said, per Yahoo!, "Me sitting in a meeting that could've been an email. Hurry up I got crack to smoke." Of course, it didn't take very long for Bobby Brown to learn of Rock's post. He took to Rock's comments section to let it be known that he wouldn't tolerate that kind of disrespect of Houston. He blasted, per Bossip, "When I see you on site I am going to smack every tooth out of your mouth. I thought you was a friend to my family but when I see you I'm a bust your a**." Uh oh. The indictment continued, During this time of women empowerment you chose to use your time to try and humiliate our QUEEN!!!" 
Rock ultimately deleted the controversial joke, so it's safe to assume he heard Brown loud and clear.
If you or anyone you know is struggling with addiction issues, help is available. Visit the Substance Abuse and Mental Health Services Administration website or contact SAMHSA's National Helpline at 1-800-662-HELP (4357).
Bobby Brown has a change of heart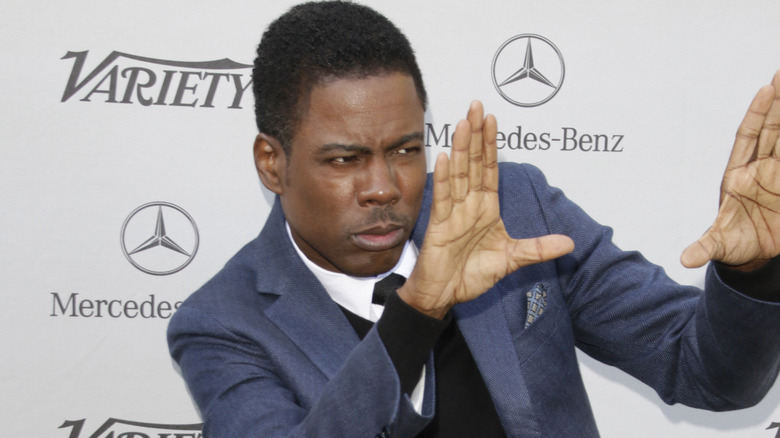 Kathy Hutchins/Shutterstock
In an interview with TMZ shortly after the online scuffle, Brown seemed to have softened his stance toward Rock. "He's [Rock] still my boy," the singer shared, while also noting he'd still like an apology from Rock despite having moved on. 
That attitude is a big departure from wanting to knock Rock's teeth out, but his change of heart makes sense against the singer's growth as a person. Talking to the Los Angeles Sentinel one year before the drama, Brown said he hoped to set a good example for his children after all the controversies he had lived through. "I want them to learn from my mistakes and grow from them," he explained. "It is all about love. You got to find love in your heart. You have to find love in your life. If you don't find love, than [sic] your [sic] not finding anything."
So even if Rock didn't apologize for his controversial Whitney Houston joke, it appears it's all love going forward.