Chris Rock Reveals The Only Way He'll Ever Talk About The Will Smith Slap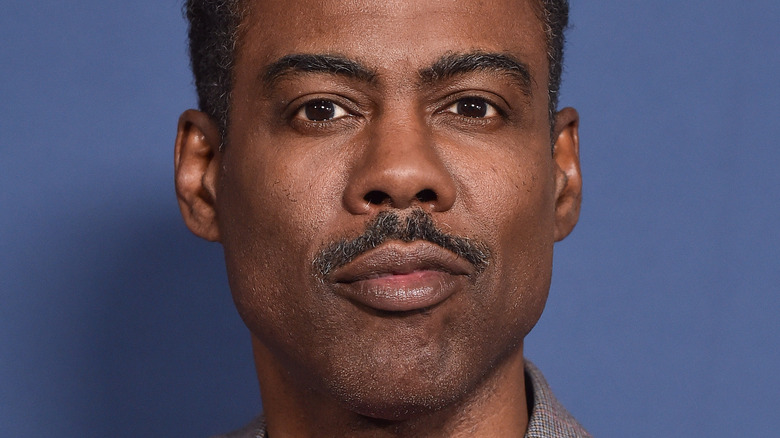 DFree/Shutterstock
It's the news story that just won't quit: Will Smith slapping Chris Rock at the 2022 Oscars is still somehow sparking conversation. Ever since Rock's "G.I. Jane 2" joke went awry, there's been constant commentary. And everyone seems to have an opinion about it, ranging from hosts of "The View" to fellow comedians to countless fans on Twitter.
Just in case the original story has gotten lost in the shuffle, let's quickly recap. While presenting the Best Documentary category at the Academy Awards on March 27, Rock poked fun at Jada Pinkett Smith's buzzed head, referencing Demi Moore's look in the original "G.I. Jane" movie. While Jada's husband initially laughed along, Will quickly saw his spouse wasn't amused and sprung into action — going up on the stage, slapping Rock across the face, and telling him to keep his wife's name out of his "f**king mouth." Yikes! The awards ceremony was a bit of a roller coaster, since later in the night Will won the Best Actor trophy for his role in "King Richard" and gave a teary-eyed speech.
In the weeks following, plenty more happened — the Academy promised to investigate the incident, Will resigned from the Academy and apologized more than once, and ultimately, the Academy decided to ban him from the Oscars for the next 10 years. Will responded to the news, saying simply, "I accept and respect the Academy's decision." While Will has weighed in, if you're expecting any substantial reaction from Rock himself, well, you'll have to keep waiting.
'Life is good' for Chris Rock right now
Neilson Barnard/Getty Images
While everybody else can't stop talking about the "slap heard around the world," Chris Rock seems more than ready to move on. In his first comedy tour performance post-Oscars in Boston on March 30, he was greeted by a standing ovation, per Deadline. Rock reportedly told the crowd he was "still kinda processing what happened," but that he'd address it "at some point" and "it will be serious, and it will be funny" when he does.
Now, TMZ is reporting Rock will only spill under one condition: if there's money attached. The outlet speculated it's likely he has been approached by broadcast companies for an interview and maybe the paycheck just wasn't big enough. According to the Palm Springs Desert Sun, Rock's comment came during his Fantasy Springs performance on April 8. He said, "I have a whole show and I'm not talking about that until I get paid. Life is good." The "that" being the infamous slap, of course.
Still, since it was a comedy show, it's entirely possible Rock was just joking about wanting to "get paid." However, if he did want to wait for a sit-down, perhaps he'll go the Meghan Markle and Prince Harry route, choosing to chat with interview queen Oprah Winfrey. Or maybe he'll pick Robin Roberts, who recently got Kim Kardashian and her famous family to dish in an ABC special. Another option is George Stephanopoulos, who landed Alec Baldwin's first interview after the tragic "Rust" shooting.
Chris Rock's family totally has his back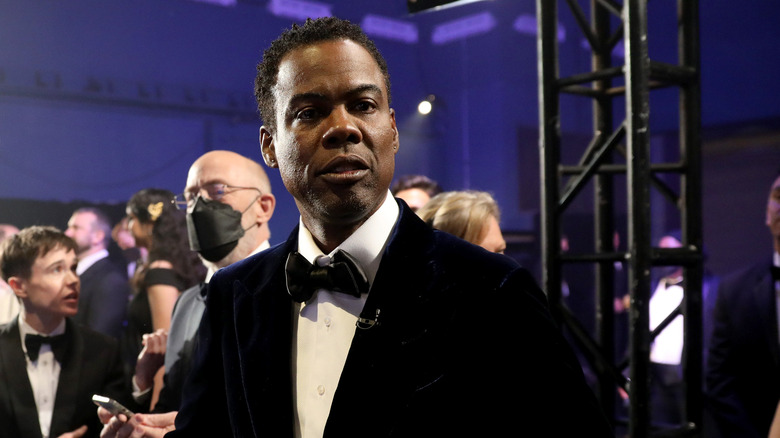 Handout/Getty Images
While Chris Rock is refusing to rehash what happened (unless he potentially gets paid), that doesn't mean his inner circle is keeping mum — especially his family. The comedian has seven siblings, including a half-brother, according to HollywoodLife, so he's got a big built-in support system. One of Rock's brothers, Kenny, spoke to the Los Angeles Times about what went down at the Oscars. Kenny admitted, "It eats at me watching it over and over again because you've seen a loved one being attacked and there's nothing you can do about it." He then seemingly addressed Will Smith directly: "You just had no respect for him at that moment. You just belittled him in front of millions of people that watch the show."
Kenny isn't the only Rock brother to speak out. Tony, who is also a comedian, was asked on Twitter if he approved of Will's apology and responded with a straightforward, "No." He later was asked if he thought his brother and Will would ever "patch things up and be cool again," to which Tony replied, "I would imagine." But Tony's Twitter Q&A only lasted so long before he posted a message that read, "Self care is choosing not to argue with people committed to misunderstanding you." He added in parenthesis, "Now back to my incredibly amazing life," with a peace-sign emoji.
That last comment is similar to Rock's own "life is good" remark at his Fantasy Springs show, proving these brothers are all about moving forward — rather than staying stuck on past drama.