Prince Harry And Meghan Markle's Oprah Interview Just Reached This Impressive Feat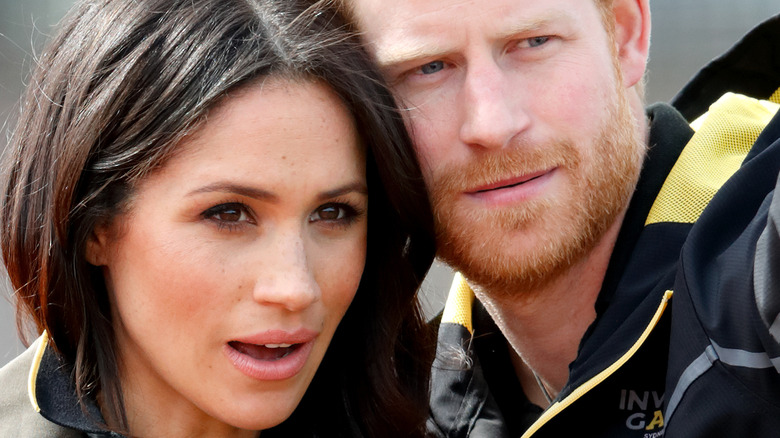 Max Mumby/indigo/Getty Images
Prince Harry and Meghan Markle made headlines this year with their watershed interview with Oprah Winfrey. The couple talked about their life behind the scenes of the royal family, opening up about their decision to leave England and settle in California. And, as fans know, Harry and Meghan revealed an astonishing array of claims that they felt were insurmountable.
For one, the couple recalled Meghan's severe mental health issues and alleged that the palace wouldn't provide care for her. Additionally, they claimed that a royal family member made a racist comment about their unborn son Archie's skin tone. And when it came to protecting Archie, seventh in line to the throne, the Duke and Duchess of Sussex were shocked when he was denied adequate security, per Us Weekly. (British police countered that they don't believe a newborn requires security, they told The Sunday Times via the Daily Mail). Harry also claimed in the interview that his father, Prince Charles, had cut him off financially and "stopped taking my calls."
The interview is still making news nine months later, and their appearance on the show is still being dissected by experts. And now that Google has published its annual "Year In Search" list, the results are in: Harry and Meghan's Oprah interview not only made the cut — but made history, too.
Prince Harry and Meghan Markle's Oprah interview made Google history
Even before Oprah's interview with Prince Harry and Meghan Markle aired, it created a buzz. According to Express, a royal commentator pointed out, "Not only does this create nervousness in the palace ... Harry and Meghan didn't tell anyone at the palace [they were doing the interview]. Certainly everyone found out about it at the same time on Twitter." Unfortunately, the royals could never have prepared just what Harry and Meghan revealed in the two-hour conversation. Their Oprah interview made global headlines, and the stats back it up.
Google's 2021 "Year In Search" chart reveals people's searching trends for the past 12 months and therefore shows the topics that have captivated searchers' imaginations. The search engine reported that "The Meghan and Harry interview became the most searched interview in Google Trends history globally." The Oprah interview broke records — 17 million people tuned in to watch, per Business Insider — and proves, if anything, that the British royal family is still relevant. 
While a Reuters article noted in May that polls show that the British youth want to ditch the monarchy, it seems that the institution is here to stay — at least according to the world's Google searches. Perhaps Harry and Meghan's tell-all interview has even revived interest in the age-old monarchy. How's that for telling the royal truth?