The Topic Chris Rock Obviously Refused To Address At His Surprise Comedy Show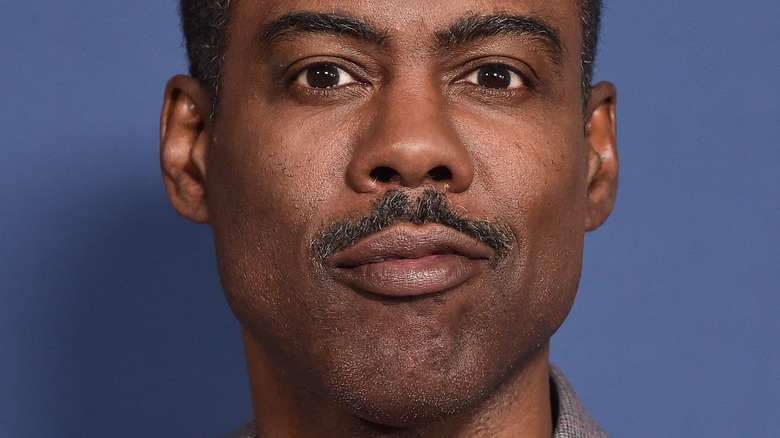 DFree/Shutterstock
Chris Rock has returned to the stage for another comedy show, making a surprise appearance at a comedy club in New York in the midst of an already-scheduled tour. The former "Saturday Night Live" set out on tour right after he was seen at the 2022 Academy Awards ceremony, during which Rock was slapped on stage by Will Smith after making a joke about Jada Pinkett Smith's hair. Although Will won an Oscar that night, he resigned from the Academy days later after facing potential "suspension, expulsion or other sanctions" from the Academy, per Variety.
The first comedy show Rock carried out following this incident took place in Boston on March 30, just three days after the Oscars, E! News reported. Rock started off the set by jokingly asking the audience, "How was your weekend?" before telling the crowd he hadn't yet been able to process what happened at the Academy Awards. Instead, he decided to use the material he had prepared before the altercation took place. "I wrote a show before all this nonsense happened. I don't really wanna talk about that s**t," he said. As Rock again stepped on stage during the first week of April, he expressed a similar attitude toward the topic.
Chris Rock still doesn't want to talk about Will Smith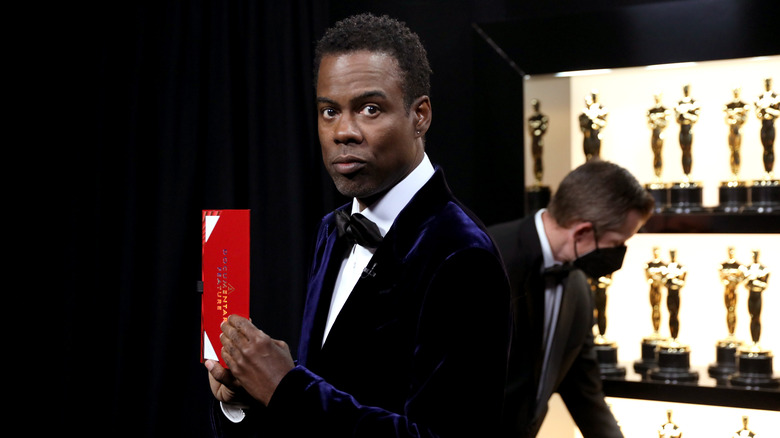 Handout/Getty Images
When Chris Rock surprised the audience on April 5, he chose to once again stick to his prepared material and didn't discuss being slapped by Will Smith at the Academy Awards. According to Page Six, when Rock emerged on stage, audience members at the New York City's Comedy Cellar were visibly excited to see the comedian. He then let everyone know he still had no intentions of discussing the altercation for the time being. "He literally only addressed it as the crowd was going wild for his surprise appearance, and he got on stage and said, 'Lower your expectations. I'm not going to address that s**t,' " one audience member reported. In addition, Rock said he's been experimenting with some different comedy material since "all the sudden people cared about [the] early shows" of his tour, Rock joked, according to the source.
It seems that Rock isn't the only one who is avoiding publicly discussing the slap; Jade Pinkett Smith has only released one vague response on social media. Reportedly, Jada isn't upset with her husband over the incident but does wish Will hadn't slapped Rock. "It was in the heat of the moment and it was him overreacting," an insider told Us Weekly. "He knows that, she knows that. They're in agreement that he overreacted," the insider said. We don't know whether the Smiths or Rock will truly address the incident first, but whoever does will surely get a lot of fans buzzing.