Brandi Glanville Has No Problem Telling People What's Really Going On With Her Face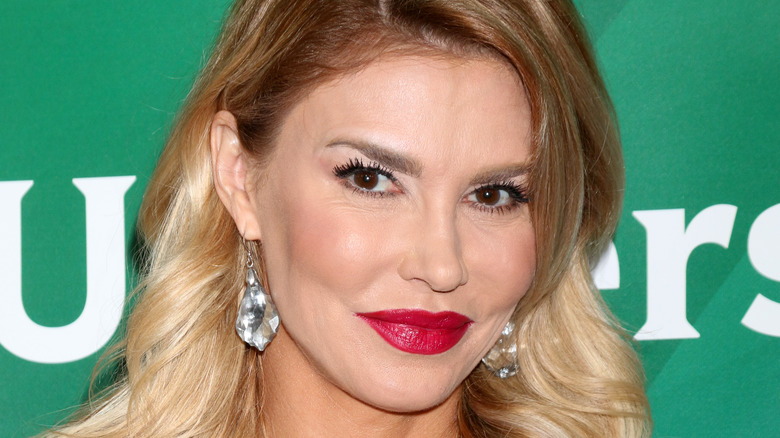 Kathy Hutchins/Shutterstock
These days, celebs getting work done is as common as drinks being thrown on Bravo reality shows, and "The Real Housewives of Beverly Hills" star Brandi Glanville has always kept it real when talking about the cosmetic procedures she's experimented with over the years.
In her book "Drinking & Tweeting and Other Brandi Blunders," Glanville recalled how she got revenge on her ex-husband-to-be, Eddie Cibrian, for cheating on her with country singer LeAnn Rimes: She used one of his credit cards to pay for her $12,000 vaginal rejuvenation surgery. "Ultimately, my husband got a new vagina ... and so did I," she wrote. Glanville mentioned another past surgical procedure when describing the pain her ladybits lift caused her. "My boob job didn't hurt at all and everyone told me it would," she wrote. In contrast, her vaginal rejuvenation "felt as if I were on fire and could do nothing to make it stop."
But what she has talked most about over the years is the work that Glanville has had done on her face. She's constantly had to deal with plastic surgery rumors and occasionally addresses them on social media. "I haven't done anything new to my face cept have some moles lasered off. Its just me and the B (botox)," she tweeted in 2013 after a fan complained about her "messing with her face," per Radar. This wouldn't be the last time she had to issue such a denial.
Brandi Glanville responds to a new round of plastic surgery speculation
On April 18, Brandi Glanville shared a video clip from her podcast, "Unfiltered," on her Instagram page, and some of her followers couldn't help but be distracted by her appearance. "Is that a Brandi imposter with bad plastic surgery? Holy s***!!! That's bad, real bad," one person wrote. Others tried to be a bit kinder when commenting on her looks but still offered Glanville unsolicited beauty advice. "Brandi, love you, but please stop with the fillers," read another message.
Glanville took to Twitter to address the latest spurt of plastic surgery speculation with an explanation for why she looked so different, and it demonstrated a true commitment to her job. "Ok I'm saying this once I had periodontal (gum) surgery on the right side of my mouth on my back right side because I had a cavity below the gum line," she wrote. "It is infected and swollen I am on my second round of antibiotics." Glanville vowed, "When I do get plastic surgery I will be the first to say."
She's not kidding. "I got a liquid nose job after I broke it," Glanville told Life & Style (via the Daily Mail) in 2013. "A doctor has to replace the fillers in it periodically." She previously shot down plastic surgery buzz in 2020, tweeting that another bout of brutal-sounding dental surgery — she had two teeth yanked out, people! — was to blame for her face's altered appearance.