The Bizarre Lea Michele Literacy Conspiracy Theory Explained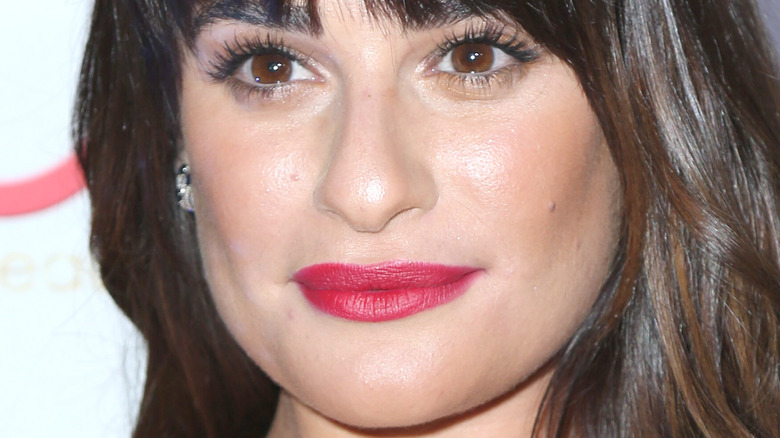 Kathy Hutchins/Shutterstock
Erm, so can Lea Michele not read or write? That's the bizarre conspiracy theory that's been doing the rounds on social media and beyond after it resurfaced following the Broadway revival of "Funny Girl" starring Beanie Feldstein getting, well, some less than stellar reviews. As musical fans will know, Michele has made no secret of the fact that she's a huge fan of the production, which is based on the 1968 movie starring Barbra Streisand, and she would seemingly have been a top choice to appear in the new version of the musical.
When Feldstein was announced to be the new Fanny Brice in August 2021, Michele reacted on Instagram and seemed to be pretty happy for the actor. "Yes! YOU are the greatest star! This is going to be epic!!" she wrote at the time, per People, while doubling down on that support on the "Little Me: Growing Up Broadway" podcast. "There's been so much talk about me coming to Broadway, and not coming to Broadway! Listen, I am so unbelievably excited to see 'Funny Girl' on Broadway. I cannot wait," she said, confirming she went for drinks with the director before calling Feldstein "an incredible choice for the production, and I think it's going to be so wonderful."
So, with Feldstein's opening night happening in April, Michele's name was naturally brought up again — and so was that infamous theory about the "Glee" star.
Can Lea Michele read and write?
Fans once again started speculating Lea Michele may be illiterate after a joke went viral about the actor and singer on Twitter. Inspired by the "Funny Girl" musical's reviews, one user quipped, "I bet Lea Michele is wishing she could read these Funny Girl reviews" while another noted, "if you're tired of so much lea michele news in one day just think how tired her assistant is of having to read it to her." Why wouldn't she be able to do all this for herself, we hear you ask? Well, allow us to explain.
It's been a longstanding theory/joke that Michele can't read or write after the podcast, "One More Thing," shared a 40-minute video in 2018 which included purported evidence, per BuzzFeed. That video has since been deleted, but a TikTok summary gave us the main points. The Tab also broke it down, serving nine supposed reasons why people really believed the theory. That included Michele working from a very young age (leaving her little time to go to school), while she also appeared in "Spring Awakening" for years, supposedly minimizing her need to learn new lines. There's also supposed pictures showing Michele's team using her phone on her behalf and snaps of her writing without the pen touching the paper, her penchant for using emoji over words, and her repeated work with Ryan Murphy has been associated with the possibility of him knowing her difficulties and making things easier for her.
The response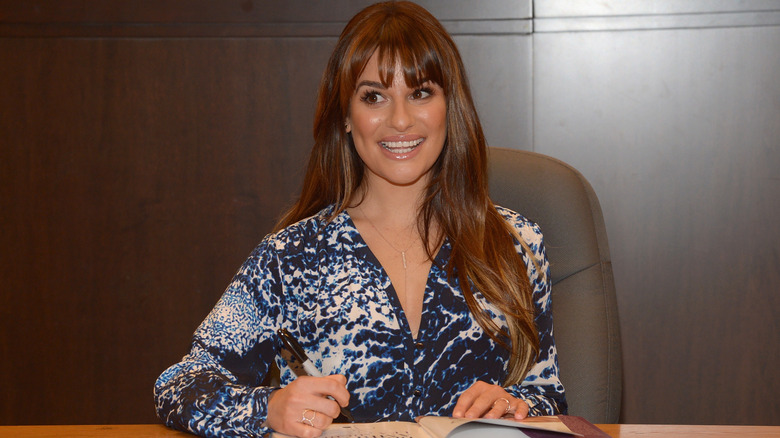 Jason Kempin/Getty Images
While Lea Michele doesn't appear to have addressed the resurrection of the now infamous illiteracy rumors in relation to the "Funny Girl" musical, she has shut down the talk before. Back in 2018, Michele (who has written two books and shared snaps of her reading, by the way) responded to a fan who brought up all the speculation by tweeting, per W, "Loved READING this tweet and wanted to WRITE you back[.] Literally laughing out loud at all this. Love you!!!" Of course, it's possible someone else tweeted this for her before she deleted her account, but we're going to give Michele the benefit of the doubt on this one.
Then there's the fact that those who initiated the conspiracy theory have admitted they maybe didn't have the hardest evidence, while also describing themselves as "huge Lea fans" in a since deleted Instagram post. "Every word we say about her is said with love. We're in no way saying she has a learning disability, or mocking those who do. We deliberately say that she just never learned to read, not that she couldn't."
Michele's former "Glee" co-star Darren Criss also had her back in an Instagram Story posted back in 2018, when he joked the notion she couldn't read or write was "not true" while quipping she also couldn't speak or swim. "She can't do anything right. She's horrible!" he teased as Michele laughed in the background. So, what's the truth? We'll leave that one up to you.