Harry Styles Opens Up About Keeping The Details Of His Sexuality Private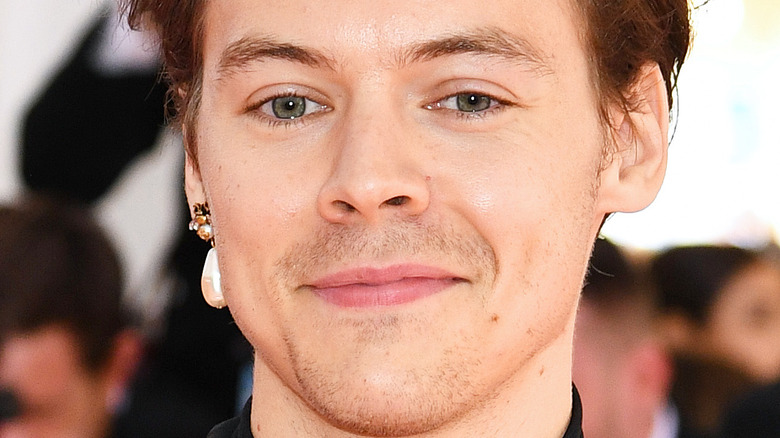 Dimitrios Kambouris/Getty Images
Harry Styles is most well-known for his part in the pop sensation group One Direction, aka the Backstreet Boys of the 2010s. He's come a long way in his career, and as most of us know, the uber-popular boy band split in 2015, breaking hearts across the world. But Styles didn't let the band's breakup stop him from launching what has become a successful solo career; in fact, he's about to deliver his third studio album. Styles released his debut single, ​​"Sign of the Times," in 2017. That proved to be a big year for the star as he also showed off his acting chops in "Dunkirk."
In 2021, the singer's relationship with Oliva Wilde heated up. According to People, the pair were spotted at a wedding in Montecito, California, packing on a tiny amount of PDA and some hand-holding. The couple spent a lot of time together on the set of their film, "Don't Worry Darling," which is slated to be released in 2022. 
In a January interview with Vogue, Wilde seemed to touch on her relationship with Styles. "I think what you realize is that when you're really happy, it doesn't matter what strangers think about you," she dished. "All that matters to you is what's real, and what you love, and who you love." In turn, Styles talked about his personal life on "The Morning Mash Up" in April, stating how happy he was. Still, the singer doesn't want to divulge all aspects of his private life, including his sexuality.
Harry Styles wants to keep his sexuality private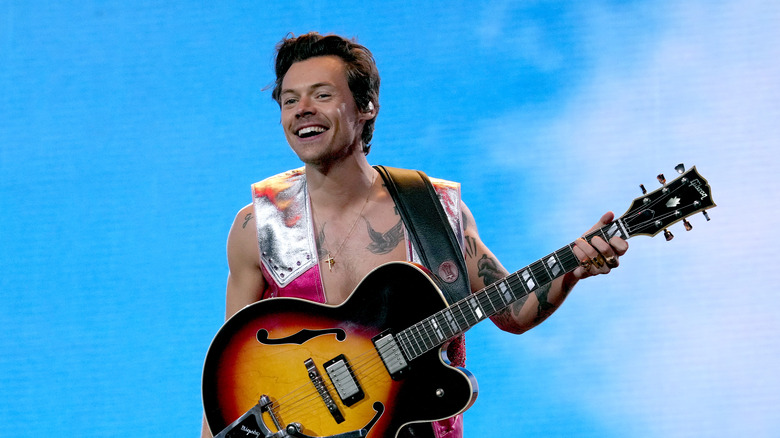 Kevin Mazur/Getty Images
Believe it or not, not all celebrities are as open about their personal lives as the Kardashians. Former One Direction star Harry Styles tries to keep some aspects private when he can, including his sexuality. The singer is known for painting his nails and rocking dresses as he did in the now-iconic Vogue shoot, but he doesn't believe he needs to share every detail about himself with the press. 
In an interview with Better Homes & Garden, the star said that he thinks the idea that you need to talk about your sexuality openly is "outdated," and he prefers to keep that aspect of his life to his inner circle, stating that he's "really open with it with my friends," but that's just his "personal experience" with it. "The whole point of where we should be heading, which is toward accepting everybody and being more open, is that it doesn't matter, and it's about not having to label everything, not having to clarify what boxes you're checking," the 28-year-old shared.
This is not the first that Styles has made remarks when on the topic of sexuality. When asked about his feelings on Miley Cyrus being pansexual, told Bizarre in 2017, "It's weird for me — everyone should just be who they want to be," adding, "It's tough to justify somebody having to answer to someone else about stuff like that." The singer also stated that he never really felt the need to "label" himself. All these years later, he's sticking to his guns.