Inside Billie Eilish And Claudia Sulewski's Friendship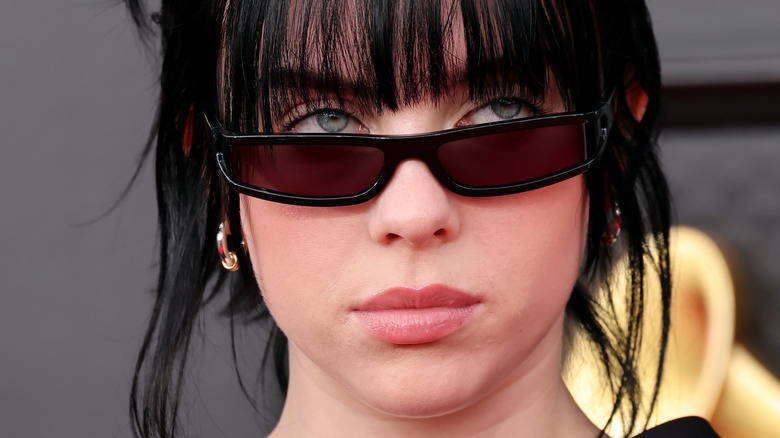 Amy Sussman/Getty Images
Billie Eilish and YouTuber/actor Claudia Sulewski might have just about one of the cutest celebrity friendships that has emerged in recent times. Both young, talented, and successful in their own right, Eilish and Sulewski unarguably have a lot in common. But most obvious of course, is the love they have for Finneas O'Connell — aka Eilish's brother — who also doubles as Sulewski's boyfriend. 
Claudia Sulewski and Finneas O'Connell started dating in 2018, per Elite Daily, and from what we can tell, they are still as in love as ever. To celebrate their third anniversary in 2021, Sulewski took to Instagram with a carousel of some adorable pictures. "God am i obsessed with you," she wrote in the caption next to a heart emoji. "Mad for you. i love you eternally." Sulewski's love, however, does not just end with Finneas — it extends to his sister as well. "The world wouldn't be the same without you," Sulewski wrote on the singer's 20th birthday in December 2021. 
So what else do we know about this duo? Spoiler alert: Cuteness ahead!
Eilish's friendship with Sulewski happened at the perfect time
If social media is anything to go by, Billie Eilish and Claudia Sulewski spend a lot of time together. But this is hardly a surprise given that they both have a close relationship with Finneas. The two women seemingly first debuted their friendship in May 2019, when Finneas shared an adorable Instagram photo featuring Eilish and Sulewski. The following month, he shared another group picture featuring the twosome, with the caption: "A delightful group of people to associate yourself with."
Aside from Finneas' numerous posts, Sulewski has given fans a glimpse into some of her favorite moments with Eilish. In January 2021, Sulewski and Eilish warmed hearts after sharing pictures of themselves at a Justin Bieber concert. The friends who Biebs together, stay together.
Eilish's friendship with Sulewski is seemingly a breath of fresh air for her — seeing that Eilish has admitted in the past to feeling lonely. Talking to British GQ In June 2020, the singer admitted she no longer had friends — an apparent price for her fame. "I lost all my friends because of it. One day I had, like, 50 friends, the next I had two. I was so fu***** sad. It makes me want to cry even now." Hey, at least Eilish has Sulewski! 
Do Eilish and Sulewski share a resemblance?
Lots and lots of celebrities have uncanny doppelgängers but how many can say they are actually close friends? Billie Eilish and Claudia Sulewski can, at least if you agree with fans who believe they look a lot look alike.
In 2019, after Finneas shared a picture of himself and Sulewski each holding a puppy, fans flooded the comments section, noting how much they thought the influencer looked like Eilish. The uproar has since continued on social media, with writing that the similarities were "outrageous."  The comparison is arguably not farfetched, seeing that Eilish and Sulewski often wear their hair dark, as well as have very similar eye color.  Still, even with the physical similarities, some fans simply do not see the resemblance. "billie eilish stans are so weird omg," one user tweeted. 
Looks aside, it's clear these ladies have a strong friendship, but will Sulewski be in Eilish's life for the long haul? That's TBD, as in May 2020, Finneas expressed to Us Weekly he wasn't quite ready to pop the question just yet. If he does eventually, though, it's safe to say Eilish will co-sign it!