CSI Star Marg Helgenberger Surprises Fans With Exciting Life Update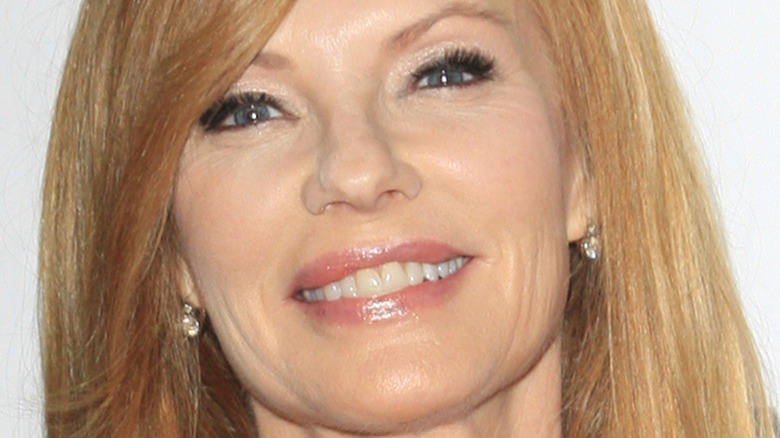 Kathy Hutchins/Shutterstock
Many "CSI" fans feel that they have hit the jackpot now that actor Marg Helgenberger is returning to the iconic series. "CSI: Vegas" has been rebooted and she will return to the role of the calm and professional Catherine Willows, according to Entertainment Tonight. "All Rise" fans can also expect her to resume her role as Judge Lisa Banner in Season 3, per Deadline. Even though Helgenberger portrays such serious characters at work, she believes that the family dynamic is an important one.
The actor spoke to Moms in 2020 and shared that she encourages young actors not to delay in starting a family. She said, "I understand if your career is hot right now, but just don't let that stop you from having a family, because the family will always be there for you." In other words, prioritize time with loved ones over landing a specific gig. As she pointed out, "A job, and another job will always come. Even if it means that you will lose out on a role or an opportunity, because a job does not compare to the importance of family."
And it seems as if the actor is taking her own advice and expanding her immediate family. Helgenberger recently took to social media to share some exciting news.
Marg Helgenberger recently said 'I do'
Marg Helgenberger got married! The "CSI" star revealed the news in an Instagram share, where she gushed about her new husband, whom she wed on April 23. "So this happened on Saturday..." she captioned a carousel of wedding images. "In the Fall of 2019, aboard Charlie Haugk's mystical Blue Star sailboat, a spell was cast." It seems as if Helgenberger and Haugk's romance took off amid placid seas.
"At the time I wasn't looking to get involved with anyone, yet on that fateful afternoon, I felt the unmistakable tingle of magic dust being sprinkled," she continued, as if it was straight out of a storybook. "Perfect sailing conditions coupled with Charlie's outrageous lemon pasta, served with a smile as big as Brooklyn, was the beginning of our nascent voyage together on the sea of love." The actor also thanked everyone who was part of their special day. She previously revealed they quarantined together in 2020 and called him "one of the finest people I know."
As for Haugk, he used to be a supermodel in the '70s and '80s. Helgenberger has posted some modeling snaps of him from back then, and the man could work a camera! He now works as an actor and was a stuntman in movies such as "Wonder-Woman 1984," both "Jurassic World" movies, and "Black Panther," per IMDb. As for the Helgenberger-Haugk family, she adopted her deceased mother's puppy, Marlon, last year. Both of them are clearly smitten with the pooch. Congratulations to the newlyweds on their marriage!