Sofía Reyes Talks Working With Danny Trejo On New Campaign, Her Female Peers, And New Music - Exclusive Interview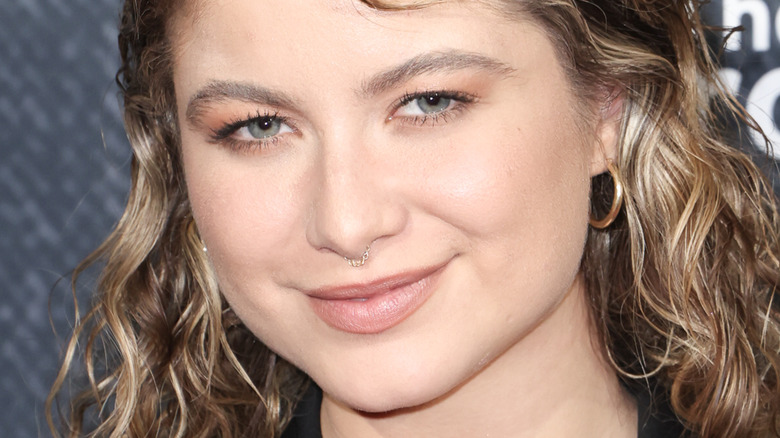 John Parra/Getty Images
In a world full of female singer-songwriters trying to be heard, Mexican star Sofía Reyes hasn't had to struggle to be noticed. Hailing all the way from Monterrey, Nuevo León, her back catalog boasts monster hits with the likes of Jason Derulo, Rita Ora, and Anitta, as well as award wins at the Latin American Music Awards and MTV Millennial Awards.
After keeping fans waiting following the release of her 2017 debut album, "Louder!," Reyes dropped her long-awaited second studio album, "Mal de Amores," in February 2022. In addition to new music, she and iconic actor Danny Trejo have teamed up with Tostitos for their latest Fiesta Remix campaign to help fans prepare for the season ahead and the Cinco de Mayo celebrations that take place on May 5. Not only that but various prizes are also up for grabs. Tostitos has collaborated with Millennial Lotería to bring their iconic board game to TikTok. With nine different challenges to participate in, those who enter under the hashtag "#TostitosFiestaRemix" will automatically have a chance of winning.
In an exclusive interview with Nicki Swift, Reyes discussed her exciting collaboration with Tostitos, the process of making her new album, a goal she wants to achieve before the end of 2022, and more.
Teaming up with Tostitos for the Fiesta Remix campaign was a 'no brainer'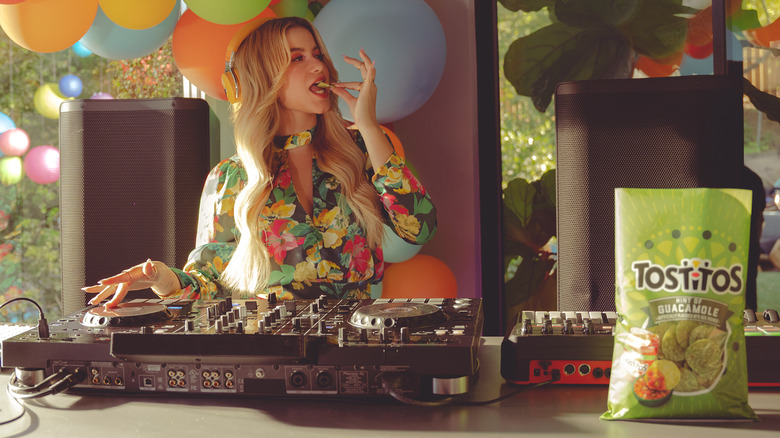 On behalf of Tostidos
What drew you to go ahead with the Fiesta Remix campaign, as you likely get pitched with a lot of things?
One thing is that it feels authentic and real to myself, and honest. And when my team told me about this Tostitos campaign, I just felt it, I was like, "Of course, it's obvious." I grew up eating Tostitos, I love Tostitos. We have Tostitos in my house all the time. It's like part of who I am. And also, when they mentioned Danny Trejo, I got super excited because I've been wanting to work with him for years. Literally. We had ideas like, "Let's do a music video where Danny like comes in and does this, and we can do this and that." So everything made sense. It got me really, really excited and I love it. And it's beautiful how both our culture, Danny's and I, got us together and made this whole beautiful campaign. So yeah, that's basically it, it was a no-brainer.
The campaign is also interactive with fans, allowing them to participate in TikTok challenges.
The TikTok challenge is super, super fun. I love that Tostitos had this great idea of putting this Lotería card that asks you to do something, it makes it challenging and fun. As I said, it's honest for me to communicate something that makes sense to who I am. I'm talking about Tostitos, which I do eat, which I share, and I've been sharing all my life and it's something that I do all the time. And also my music is there, which is beautiful. I got really excited about that too.
She bonded with Danny Trejo over 'deep' topics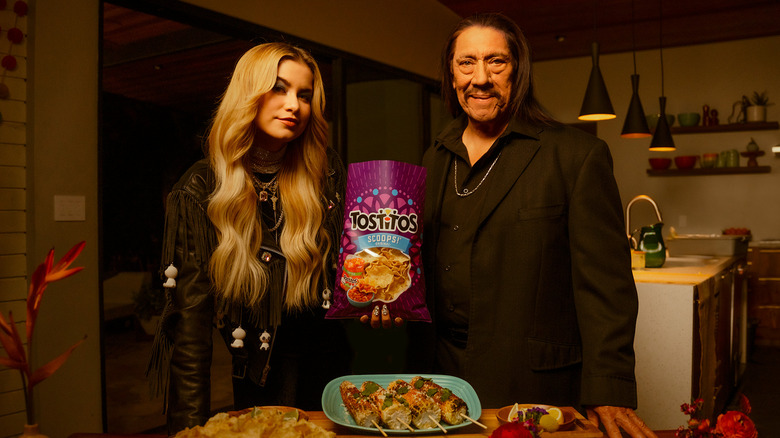 On behalf of Tostidos
For the campaign's commercial, you star alongside Danny Trejo. Was this your first time meeting him? And how was that experience?
I met him first in a Tostitos call. It was a Zoom call and I thought he had a hilarious personality. He also told me, "I love your music and what you do." And so when we met in person shooting the commercial, he was the sweetest, [most] super funny guy. We even talked about deep things, about life, and a lot of things. He gave me an album. He also makes music, I had no idea about that. We really bonded, so it was definitely an honor. It's great when you meet someone that you admire, that you've been wanting to meet, and that you have an even bigger impression. That's what happened to me with Danny.
With Cinco de Mayo coming up on May 5, is there a particular tradition that you do every year when celebrating?
Well, this is a really interesting question because as I was telling my team and the Tostitos team, in Mexico we don't celebrate Cinco de Mayo. And so growing up it wasn't part of my culture. When I moved to LA, I've been there for 10 years now, Cinco de Mayo came up, and I was like, "What are these fireworks for? What's going on?" Since then, it has been part of my culture for the past 10 years. I feel like the way I'm going to celebrate it this year is at home. We bring food, we eat chips, and we order food as well. We play music. We're just there hanging. And then maybe we might go out to a bar or a club and we party. I think that's what I'm going to do this year. I haven't planned it yet, but I think that's what we're going to do.
Sofía Reyes found herself during the creative process of her new album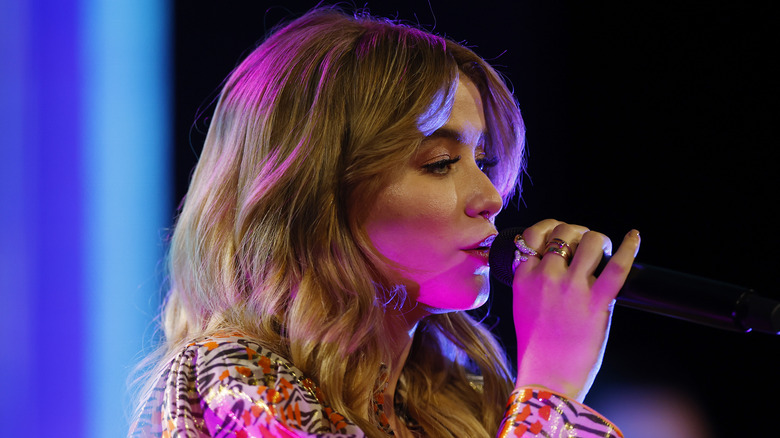 Michael Reaves/Getty Images
Earlier this year, you released your second studio album, "Mal de Amores." Talk to me about the process of making the album because it had been many years in the works.
Yeah. It was a long journey. It took me six years to put the album together and it's a really fun album. It has 17 songs. I definitely feel proud of myself and my team, everyone that was a part of this process and this journey. I love it. I feel like I got to try new sounds, explore new sounds, and find myself as a person, and as an artist through it. A lot of people that I met on the journey inspired this album, as well as relationships. My friend, who's also like a brother and he's my main producer, I met him three years ago and we changed the whole aesthetic of the album since he came into my life. I'm so grateful to have him in my life. So yeah, it's been definitely a very interesting journey and I'm happy. The album's out, finally. People are really liking it.
I was going to say, have you received the reception you'd hoped for?
Oh yeah, really good comments. And people are connecting with the album, which is beautiful. I just came from Argentina and Colombia, I was in Chile as well, in Mexico City, and I was performing the songs, new songs even, for the first time and everyone was singing along with the lyrics. It's been a really good experience and a really good feeling. I feel very, very grateful. I feel like I'm in a moment in my life where a lot of things are aligning and beautiful things are happening. So I'm just taking them in and enjoying them and trying to be as present as possible.
She admires the female collaborators on the album
Andreas Rentz/Getty Images
The record contains a lot of great collaborations, Becky G is one of them. What was it like working with her as she is considered one of your peers?
I love Becky G. I admire her so much. She's been in this career for a long time. She's even younger than me and I respect her. The fact that we got to do "Mal de Amores," which is a song in the album, together was amazing. I also wanted to work with her for years and I love her.
Another big collaboration on the album is "R.I.P." with Anitta and Rita Ora. The video looked super fun to shoot. Was there anything that you took away from that experience?
Definitely. A lot of things. I mean, I got to know them even more during that shoot, they had great energy. They're the best. I love how Rita ... she just ... you can tell she loves what she does. Anitta also has this amazing personality, which is also very authentic and very out there. And that's something that I appreciate and love about her.
I wanted to do a song where I could put three different cultures and three different languages and prove that as women, we can just collaborate and it's very empowering. I was able to do it with Rita and Anitta. Also, the video is very Mexican inspired and it's something that I try to do with my music videos where I somehow bring some essence and some elements from Mexico. If you watch "R.I.P." as well as "IDIOTA" or "Mal de Amores," they are all like Mexican influence inspired, but they're all super different. And it's something that I try to do and show people that we have all these lines and branches.
What is a goal you want to achieve by the end of the year?
I want to be able to finish these two albums that I'm working on. I don't know if put them out, we'll see how that works, but I definitely want to have them ready and wrap them up. What I want to achieve is probably ... I mean ... maybe cliche, but to enjoy the process of everything. Sometimes a lot of things happen. Sometimes I get overwhelmed by situations, even if a lot of great things are going on, I get like, "Ah," so I want to be able to enjoy everything. So that's my goal, literally.
To learn more about Sofia Reyes' partnership with Fiesta Remix and find even more ideas for all your summer get-togethers, head to Tostitos.com/FiestaRemix.