Inside Rumer Willis' Complicated Relationship With Mom Demi Moore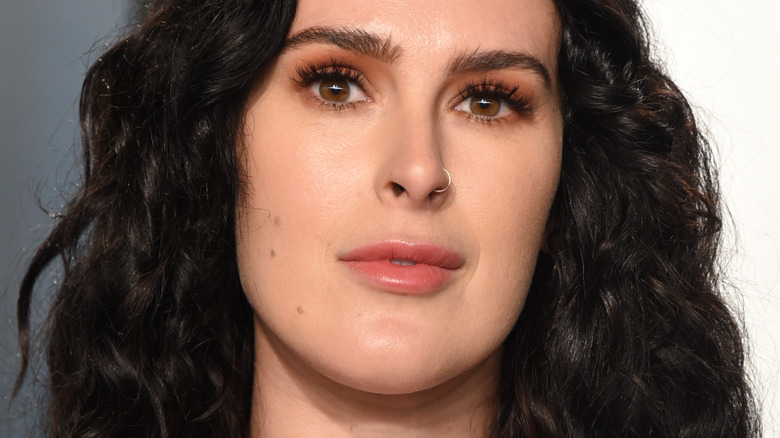 John Shearer/Getty Images
Since Demi Moore released her intimate memoir, "Inside Out," in 2019, the public has seen another side of the glamorous actress. Though her rocky childhood was well-publicized, Moore wrote candidly about the intimate details of her upbringing — including her mother's attempted suicides and her family's substance abuse struggles, per People. As the star detailed in an interview with "Good Morning America," she wrote the memoir "to help others who may be struggling" and dedicated the book to her mother, as well as her three daughters — Rumer, Tallulah, and Scout Willis.
The dedication is a sweet nod to Moore's family, with whom she has had an up-and-down relationship. In "Inside Out," Moore discussed a period in which her partying drove a wedge between her, her ex-husband Bruce Willis, and their daughters. "I guess the fundamental question that came forward for me was, 'How did I get here?'" Moore said during her GMA interview. "I mean, from where I started to what I've experienced, where I've been, like, how did I get here?" In the midst of that dark period, Moore entered rehab "for addiction and an eating disorder" after collapsing at a party in 2012, and she has since worked on restoring her relationship with her daughters. Though BuzzFeed reported that Rumer was once put in the awkward position of being the go-between when her sisters shunned Moore, Rumer has since spoken out about how proud she is of her mother.
Rumer Willis struggled with her mom's marriage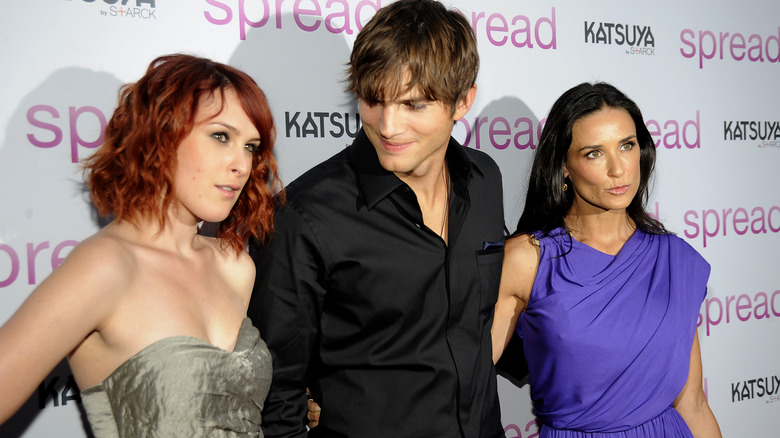 Frazer Harrison/Getty Images
Rumer Willis and her mother Demi Moore have an unconventional relationship, to say the least. Let's start with the fact that Moore married Ashton Kutcher in 2015, and that he's 15 years Moore's junior, and only 10 years older than Willis. This made things fairly uncomfortable for Willis, who revealed in an interview with Howard Stern that "it was definitely weird for a moment." Referencing the fact that Kutcher was once her teenage crush, Willis promptly ripped his poster off her wall once her mom started dating him. 
"I feel like I told my sister that at some point ... 'All right, well, gotta cross him off the list," Willis added. As for anyone wondering whether Moore's relationship with Kutcher complicated things with Willis, the answer's yes. In particular, Willis took offense with the way her mother appeared "desperate" to have another baby with Kutcher, according to Fox News.
In 2019, Willis appeared on an episode of Jada Pinkett Smith's "Red Table Talk" where she explained how Moore's marriage to Kutcher damaged her self-esteem. "So much of that time, especially with Ashton, I was so angry because I felt like something that was mine had been taken away," Willis said. "When [Demi] wanted to have another baby and then it wasn't happening ... it was like, 'Oh, well we're not enough." After Moore miscarried, it was enough to drive Willis out of the house. "[I thought] 'Why [is Demi] so desperate to have another kid?' I couldn't stand the idea," Willis explained.
Rumer Willis made the emergency call when her mom relapsed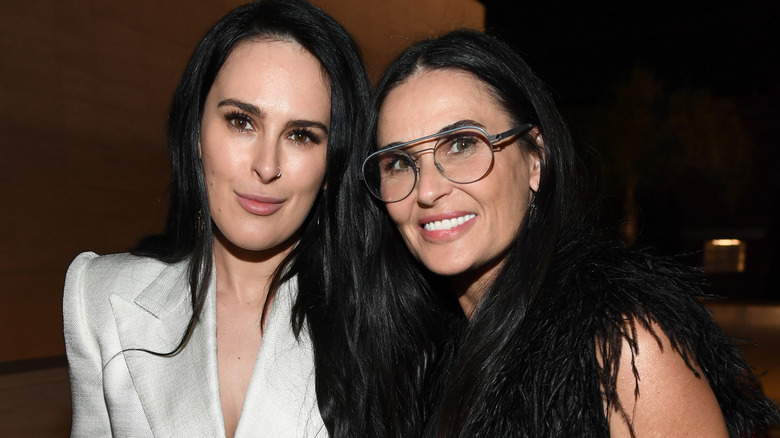 Kevin Mazur/Getty Images
Demi Moore's miscarriage was the beginning of the end of her marriage to Ashton Kutcher. Following the pair's divorce, the Daily Mail reported that Moore was rushed to the hospital after suffering seizures. At the time, she had allegedly been smoking synthetic cannabis at a party in front of her daughter, Rumer Willis. During a "Red Table Talk" episode, Willis revealed that she was the one who dialed 911. "I was there in the other room with 911, panicking, because I'm like, 'All right, either my mom's going to die and I'm not gonna be in the room," she told host Jada Pinkett Smith. "I'm going to feel the guilt of that for the rest of my life, or I'm going to be there and see this image of my mom that I will never get out of my head."
Thankfully, Willis feels she made the right call (literally) by getting her mom help, and today, she couldn't be prouder of the recovery that Moore has made. After Moore released her autobiography, "Inside Out," in 2019, Willis praised her mom's "vulnerability and honesty." "What I really respect about [Demi] is that she is never the victim in her stories," Willis said on "The Talk." "She takes accountability. She takes responsibility. This is her perspective, her story. ...She's allowing herself to show everyone that you can go through some really difficult, hard things and ... still be someone who is thriving."