What Is Ashton Kutcher And Demi Moore's Relationship Like Now?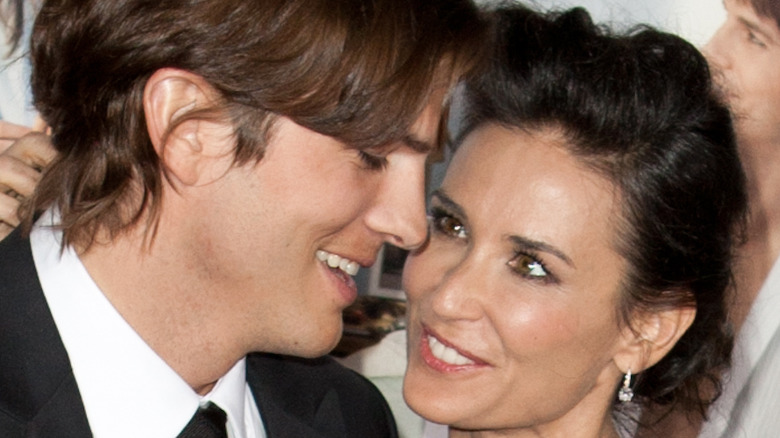 Photo Works/Shutterstock
We may receive a commission on purchases made from links.
The fact that Demi Moore and Ashton Kutcher were married for eight years is no surprise to, well, anyone. The A-listers split in 2011, but over the course of their relationship, they became famous for their 15-year age gap. According to People, Moore and Kutcher started dating in 2003, not long after meeting at a dinner party. 
They faced a number of obstacles while they were together, from a series of alleged infidelities to a miscarriage that Moore wrote about in her memoir, "Inside Out," per People. Since the split, Kutcher remarried another celebrity, Mila Kunis. The two tied the knot in 2015 and have two children together: Wyatt Isabelle and Dimitri Portwood. Moore, however, has chosen not to remarry. But what is Kutcher and Moore's relationship like today? What is his relationship like with Moore's children? Fans may be surprised to learn what Kutcher has to say about his ex-wife.
It's 'all good' between Ashton Kutcher and Demi Moore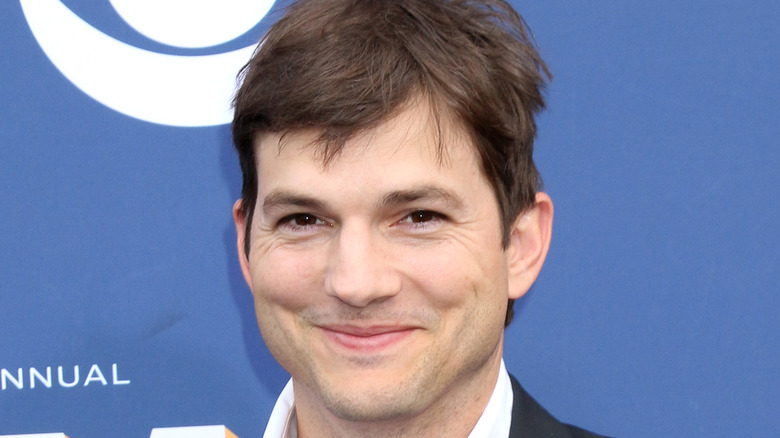 Kathy Hutchins/Shutterstock
Speaking on Marc Maron's "WTF with Marc Maron" podcast in 2020, Ashton Kutcher revealed that, while he and Demi Moore don't hang out anymore, it's "all good" between them. He added that he has stayed in touch with Moore's three daughters — Rumer Willis, Tallulah Willis, and Scout Willis — whom she shares with ex-husband Bruce Willis. Kutcher explained to Maron, "I loved them and I'm never gonna stop loving them and respecting them and honoring them and rooting for them to be successful in whatever they're pursuing." He added, "At the same time, I'm not their father ... So if they don't want an engagement with me, I'm not gonna force it upon them, but they all do and it's great."
Kutcher's sentiments were corroborated by Moore, who told The Wall Street Journal in 2019, "We have some things that overlap. It's friendly. But we're not...hanging out." When Moore's memoir was released in 2019, insiders shared that its contents in no way disrupted Kutcher and Mila Kunis' marriage. A source told People that Moore's tour to promote the book "didn't do anything to shake" what Kutcher and Kunis have. 
Mila Kunis and Demi Moore share a 2022 Super Bowl commercial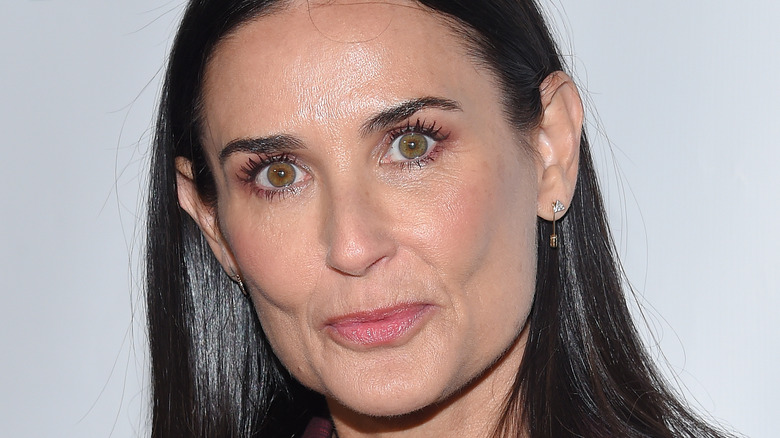 DFree/Shutterstock
And what about Demi Moore — is she proudly single or experimenting with dating? In September 2021, a source told OK! that Moore is back on the dating scene. The source said, "Demi's finally at the point where she doesn't feel like she has to live up to anyone else's expectations. She's feeling really good about herself and is ready to put herself out there again." The source added that she is "loving" the experience. Moore was last linked to drummer Sean Friday, but the two split in 2015. 
Interestingly, news recently surfaced that Moore will be joined by Mila Kunis in a new commercial for AT&T at this year's 2022 Super Bowl. In addition to having been married to the same man, the two are both graduates of Fairfax High School, according to Elite Daily. At one point in the ad, Kunis even says, "We have a lot in common." And, while Kutcher isn't exactly named, fans can only assume the statement is a nod to both actors' relationship with him. Given that Moore and Kunis are clearly on good terms, and Kutcher and Moore say that all is going fine, it does appear that all is well in the family.