What We Know About NCIS Star Katrina Law's Marriage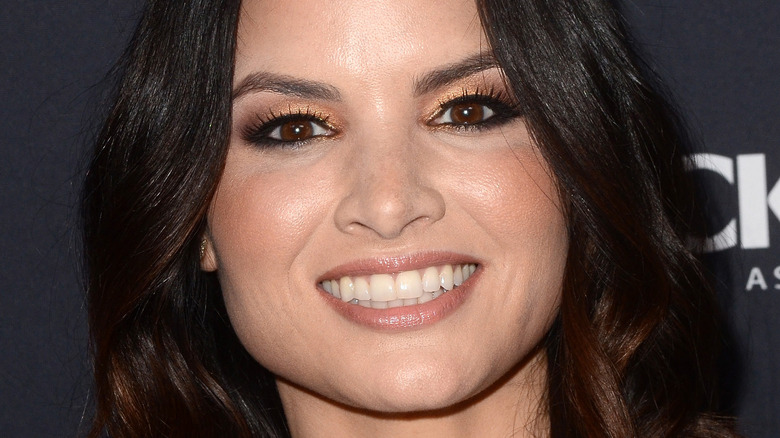 Kathy Hutchins/Shutterstock
Katrina Law plays Special Agent Jessica Knight on CBS' long-running hit show "NCIS." Per Deadline, she joined the naval drama franchise as a recurring character during the final two episodes of Season 18, before becoming a full-time cast member in Season 19. Special Agent Knight is an integral part of the REACT (Regional Enforcement Action Capabilities Training Team). She's tough as nails, strong, fearless, and sassy — all of which come in handy when she has to conduct high-pressure and life-threatening hostage negotiations and special ops.
Law's off-camera life is decidedly less stressful and dangerous, although you probably wouldn't want to get on her wrong side of her, as she's still capable of kicking some serious butt. According to her show bio, the actor and singer excels at Tae Kwon Do, holding a black belt in the martial art. In addition, Law — whose heritage is a mix of German, Italian, and Taiwanese — is a full-fledged combat weapons specialist, having undergone extensive training with firearms specialist Taran Tactical.
However, she has a way softer side too. Law's website lists a range of charities she's passionate about and regularly contributes to. Among them are Variety Children's Charity, The International Rescue Committee, and Children's Miracle Network Hospitals. Law's also a loving mom and wife. However, the star likes to keep her private life private, and she rarely discusses her home life. So, what do we know about the "NCIS" star Katrina Law's marriage?
Katrina Law's marriage was in her destiny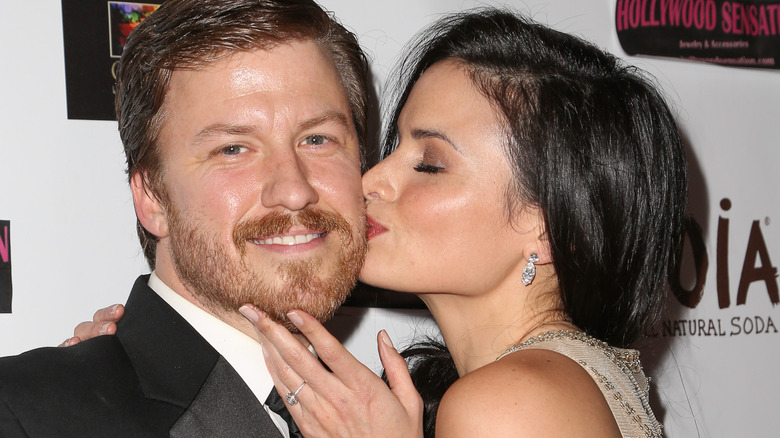 Chelsea Lauren/Getty Images
"NCIS" star Katrina Law is married to fellow actor Keith Andreen, and they share a daughter, Kinley. Law and Andreen met in 2010 on set of the dystopian drama "The Resistance," which IMDb describes as an "epic tale of destiny and revenge." Although it was their destiny to meet, presumably, there's been no drama or revenge, as Law and Andreen married in 2013. Life & Style had the scoop on their intimate wedding in Costa Rica, where they said "I do" on the beach.
The country holds a special place in Law's heart, so she had no hesitation choosing it for her wedding destination. "Costa Rica is my favorite place in the world. It was the ideal way to unwind from the stress and work of 2012 and recharge for 2013," she explained. However, Law wasn't so quick to decide on the perfect dress to wear for her big day — admitting it took three years to find the one.
Law described her eventual choice, an Anna Maier Ulla-Maija Couture gown, as "simple, elegant, romantic and flirty." However, three years of choosing went straight down the drain, literally, as Law shared that one of her favorite memories was the wedding party jumping into the resort's swimming pool, fully dressed. Per Your Dream Dress, Anna Maier Ulla-Maija Couture gowns retail at around $4,600-$5,600. That's a pretty pricey plunge, but then, what price, love?
Katrina Law's marriage is going as strong as her career
"NCIS" star Katrina Law's marriage to Keith Andreen is still all love and romance after nine years of wedded bliss. Law's acting career is red-hot with her working on her full-time "NCIS" gig, while also taking a starring role in the TV movie "Alive (II)." Meanwhile, Andreen has taken a step back from acting since the birth of their daughter Kinley in December 2018. His last credit was for the 2019 movie "Ernesto's Manifesto."
Nowadays, Andreen prefers life behind the camera, producing an impressive range of stellar photography. Law plays a starring role as one of his main muses, evidenced by his Instagram feed, which includes an array of beautiful, candid, and sometimes risqué pics of his wife. In addition, Andreen shoots a stunning variety of landscapes and portraits.
Hopefully, he also enjoys spending time behind the kitchen sink, as Law shared on her website that whipping up tasty treats and delicious dinners is definitely not one of her talents in life. She claimed that she's a terrible cook, despite her best attempts. "Pretty bad at cooking, though I do try," she admitted. Law said it took her a whole year to master the fine art of boiling and then peeling a hard-boiled egg — but she got there eventually, an achievement she's very proud about. "It's the little victories I say," Law wrote.