The Real Reason Chris Rock Got Fired From SNL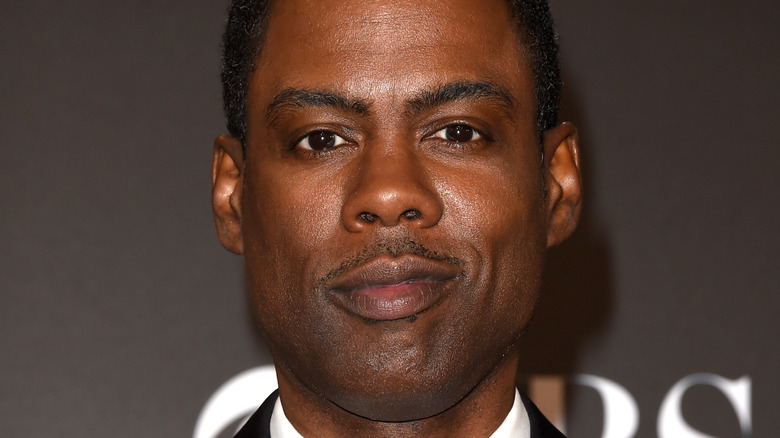 Jason Merritt/term/Getty Images
While there's no doubt that Chris Rock has made more headlines this year than he has in the last several years thanks to Will Smith slapping him across the face at the Oscars, the comedian has always been somewhat of a controversial figure. Prior to that slap that rocked the world, Rock did and said a lot of different things that raised eyebrows. Back when he hosted the 2016 Oscars, he brought three Asian children onstage and introduced them as Oscars accountants. In 2019, he posted a meme mocking Whitney Houston that didn't go over well with Bobby Brown. 
Rock's personal life has seen some bumps, too. His divorce from Malaak Compton-Rock wasn't an easy one. He even admitted in his 2018 stand-up comedy special "Tamborine" that he messed up in his marriage dearly. "It's my fault, because I'm a f***ing a**hole. I didn't listen. I wasn't kind," he told the audience (via Metro).
Before all of that, Rock was part of the "Saturday Night Live" cast for three seasons. But in 1993, the comedian was fired for a reason that seems rather tame compared to the rest of his career.
Chris Rock had a solid reason for leaving Saturday Night Live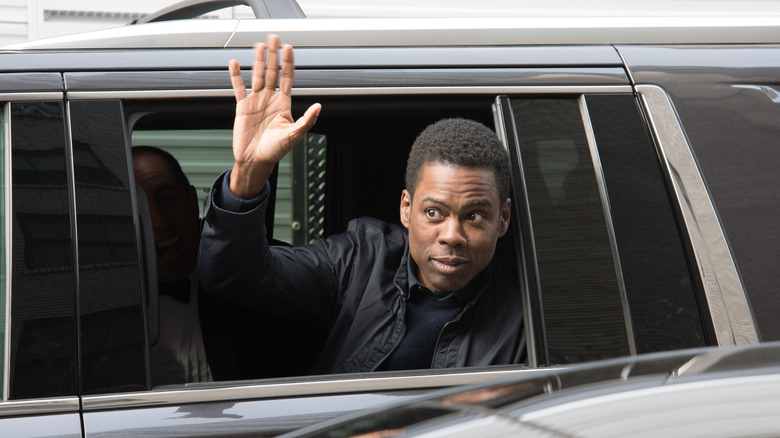 Greg Jannacone/Shutterstock
Chris Rock is one of the most recognizable comedians of his time. Even though he's still making major appearances at award shows and selling out his stand-up tour in cities all across the country, things weren't always this easy for him. One of Rock's first roles was on "I'm Gonna Git You Sucka," which led to him appearing on "The Arsenio Hall Show." That's where "Saturday Night Live" executive producer Lorne Michaels plucked Rock out of obscurity and put him on his show in 1990, as detailed by Oprah.com.
While Rock achieved nearly every comedian's dream by getting on "SNL," he wasn't quite sure it was his cup of tea. "SNL is still a pretty white show," he told Marc Maron on "WTF" in 2011. "When I got hired I was the first black guy in like eight years — and 'In Living Color' was just hip. The s**t was hot. I wanted to be in an environment where I didn't have to translate the comedy I wanted to do."
Rock claimed that he expressed his decision to leave "SNL" and was fired shortly thereafter. Luckily, he ended up joining the cast of "In Living Color" for its final season. Unfortunately, the show came to an end shortly thereafter, per The Hollywood Reporter. Thankfully, Rock has the kind of humor that allowed him to make fun of his firing during a stint on none other than — you guessed it — "Saturday Night Live" in 2019. 
Chris Rock's history with Saturday Night Live is a rocky one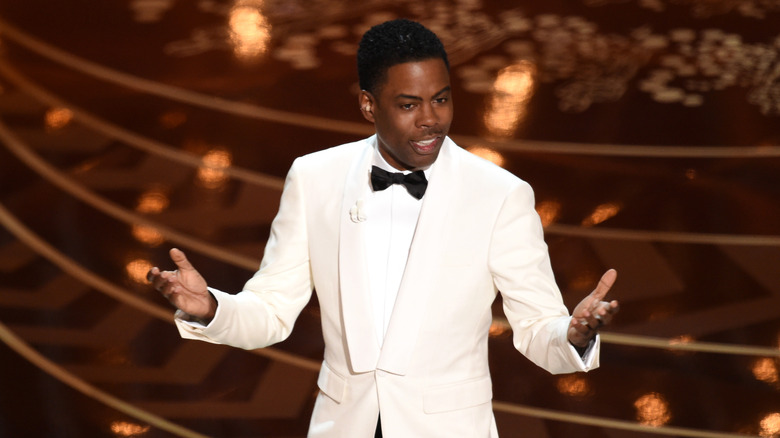 Kevin Winter/Getty Images
Chris Rock makes a living poking fun at other people, but sometimes he takes a stick and pokes fun at himself as well. During a "Saturday Night Live" opening monologue in May 2019, both Rock and Adam Sandler saw the humor in that they were both fired from the show in the past. In fact, they even made up a song about it. In a song that was aptly called "I Was Fired," Sandler started things off by saying, "I was fired, I was fired, I was fired from 'Saturday Night Live.' I never saw it coming. ... I tried to call Lorne Michaels, but he never called me back," before sarcastically adding, "Maybe they were sick of Canteen Boy, but I think they just hate the Jews." Rock then went on to sing his verse with, "I was fired by NBC. I went on 'In Living Color,' three weeks later they took it off TV."
But that wasn't the only time that Rock returned to "Saturday Night Live" to host a show. He's made a handful of cameos throughout the years and hosted three different times: in November 1996, again in November 2014, and more recently in October 2020. It must be nice to go back and take the stage at a job that once fired you during the early years of your career, right? The jokes sometimes do write themselves.