YouTube Star PewDiePie Uses Racial Slur During Livestream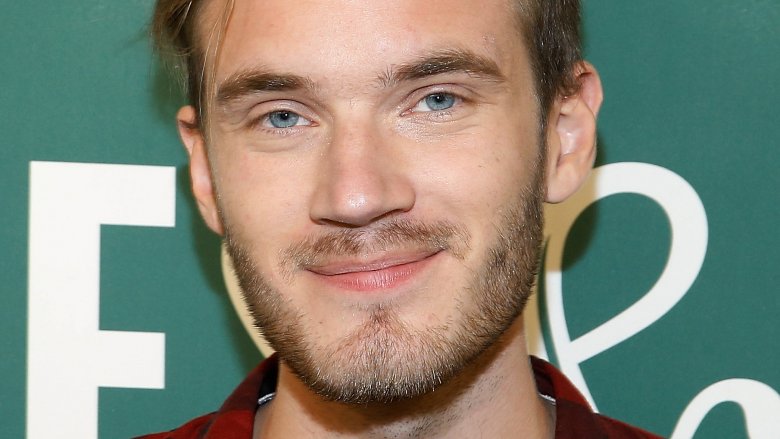 Getty Images
PewDiePie is in big trouble again.
The Guardian reports that YouTube star PewDiePie (real name Feliz Kjellberg) is in hot water after he used a racial slur during a livestream. In footage of the incident in question, Kjellberg can be heard (and seen) calling another player a "f***ing n*****."
Kjellberg, who was playing PlayerUnknown's Battlegrounds at the time, then appeared to try to correct himself, saying, "f***ing a**hole," and adding that he "didn't mean it in a bad way."
Since his use of the slur on Sunday, Sept. 10, 2017, Kjellberg has already faced an onslaught of negative responses—but not just from former fans. Video game developers are also upset at Kjellberg's use of the n-word, and several are now reportedly gearing up to fight back against the Swedish internet personality for using their games in his videos. Campo Santo co-founder Sean Vanaman tweeted out that he'd be "filing a DMCA [Digital Millennium Copyright Act] takedown" of any of Kjellberg's videos that featured Campo Santo games like Firewatch.
"I am sick of this child getting more and more chances to make money off of what we make," he wrote, adding, "He's worse than a closeted racist: he's a propagator of despicable garbage that does real damage to the culture around this industry."
It's worth noting that this isn't Kjellberg's first major controversy. In February 2017, it was found that several of his videos reportedly contained anti-semitic messages—specifically, one video that showed a banner that read, "Death to all Jews" (via Time). In response, Kjellberg said, "I think it's important to say something and I want to make one thing clear: I am in no way supporting any kind of hateful attitudes."
The 27-year-old went on, "Though this was not my intention, I understand that these jokes were ultimately offensive."
The YouTube star, who boasts over 57 million subscribers and earned a whopping $15 million in 2016 alone, was later dropped by Disney. As USA Today notes, YouTube also canceled his series Scare PewDiePie Season 2 and removed his channel from the advertising program Google Preferred.
Kjellberg has yet to address his use of the racial slur or its resulting backlash.