Drake Just Proved He's Not One To Mess With When It Comes To His Son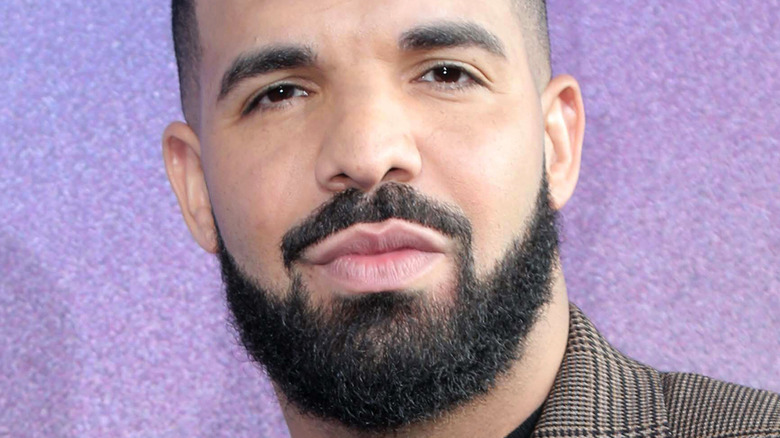 Kathy Hutchins/Shutterstock
Rapper, actor, and unofficial Toronto Raptors hype man, Drake has never backed down from starting beef when needed. In 2015, the hip-hop world was rocked when he released the track "Back to Back" to diss fellow rapper Meek Mill, who'd accused the Toronto rapper of using a ghostwriter, per NME. In true Canadian fashion, the "Hotline Bling" artist repaired the relationship with Meek and the two performed on stage together in 2018.
Then, there was the long-running feud with "Gold Digger" rapper Kanye "Ye" West. Rumors swirled in 2018 that Drake had an affair with Ye's then-wife, Kim Kardashian, in retaliation for Pusha T revealing that Drake had a secret son, Adonis, per The Sun. Ye fired back, saying he would be "winning every situation" should he go up against Drake in a "Verzuz" battle. Then Ye apparently tried to doxx Drake by posting a screenshot of Drake's Toronto address in a now-deleted Instagram post, per Yahoo. Seeing as how most Torontonians already know Drake's address (it has been public record since at least 2019 when Canadian newspaper The National Post published his full address), Drake laughed it off when his "Certified Lover Boy" album knocked Ye's "Donda" off the charts, per Variety. He even released a Ye diss track called "7am On The Bridle Path," where he rapped, "Give that address to your driver, make it your destination / 'Stead of just a post out of desperation."
The pair eventually reconciled, but now Drake is beefing with someone else to protect his son's honor.
Drake claps back at online troll for dissing Adonis
Kevin Mazur/Getty Images
In 2021, Drake dedicated his Billboard Artist of the Decade award to his son Adonis, and we saw then how much he loves him. Now the "God's Plan" rapper is taking aim at online trolls who try to come for his 3-year-old boy in the comments.  Popular Instagram account Comments By Celebs has just posted three screengrabs of an exchange between Drake, who goes by the handle "Champagne Papi" on IG, and a troll.
It seems to have started when the former "Degrassi" star responded to an Instagram post that mocked basketball star Ja Morant's father Tee for showing absolute devotion to his son during the playoffs. Drake commented on the post, saying in part, "I know I'mma be this way even if my son is in a rubix cube competition." When a troll replied to the "Yolo" rapper, saying his son plays with ghost writers (echoing the Meek Mill beef), Drake went next level.
Replying, "I just followed your girl cuz she's prob miserable and needs some excitement in her life," Drake did just that. Both Comments By Celebs and The Shade Room found and posted screengrabs of Drake not only following the man's wife, but also sliding into her DMs with, "I'm here for u ma." Dannnng. No word yet if the wife has taken up with the "One Dance" rapper, but the lesson here is: Keep Adonis' name out ya mouth.