This Is What Really Happened To Jamison Bachman From Worst Roommate Ever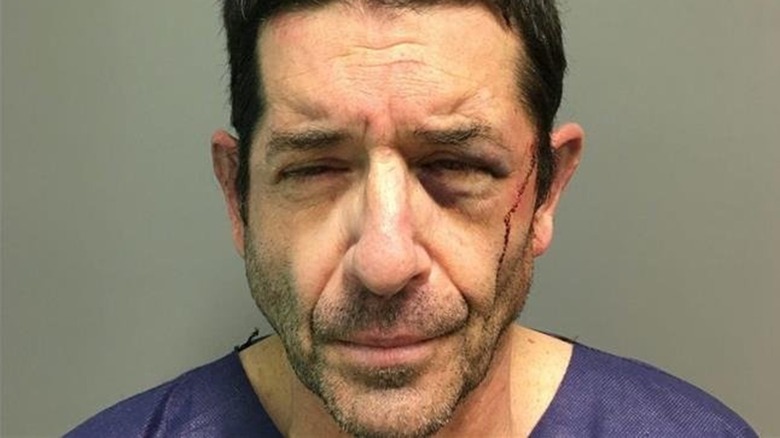 Montgomery County District Attorney's Office
"Worst Roommate Ever" became one of Netflix's most popular limited series this year. Netflix Tudum describes the show as a true-crime documentary series that uncovers some of the most terrifying roommate experiences ever. Through three standalone episodes and one two-part episode, viewers get to see four separate stories told by people who experienced these roommates and serial squatters firsthand.
The two-part finale revolves around Jamison Bachman. According to Intelligencer, Bachman used several fake names to get away with not paying rent. He was constantly on the move, squatting with strangers whom he promised he would pay rent to each month, but almost never did. Bachman always began his living situation cordially and then ultimately shifted to chaotic, dictator-like behavior. He worked effortlessly to torment homeowners who took him in as a tenant. Bachman purposely clogged toilets with cat litter, relocated important household items, and even kicked doors down to get his way. His ultimate goal was to use his legal background to take over someone else's space and have them kicked out of their own home.
One of his ex-roommates, Melissa Frost, explained, "He went from being this cordial, polite person who understood he was a guest in my house, to someone who was approaching me aggressively and flat-out saying, 'This is my house now.'" So how did he eventually get caught?
The danger continues
While some of his antics seemed nothing more than mild annoyances, Jamison Bachman sometimes became physically violent. While the serial squatter was staying with Alex Miller (pictured above), the two got into a verbal argument which then led to a physical altercation the next day. According to Intelligencer, he pushed Miller against a wall and grabbed her by the throat. He walked away, but then later sliced Miller's thigh with a knife as they fought through an open door. He was arrested that day for aggravated assault and was then sent to jail. His brother, Harry, ultimately bailed him out.
Miller explained how she felt upon learning of his release during "Worst Roommate Ever," saying, "Everyone was on pins and needles about where he was staying. My Mom wanted me to move out. She was very concerned about my safety." Miller's mom revealed, "The judge granted the order of protection with eviction." 
After his release, Bachman asked his brother if he could stay with him for a while. However, Harry and his wife refused to let him, having experienced living with him before. Bachman was dangerous; even his own family recognized that. Harry's wife was out of town, so he planned to meet his wife in upstate New York in case Bachman showed up unannounced. Harry stopped at home before taking off and texted his wife that Bachman had, in fact, shown up. Unfortunately, things didn't end well.
What ultimately happened to Jamison Bachman?
According to Intelligencer, Harry never arrived to his wife in upstate New York, and his wife began to worry. The police showed up to their home and found a trail of blood that led to the front door. The inside of Harry's home was disheveled with blood splotched around the dining room, and a trail of blood led to the basement door where Harry's body was left. The Philadelphia Inquirer reported that Jamison Bachman was charged with first and third degree murder after beating his brother to death. The Montgomery County District Attorney's Office reported that Harry "suffered blunt force trauma to the head and body."
Alex Miller reacted to Harry Bachman's death during "Worst Roommate Ever," saying, "How dare he? First, he ended up destroying himself. Then he killed his brother, the only person in the world left to help him."
Before Bachman could appear in court to face his charges, he ended up committed suicide. His preliminary hearing was set for December 11, 2017. However, days before his scheduled court appearance, Bachman hanged himself in his prison cell. Bachman's death shocked his previous roommates, although there was a serious feeling of relief. One of his roommates, Sonia Acevedo, explained during the Netflix special, "I feel sad, but I'm glad he's not around." Arleen Hairabedian, another roommate of Bachman's, told Intelligencer, "I wanted him to suffer." Finally, Bachman's former roommates had found closure.