The Two Notebook Stars That Didn't Get Along On Set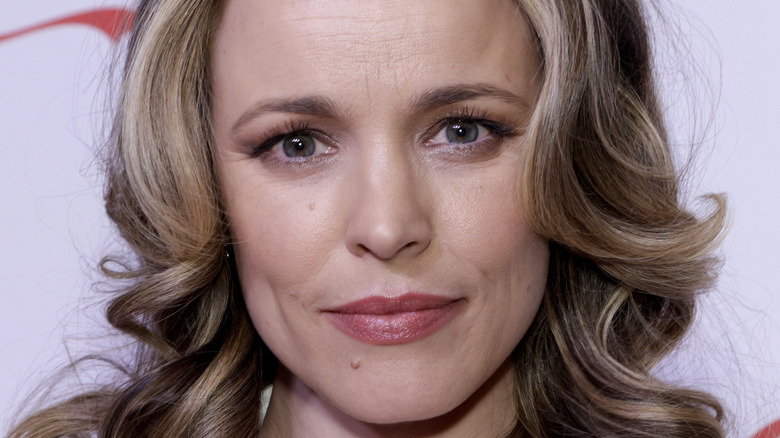 Greg Doherty/Getty Images
"The Notebook" — based on the best-selling novel of the same title by Nicholas Spark — had fans worldwide reaching for the tissues when it hit theaters in 2004. The love story chronicled the romance between Allie Hamilton (Rachel McAdams) and Noah Calhoun (Ryan Gosling), alternating between flashbacks and present-day scenarios to show how the couple refused to let anything come between them. 
McAdams and Gosling were magnetic together as the young lovebirds, with little disagreement from the film's many audiences. In fact, in 2020, "The Notebook" was ranked by RegMovies as "the greatest love story of all time," beating out "Titanic" with 58% of fan votes.
The film holds an important spot in pop culture history as well. On the eve of their wedding, Teen Vogue reported that Justin and Hailey Bieber screened the film, believing it to be a significant part of their relationship and overall love. Per Grazia Daily, Justin previously admitted to getting emotional over Allie and Noah's love story. Even Gosling himself praised the movie in a 2007 GQ interview, stating, "God bless 'The Notebook.' It introduced me to one of the great loves of my life." As fans may recall, he and McAdams dated from 2005 to 2007, according to InStyle. Gosling even described their love as being much more romantic than their fictional counterparts in his GQ interview. 
So with all that love swirling around by the end of their relationship, it's hard to imagine that there was once a time when the film's stars didn't get along.
Rachel McAdams and Ryan Gosling were more similar to their onscreen characters than you realize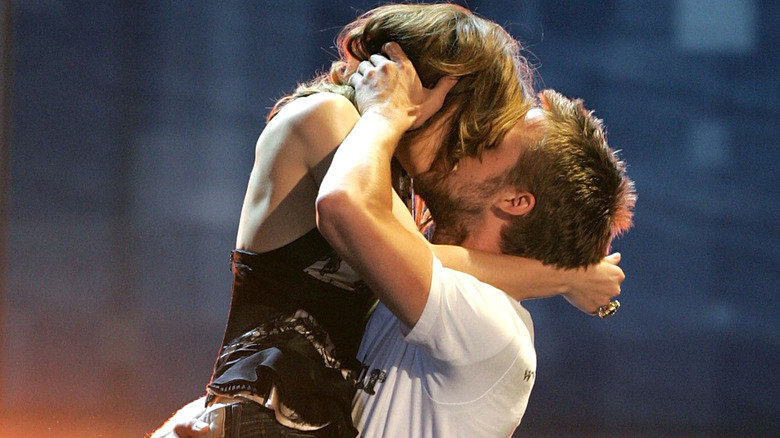 Kevin Winter/Getty Images
In "The Notebook," Allie and Noah fought almost as much as they professed their love for one another. As Parade pointed out, the pair's romance could be summed up with a quote from the film stating, "They fought all the time and they challenged each other every day. But despite their differences, they had one important thing in common: They were crazy about each other." 
In the real-life case of Rachel McAdams and Ryan Gosling, life imitated art. Gosling and McAdams didn't get along on set, so much so that Gosling even tried to have his co-star replaced with another actress. In an interview with VH1, director Nick Cassavetes admitted Gosling wanted McAdams off the filming set. "Ryan came to me, and there's 150 people standing in this big scene, and he says, 'Nick, come here.' And he's doing a scene with Rachel and he says, 'Would you take her out of here and bring in another actress to read off camera with me?'" he explained. "I said, 'What?' He says, 'I can't. I can't do it with her. I'm just not getting anything from this.'"
Cassavetes solved the problem by forcing the actors to work out their differences. "We went into a room with a producer; they started screaming and yelling at each other," he told VH1. "They had it out." Clearly, all that passion for their characters made for an explosive combo on and off-screen.
Ryan Gosling and Rachel McAdams worked out their differences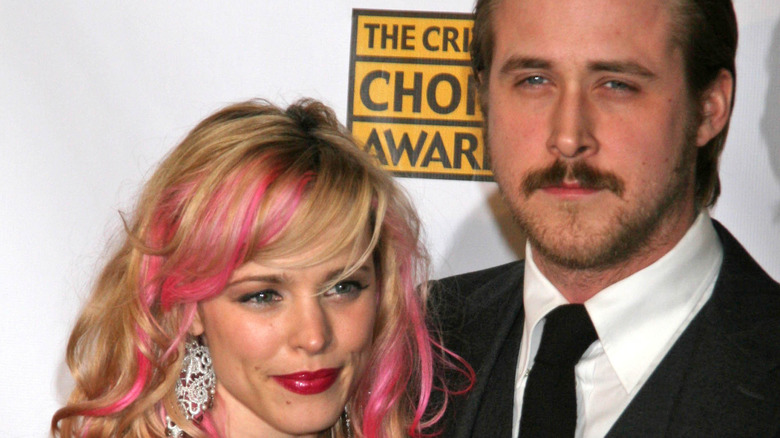 s_bukley/Shutterstock
Despite getting off to a less-than-stellar start, Ryan Gosling and Rachel McAdams put their animosity behind them for the sake of professionalism. Gosling grew to respect his co-star, not only for "standing up for her character" as director Nick Cassavetes theorized to VH1 but also for her acting chops. "[Rachel] was inspiring. You know, she's just like Allie in the movie: she laughs like that, she talks like that. She's elated one minute and devastated the next," Gosling said at the premiere of "The Notebook."
Perhaps no one was more surprised than Gosling when his relationship with McAdams took a romantic turn. "I don't know what happened," the actor told E! News. "Two years later I saw her in New York and we started getting the idea that maybe we were wrong about each other." 
But unlike Noah and Allie, Gosling and McAdams weren't meant to be. When asked about the 2007 breakup by GQ, Gosling recalled, "We both went down swingin' and we called it a draw." He also took a lot of heat for the split. "Women are mad at me," Gosling added. "A girl came up to me on the street and she almost smacked me. Like, 'How could you let a girl like that go?'" Today, Gosling is happily married to Eva Mendes, and McAdams shares two children with partner Jamie Linden in 2020 — so it seems everything worked out for the best.