Leonardo DiCaprio Just Found Himself In The Middle Of An Unexpected Feud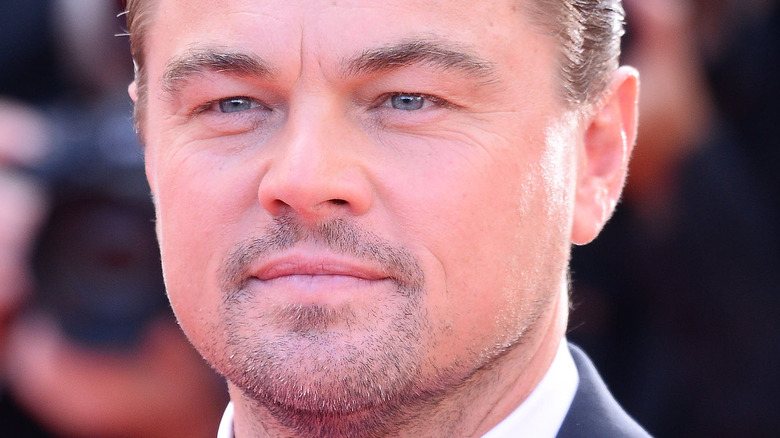 Isaaack/Shutterstock
Leonardo DiCaprio is one of the world's best-known environmentalists, having been actively engaged in the cause for nearly 25 years. The Oscar-winning actor established his conservation-focused foundation in 1998, shortly after then-Vice President Al Gore introduced DiCaprio to the issue of climate change at the White House. "He says, 'If you want to get involved in environmental issues, this is something not a lot of people are talking about,'" DiCaprio recalled in a 2015 interview with Wired, adding that Gore stressed it was the "single greatest threat to humanity that we've ever had."
From then on, DiCaprio jumped into the nonprofit world. In his role as an environmental activist, "The Revenant" star became no stranger to rubbing shoulders with politicians. That includes polarizing world leaders, like the Russian president. In fact, DiCaprio impressed Vladimir Putin in 2010, when the "Once Upon A Time In Hollywood" actor overcame a host of travel-related obstacles to attend a tiger-conservation conference in St. Petersburg, BBC reported. "A person with less stable nerves could have decided against coming, could have read it as a sign — that it was not worth going," Putin said of DiCaprio at the submit.
But that exposure has put DiCaprio on both the dispensing and receiving end of public criticism. As HuffPost noted, he was always quick to call out former President Donald Trump's climate change stance and 45 pulling the U.S. out of the Paris Agreement. His activism hasn't struck a nerve just on national soil, though.
Brazil's president is no fan of Leonardo DiCaprio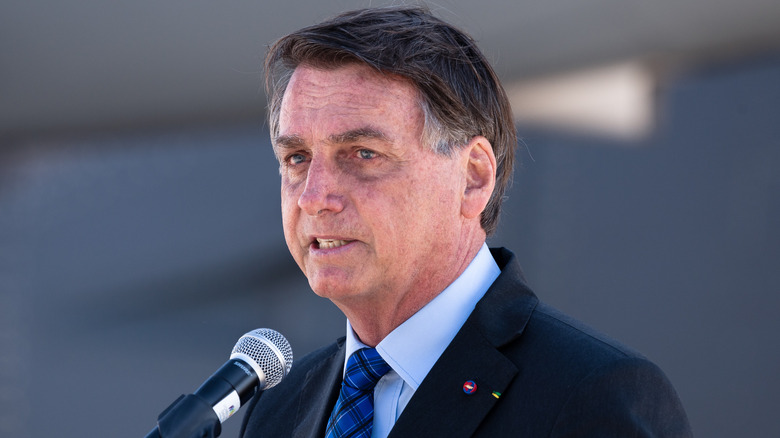 ettore chiereguini/Shutterstock
Since 2019, Brazilian President Jair Bolsonaro has drawn international criticism over his dismantling of environmental protections, particularly in the Amazon region, The Guardian reported. Leonardo DiCaprio, unsurprisingly, is one of his critics. On April 28, the actor used Twitter to urge young Brazilians to fight for the rainforest in the October elections, writing, "What happens there matters to us all and youth voting is key in driving change for a healthy planet."
Bolsonaro had some sarcasm-laced thoughts on DiCaprio's perceived campaign against him. "Thanks for your support, Leo! ... Our people will decide if they want to keep our sovereignty on the Amazon or to be ruled by crooks who serve foreign special interest. Good job in 'The Revenant!'" he tweeted. Bolsonaro didn't stop there. "Now, DiCaprio has to know that it was the very president of the World Trade Organization who said that without Brazilian agribusiness, the world would be hungry," Bolsonaro said on May 3, according to CNN.
This isn't the first time Bolsonaro has gone after DiCaprio. When DiCaprio used social media to draw attention to the 2019 fires that ravished the Amazon, Bolsonaro had a deflection strategy that involved blaming the actor, Deadline reported. The president accused NGOs of starting the fires to make his administration look bad. Since DiCaprio supports different organizations, he ended up in Bolsonaro's crosshairs. "This Leonardo DiCaprio's a cool guy, isn't he? Giving money for the Amazon to be torched," he jabbed.