Who Is The New White House Press Secretary, Karine Jean-Pierre?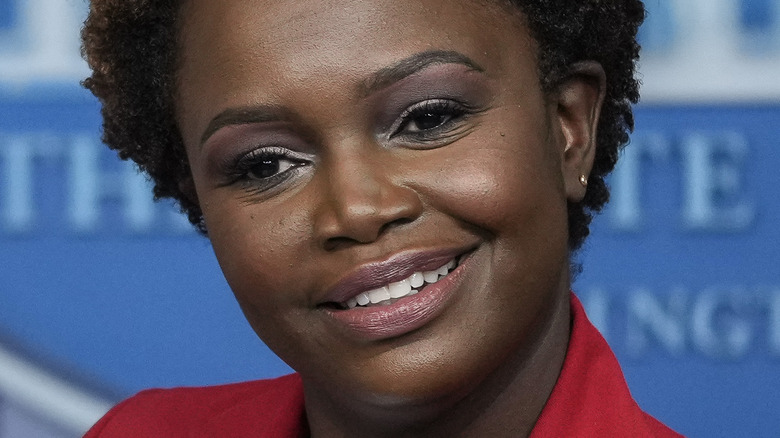 Drew Angerer/Getty Images
President Joe Biden has picked a replacement for departing White House Press Secretary Jen Psaki, and it turns out Peter Doocy's new sparring partner has been in the president's circle for quite a while. Karine Jean-Pierre will be the woman stepping up to the podium to field questions from the press and become the target of taunts from the president's political opponents. (Remember when Republican Senator Ted Cruz thought it was an insult to compare Psaki to the "Peanuts" character Peppermint Patty?)
Biden has worked with Jean-Pierre for years, dating back to his VP days when Jean-Pierre was the Regional Political Director for the White House Office of Political Affairs. She's also been one of Biden's trusted advisors, and she worked for both of Barack Obama's election campaigns. "Karine not only brings the experience, talent and integrity needed for this difficult job, but she will continue to lead the way in communicating about the work of the Biden-Harris Administration on behalf of the American people," Biden said in a statement on the White House website.
Jean-Pierre got a taste of what her new job would be like on May 26, 2021, when she filled in for Psaki, becoming the first out LGBTQ+ person to lead a White House press briefing. Now, she'll also be the first Black woman to serve as White House Press Secretary. "It is a true honor," Jean-Pierre tweeted of her new job. "I have big shoes to fill." Luckily, like Psaki, she's proved that she can handle pressure like a pro.
How Karine Jean-Pierre protected Kamala Harris from a protester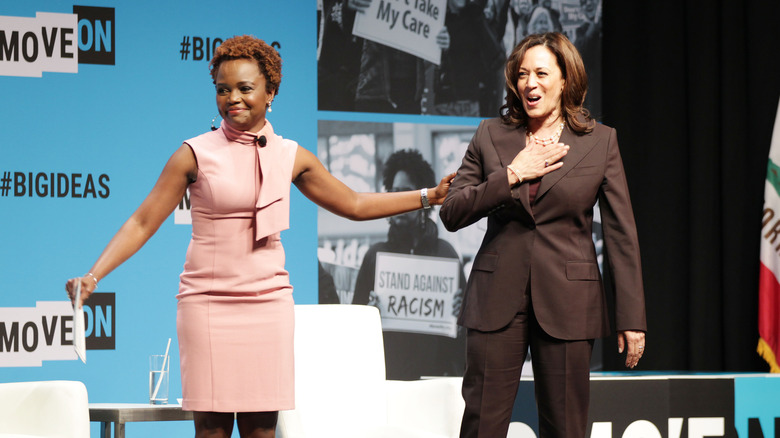 Miikka Skaffari/Getty Images
Before she landed her gig answering questions from those who bring us the news, Karine Jean-Pierre made the news herself. In 2019, she was working for MoveOn as the political advocacy group's chief public affairs officer when she put her own safety on the line for then-Senator Kamala Harris, per Rolling Stone. Jean-Pierre was speaking to Harris during MoveOn's Big Ideas Forum when a male protestor made it onto the stage and grabbed Harris' microphone. Jean-Pierre flew out of her seat and jumped between the man and Harris — and she didn't back down until the disruptor was escorted away.
"I just thought, 'It's going to go bad, and I cannot let this happen,'" Jean-Pierre later said in an interview with MSNBC. "I wasn't thinking about what could happen to me; I was thinking about what could happen to her." A year later, Jean-Pierre would become Harris' chief of staff.
Jean-Pierre mentioned Harris in a November 2019 "Build Series" interview while discussing how exciting it was for her to see more Black women getting involved in politics. Jean-Pierre, the daughter of Haitian immigrants, said that one reason she penned her memoir "Moving Forward" was in hopes that sharing her story about how she became successful in the cutthroat world of politics would further improve representation in the field. "I wanted young Black girls to see, look, here's someone you can look up to," she said.
Her partner is a member of the press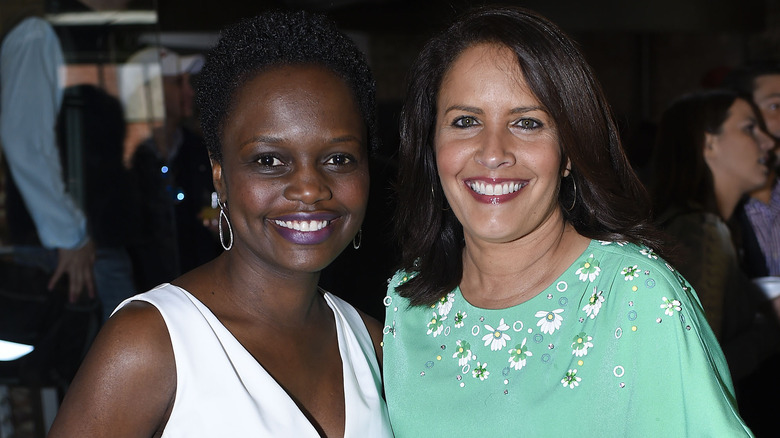 Riccardo S. Savi/Getty Images
The cameras in the press briefing room at the White House aren't likely to make Karine Jean-Pierre nervous; as a political analyst, the Columbia University grad has offered her insight to MSNBC and NBC News. She's also in a long-term relationship with a reporter, CNN's Suzanne Malveaux.
While Jean-Pierre is out and proud and making history now, she revealed that her coming out story was not a happy one. She was 16 when she told her mother that she was gay. "The revolted look on her face sent me running back into the proverbial closet and slamming the door shut," Jean-Pierre tweeted in June 2021. Her love life became a taboo topic for years, but her mom eventually became more accepting. "My Mother is now proud of ALL of who I am; she loves my partner and she loves being a doting grandmother to the daughter we are raising," Jean-Pierre wrote.
In her book "Moving Forward," Jean-Pierre revealed that she first met Malveaux at the Democratic National Convention in 2012. Two years later, they welcomed their daughter, Soleil, who made an appearance in a piece Malveaux filmed for CNN. Jean-Pierre told The Haitian Times that becoming a mother is what inspired her to accept Joe Biden's offer to serve as an advisor during his 2020 presidential campaign. She said, "I looked at [my daughter] and I thought to myself, 'There is no way I can not get involved in this election.'"