Inside Chicago Fire Star Joe Minoso's Marriage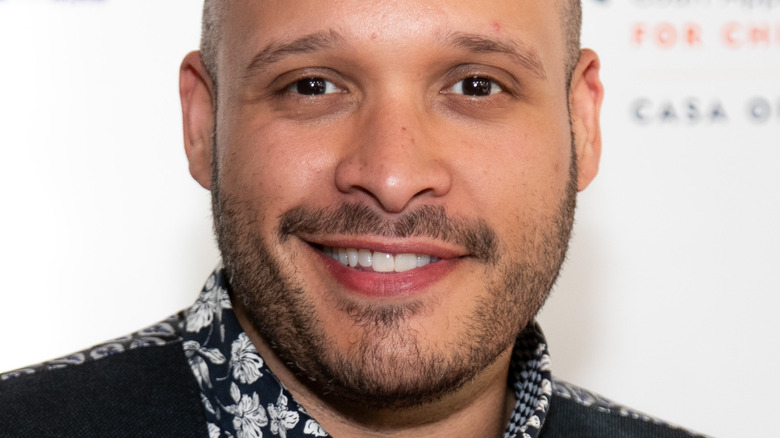 John Wolfsohn/Getty Images
Their fictional loved ones have to worry about them putting their lives on the line all the time, but have you ever wondered what the real-life partners of the "Chicago Fire" cast are like? Fans of New York native Joe Minoso got to see him in a tux when his character, heroic firefighter Joe Cruz, married the love of his life, Chloe (Kristen Gutoskie), during Season 8. "I can definitely say it's the biggest wedding we've ever done," Minoso told Give Me My Remote ahead of the emotional episode.
According to Minoso, he's matured along with his character, who's a caring, nurturing guy, and the actor's real love life has evolved in a similar way. "I used to be a real fool for love, still am really. But I definitely fell in love with all the wrong women," he told Occhi magazine in 2019. "Cruz definitely had this problem. I'm just glad to see it seems he's grown out of that a bit." While speaking to Us Weekly in April 2022, Minoso described how different his life was when the first episode of "Chicago Fire" aired in 2012. "I started Season 1 living with Yuriy Sardarov and Charlie Barnett and going out for all hours of the night and on constant random dates and doing crazy stupid things," he recalled.
Before he left bachelorhood behind and became a happily married man, Minoso did something that his character did on the show: He fell in love at work.
Joe Minoso met his future wife on the Chicago Fire set
Joe Minoso told "The Jam TV Show" that he first met Caitlin Murphy Miles when she was working as a makeup artist on Season 2 of "Chicago Fire," which aired from 2013 to 2014. By October 2016, the lovebirds were husband and wife. "OK.. honestly you tell me. How do I NOT Marry this woman!" Minoso captioned an Instagram photo of himself and his bride posing in front of one of Chicago's firehouses.
In his appearance on "The Jam TV Show," Minoso revealed that their wedding officiant was his "Chicago Fire" co-star Christian Stolte, who was given free rein to do as he wished during the ceremony. "So we had no idea of what to expect of our own wedding," Minoso said. Two of his other multi-talented castmates, Miranda Rae Mayo and Jesse Spencer, also participated in the ceremony by playing stringed instruments.
Miles occasionally mentions members of the "Chicago Fire" cast on Instagram. After Yuriy Sardarov's character, Otis, was killed off in 2019, she wrote, "Yuriy was the first person to befriend me when I came to Chicago and didn't know anyone else. He's one of the kindest, funniest, & most thoughtful people I've ever come across." She also revealed that she approves of Minoso's on-screen wife. In an interview with "Meet Us at Molly's," Minoso described his "Chicago Fire" nuptials as "surreal" because so many of the same people had attended his real-life wedding.
Joe Minoso's proud of his wife's work as a paramedical tattoo artist
In a 2019 interview with TrunkSpace, Joe Minoso revealed that Caitlin Murphy Miles had moved on from making the "Chicago Fire" cast look hot and sooty full-time and was putting her artistic skills to use as a paramedical tattoo artist. "I'm super proud of her," Minoso said.
The actor often uses his Instagram account to show off his wife's work, which includes tattooing breast cancer survivors to boost their confidence. "This is an art form. One that changes lives," reads one of his posts. "My beautiful wife Murphy has chosen this career path for the next chapter in her journey. If you know her you know exactly how perfectly suited an artist she is for this beautiful, sensitive, & compassionate work." Miles also tattoos burn victims to camouflage their scars, and she does artistic tattoo work, as evidenced by a video on actor Taylor Kinney's Instagram page. In 2019, Minoso's "Chicago Fire" co-star filmed Miles working on an intricate tattoo on his right thigh, and he seemed pleased with the results. "She's a boss," Kinney wrote.
When Minoso and Miles aren't busy at work, they enjoy hanging out with their two adorable dogs, Bugsy Two Toes and Leroy Shortstack, and playing Mario Bros. games on Nintendo Switch, per Nice Girls TV. They have also done a bit of traveling, with Minoso revealing that they realized they were meant to be during a 2013 trip to New Orleans.