The Scandalous Way Anna Wintour's First Marriage Ended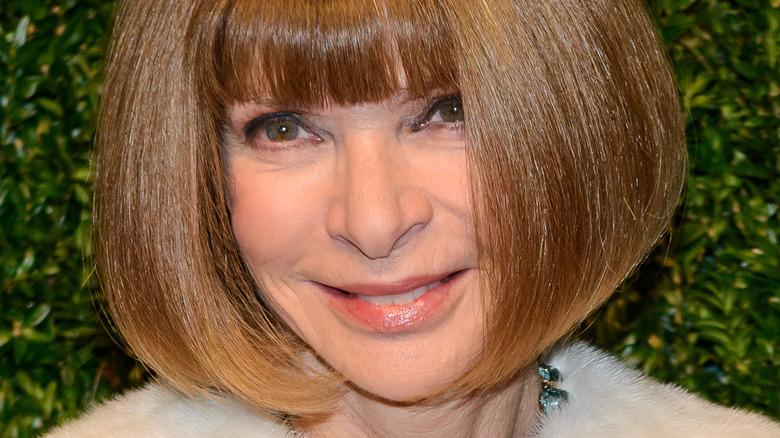 Sky Cinema/Shutterstock
Anna Wintour is often seen more than she is heard. With her signature dark shades, she can be spotted taking a front-row seat at the hottest runway shows. However, the former editor of Vogue is not the kind of person who likes to rub elbows at social events for too long, is almost never seen carrying a purse, and rarely speaks to the press. In a rare interview with The Guardian in 2019, she did clarify the rumors suggesting that she only spends 20 minutes at a party before making an Irish exit. "If it is fashion week, then most likely I will be in and out. But there have been many times I have stayed a lot longer, believe me," she said.
And while a lot of people know Wintour as the "Queen of Vogue, the Met Gala, and Conde Naste," per New York magazine, there aren't many people who know the real her behind closed doors (unless you count "The Devil Wears Prada" as a real documentary). Little do some know that Wintour's first marriage ended in the kind of scandal that you'd expect to read about on Page Six. 
Anna Wintour's first marriage was plagued by infidelity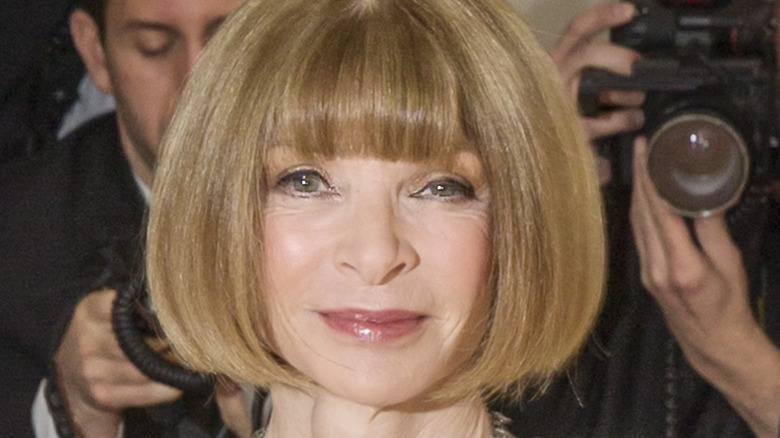 Ovidiu Hrubaru/Shutterstock
There's probably no one in the celebrity world who wouldn't want to sit next to Anna Wintour at a fashion show. But it's her personal life that many people are curious about. According to Closer Weekly, Wintour's first marriage to her now-ex-husband David Shaffer ended in divorce in 1999 when it was revealed that she was having an affair with a married man. All the tabloid coverage wasn't easy for the naturally shy Wintour, as she also wasn't used to having her private life splashed across gossip headlines at the time. New York magazine revealed that she and businessman Shelby Bryan met in 1997 and had an illicit affair that ended both their marriages. With that said, Wintour did her best to ignore all of the tabloid noise the best she could. "You know that your friends and your family have one vision and if the outside world has another, then that's just something that you just don't focus on," she told the publication.
And while the way her first marriage ended managed to raise a lot of eyebrows, the way her second marriage to Bryan ended certainly got plenty of people gossiping about it, too.
Anna Wintour's second marriage didn't end so well, either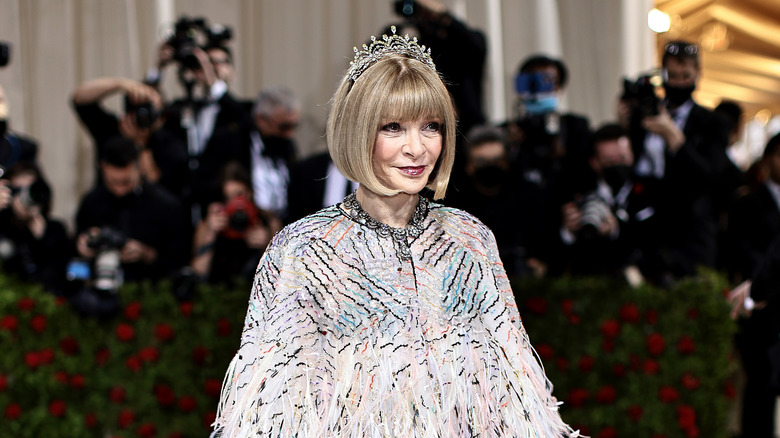 Dimitrios Kambouris/Getty Images
According to Page Six, Anna Wintour pulled the plug on her marriage to Shelby Bryan in October 2020. What made their split interesting, however, was that there were rumors suggesting Bryan had gone back to his ex-wife, Katherine. However, the Daily Mail reported at the time that it was Wintour who had supposedly "dumped" Bryan because she was apparently "bored" in their marriage and that she was perhaps more focused on her career at the time, too. One source said, "The relationship became strained for Shelby who found it difficult to deal with her driven style and ambition." 
However, People reported that the couple had actually gone their separate ways long before they made their split official. And while there are a lot of people out there who are still interested in the kind of person Wintour is behind closed doors, there's very little chance that she'll reveal the "real" her to the world anytime soon. During an interview with CNN in 2019, Wintour wore her dark shades the entire time she answered questions. She said that she wears them because they are "incredibly useful because you avoid people knowing what you're thinking about." And just like some of the looks on fashion runways these days, Wintour's thoughts about so many things continue to be an enigma, too.