The Truth About Johnny Depp's Relationship With His Son Jack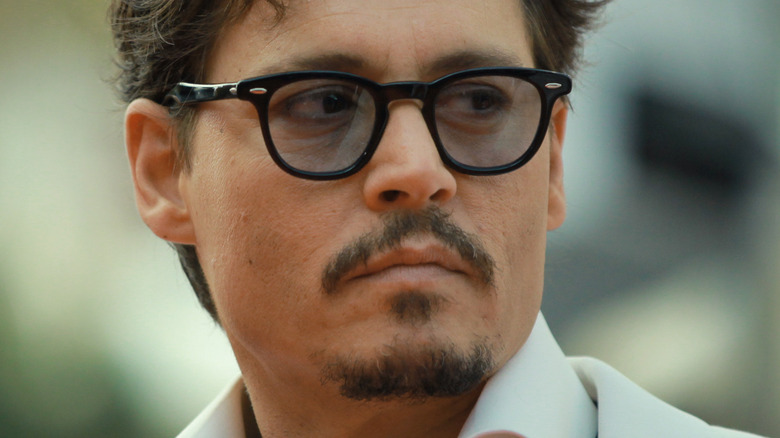 PAN Photo Agency/Shutterstock
Johnny Depp and Amber Heard continue to air their dirty laundry in public as they thrash it out in their latest court battle — and things between the former spouses get nastier by the day.
Per Insider, Heard slammed Depp's fathering skills, claiming they often fought over his parenting choices. Heard alleged that they argued over him purportedly letting an unnamed adult musician have a sleepover at their house with his then 14-year-old daughter Lily-Rose. Heard also claimed that, as a father, Depp "was there and then he wasn't" for his two kids, Lily-Rose and John "Jack" Christopher. Meanwhile, Us Weekly reports that Depp claimed Heard attempted to distance him from his children, alleging, "[She] had to have me there at all times for her own needs."
Lily-Rose has followed in her parents' famous footsteps, working as a model and actor. However, her sibling chooses to mainly shun the spotlight. Jack — who was named John Christopher after his father and grandfather — prefers to lead a low-key and private life; he doesn't even have any kind of social media accounts. So, although Lily-Rose's vocal about her love for her dad, less is known about Johnny Depp's relationship with his son, Jack Depp.
Johnny Depp and his son Jack are close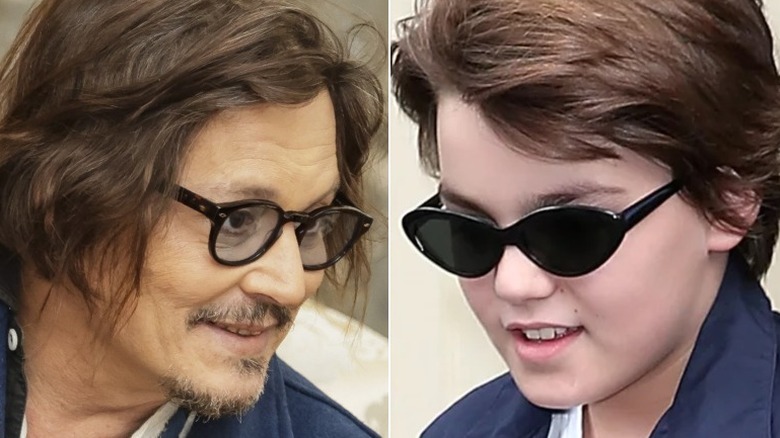 Srdjan Stevanovic/Getty, Pierre Suu/Getty
Johnny Depp's relationship with his son Jack is close, despite splitting with his mother, Vanessa Paradis, in 2012. Jack is French-born and was raised in a small village in the south of France that Depp and Paradis bought when they were still together. Jack was only 10 when his parents broke up.
Depp was 15 when his parents divorced. He testified in court that his childhood had been volatile and violent. So he was determined to maintain a good relationship with Jack. "The thing is, kiddies come first," Depp told Rolling Stone following his break-up with Paradis. "You can't shield them because then you'd be lying. So you can at least be hon­est with your kids."
Jack was 13 when his dad married Amber Heard, and Depp claimed that Heard had little interest in playing stepmom. However, the actor is aware of the effect her accusations of domestic violence — and their very public court battle — have had on his son following their split a year later. "I'm sure it wasn't easy for my 14-year-old boy to go to school, you know what I mean?" Depp told British GQ. "With people going, 'Hey, look at this magazine, man. What, your dad beats up chicks or something?' Why did he have to go through that?"
Johnny Depp's son Jack is just like his dad
Johnny Depp's relationship with his son Jack has been kept out of the spotlight as much as possible. However, in an interview with Inquirer.net, the proud dad boasted about his many and varied talents. "My boy, Jack, has always been a very talented draftsman. He draws really super well. He also plays music very well," Depp said, admitting he was relieved his son had no interest in leading a Hollywood life. That said, Jack did appear in the 2016 comedy-horror flick "Yoga Hosers," along with his dad and sister. It seems it was the beginning and possibly end of his foray into the acting world, however, as he's popped up in nothing since, and the movie was universally panned, receiving a paltry 24% rating on Rotten Tomatoes.
Jack, who looks just like his dad when he was a teenager, lives in France's capital. He's rarely photographed in public, but was snapped out and about in Paris in August 2020 with model Camille Jansen. Aside from sharing his famous father's physical attributes, it appears that Jack also shares his lack of driving skills.
In a 2017 interview with Jimmy Kimmel, Depp admitted he would never teach his son to drive. "He has my instincts, my boy, and he's crashed about five golf carts," Depp said, going on to share that Jack doesn't even play golf. Like father, like son!